Wednesday, May 20, 2015
Message Given by Our Lord Jesus Christ
To His Beloved Daughter Luz De María.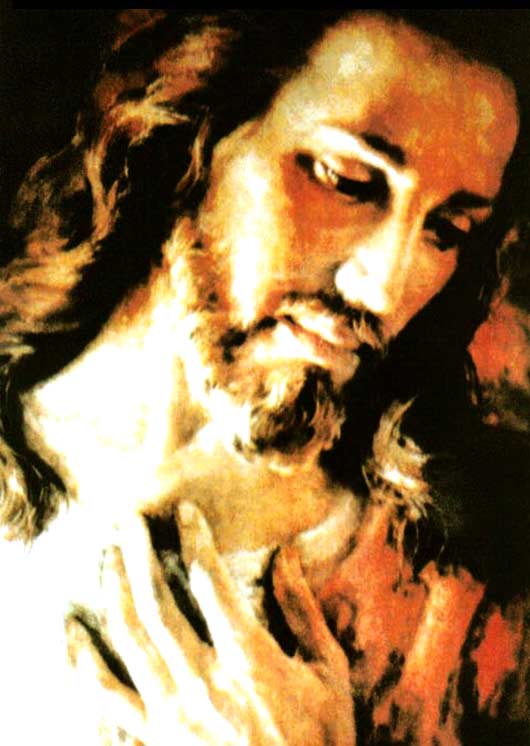 My most beloved children,
I LOVE YOU AND I BLESS YOU.
My children, at the instant when you read this My Word with humble and contrite heart and truly sorry for your misdeeds, your Sacramentals will be blessed by My Love.
During My time on Earth, I called My Disciples to be testimonials of My works and acts, and so they would come to live in My Father's Will. All of them had the same opportunity; some were attentive sooner, not only to learn, but also to put into practice each one of My Instructions with their peers.
MY LIVING WAS A CONTINUOUS WORKING AND ACTING SO I WOULD BE MY OWN TESTIMONIAL FOR ALL GENERATIONS.
My Disciples started writing—first in their hearts filling them with My Teachings—everything they saw and learned in the day to day life, and they were testimonials of each one of My Words, but especially of My Deeds.
IN THE HOLY SCRIPTURES, MY FAITHFUL PEOPLE CAN FIND AN ANSWER TO LEADING A LIFE CLOSELY KNIT TO MY FATHER'S WILL.
It is not a secret for any of My children that My Father acted with His Justice when sin surpassed and overflowed the Cup of Mercy. I acted with Divine Justice on several occasions thus emphatically leaving the Great Teaching that I am not only Mercy but also Divine Justice as the Just Judge. This generation has continually tested My Justice, which I have not yet completely poured due to My Mother's intercession as She clamors for you, My children.
The demons remain tirelessly over humankind because they do not sleep like human beings; they only feed on man's sins and, since this generation continuously fall into sin, the demons multiply incessantly. I have allowed some of My faithful instruments to see how, through sin, demons multiply at high speed. If each one of you reading this My Word could see how many demons are over humankind, you would tremble in fear and in terror.
Man is the one who multiplies sin …
Man is the one who manages to invent new ways to sin…
Man is the one who offends Me instant to instant even knowing that you are ALREADY in the Great Tribulation, and even though they are watching and experiencing Nature's awakening against humankind, even then they don't stop sinning, and they remain totally unaware of how sin affects them and how sin feeds the demons that seize myriads of souls.
My beloved People,
You offend Me so much! … And you offend Me so much when you deny My Justice by seeking cover under My Infinite Mercy! My Infinite Mercy with which I forgive the greatest of sinners if he comes to Me truly repentant and with a firm and complete purpose of amendment. But I don't see the repentance or the purpose of amendment; these don't reach Me in the majority of those who come to confess their sins. They offend Me even more with their lies because I know the intentions, the objectives of each one of you.
My children,
I call those sinners that, without any mercy towards Me, continue to sin, even knowing that they are committing an abomination against Me. Besides the mortal sins, be aware of the existence of venial sins that separate you from Me, and the human creature must not get used to them because they weaken the human will and deprive you of many graces necessary to persevere and not to fall in mortal sin.
The free will in control of the heart leads the creatures to commit sin, and this carries a lot of weight on the scales of My Justice when sinning becomes a habit. There are so many of My children that live continuously tormented by the sins they commit, and yet they do not repent!
Woe to those who do not heed My Calls to conversion!
Woe to those who do not see that the Earth receives men's sins!
It is the Earth that receives the blood of My martyrs cruelly assassinated. It is the Earth that receives man's vexations, and it is Earth that clamors to Me JUSTICE! And I have allowed Nature to react against sin in order for humankind to wake up.
My People,
I AM THE JUST JUDGE; OTHERWISE, I WOULD BE AN IMPERFECT GOD BECAUSE I WOULD AGREE WITH LICENTIOUSNESS AND DEBAUCHERY.
My beloved,
HUMANLY, THE GREAT TRIBULATION WILL INCREASE FROM DAY TO DAY, BECAUSE FOR YOU THE TIME IN MY WILL HAS STOPPED BEING TIME, AND YOU LIVE BY INSTANTS; otherwise, the pain that you would have to endure, due to so much irreverence towards My House and My Mother, would be even greater.
I see some who call themselves "My children" and claim to practice My Commandments and say they are Christians; I watch them act with sword in hand against the Word through which I explain Myself to this generation by means of My instruments…
THEY DENY THE DIVINE POWER AND THE DIVINE RIGHT TO TRANSMIT MY WORD TO MY CHILDREN in their same language so they will understand Me more easily.
THEY DENY MY JUSTICE WHEN MAN—BY HIS OWN HUMAN WILL—HAS ATTRACTED
TOWARD HIM THE PURIFICATION that in My Will I expected, but in light of so much sinning and the clamor of the same man for his constant irreverence, The Purification has hastened taking long strides and has made room for itself in the midst of humankind.
Which man is so perfect?
Who lives in My Father's Will?
Who complies fully with My Father's Will so as to be able to tell Me when and how I should address My People? Reprehensible before Me is the man that believing to be worthy of dictating orders to Me, does so in public in front of his brothers.
HYPOCRITE THE ONE WHO SAYS HE DOES NOT SIN! …
HYPOCRITE THE ONE WHO JUDGES HIS BROTHERS! …
HYPOCRITE THE ONE WHO RECEIVES ME IN MY BODY AND MY BLOOD, AND IN HIS
CONSCIENCE HE KNOWS THAT HIS GAZE, HIS EAR, AND HIS WORD ARE NOT CLEAN! They have not yet understood that with a malicious look by allowing the thoughts to fly far away from Me, they have already sinned.
HYPOCRITE THE ONE WHO SAYS HE DOES NOT SIN! I will measure his works and acts when he finds himself in front of Me.
For just one more righteous man, for just one more righteous man before Me… how much suffering would have been avoided!
At this instant, man is the sinner of sinners and boasts a superior intelligence given by Me, but he uses it for evil. Those who rule humankind and their destiny through orders and the god money will be betrayed by their brothers and will be harshly punished by Me.
My People, My faithful People are deceived. Weapons of war are taken from town to town without My children knowing about it. At this instant the Nations with greater power are supplying small countries with all kinds of weaponry, even nuclear weapons, because they know that in instants the Third World War will be detonated.
Ignorant is he who does not recognize that, at this instant, rage controls men; otherwise, you would not see so many senseless executions every day; you would not see the daily aggression towards the innocent, and you would not see everyday the innocent act like savages as a result of their daily dedication to the technology created to instruct them in total violence.
I HAVE CALLED AND CALLED HUMANKIND TO GET AWAY FROM THE MISUSED
TECHNOLOGY, AND NOT EVEN MY FAITHFUL—OR THOSE WHO CALL THEMSELVES MY FAITHFUL—ARE OBEDIENT TO MY CALLS.
Violence, rage, and disobedience are present in each human creature, and only those who fight against the current of the world, only those who love Me and strive to continue united to Me are the ones who resist the temptation of the misused technology.
How they feed the industries created to defeat the righteous acts of man!... How they feed, exalt, and enlarge with money the industries created to be receptors of capital to raise the antichrist against you!
Anything that harms man has the sole purpose of sustaining the appearance in public of the antichrist and his performance against My People.
REASON THIS OUT: I NO LONGER CALL YOU WITH MY HEART; I CALL YOU WITH MY
JUSTICE…
REASON THIS OUT: If you call yourselves My children and true Christians, then you cannot fuel the rise of the antichrist, you are not true if you continue to sicken the body with all the food that has been contaminated in order to annihilate My People…
REASON THIS OUT: You cannot call yourselves My children if you devour each other…
REASON THIS OUT: You cannot call yourselves My children if you allow misused technology to saturate your minds with violence and rage so that at this instant you approve and watch with indifference the mass executions of your innocent brothers who confess their faith in Me.
You devour one another but do not raise your voice to fight injustice, to combat your brothers' hunger. Could these be My true children and My true People? NO!
My beloved People,
Remain attentive, do not waste an instant, not even an instant of your lives on those who pounce like vultures upon you, driven by the devil to detain your correct advance towards the Eternal Life.
The Earth moans because of man's wickedness and at this instant, as it moans, it allows the pain it keeps in its entrails to come out through the volcanoes all over the world.
Pray, My children, for Italy. It will suffer at the hands of Nature. The Etna volcano will wreak havoc; and terrorism—already inside this beloved land of Mine—will smile when men shed tears as they see and experience firsthand the wickedness of those who act dominated by satan.
So many of My children have turned to terrorism and have asked Me to get out of their lives, have blasphemed, and have accepted satan as their lord!... How My House laments!
My beloved People,
As if it were hollow, the Earth will continue to open in several parts of the world, wishing to renew itself; it will take to its depths what you now see as surface.
Pray, My children, pray for those who will suffer in Perú because of the force of Nature.
Pray for Chile; the volcanoes will continue to flagellate it, and the land will tremble strongly. My children, walk towards the place where My Mother appeared and left Her Word and Her Heart.
My beloved People,
The plague continues to advance and will reach the large cities at the instants when you will face the evil deeds of these men. When this happens, go to My Mother so She will heal you.
DO NOT WAIT UNTIL THE LAST INSTANT TO CLAMOR FOR MERCY… CONVERT NOW! BECAUSE TIME IS NOT TIME.
My beloved People,
My Church will be severely shaken, but My Law is written so you will not be confused. My children are not confused because they know My Word and they do not permit being misled by the imperious wishes of the Freemasonry struggling to destroy My Mystical Body.
My most beloved People,
If necessary, I will come to free the captives if they are faithful to Me. My Mother… My Mother will come to bring My People their Aide. I never abandon those who are Mine, and I will not do it in so shocking instants such as these that are starting and that are ALREADY part of the Great Purification.
FROM MY HOUSE I WILL SEND MY SHELTER TO MY PEOPLE SO HE WILL REMIND YOU THAT I AM GOD AND I DO NOT ABANDON THOSE WHO ARE MINE, so My Word will be strengthened and will resonate in the hearts of My faithful People so they will not be afraid. He will make his appearance after the public manifestation of the antichrist so you, My faithful People, will not be confused.
Pray, My children, for Jamaica; it will suffer.
Pray, My children, for the United States; the oppression against My children will be experienced by the innocent, and the United States will be shaken and battered by terrorism.
Man acts against My Creation, taints My Creation; and My infinite Mercy acts together with My Justice.
I LOVE YOU AS YOUR LORD AND YOUR GOD, AND YOU RESPOND TO MY HOUSE
WITH IRREVERENCE, ABOMINATION, DESECRATION, SIN AND MORE SIN,
LIBEL, SLANDER, AND DEATH…
Woe to those who touch and pervert some of My innocent!
My beloved People,
Why are you afraid of My Mother's announcements? Fear the one who does not live in My Will and lives acting against My Will or does not love his neighbor.
Such despair because of the Warning! It is near; and in the Warning each one will have to face his own conscience!
REPENT NOW!... AND DO NOT BE AFRAID.
CONVERT NOW!... AND DO NOT BE AFRAID.
ACT AND WORK RIGHTIOUSLY!... AND DO NOT BE AFRAID.
My beloved People,
My Executorial Angels are already in the North, in the South, in the East, and in the West; and you do not react, and you remain mired in total irreverence for My House and My Mother!
My Mother will continue to bring My Word around the world, and the signs in the sky will continue announcing to you that My Second Coming is near.
My beloved People,
UNITE IN MY HEART AND IN MY MOTHER'S; BE ONE BECAUSE ONLY TRUE UNITY WILL PREVENT THE DEVIL FROM CAUSING FISSURES AND CRACKS BETWEEN THOSE WHO ARE MINE.
I will continue speaking to you, to My Faithful, to those who wish to remain attentive, to those who wish to keep their lamps lit so I will not find them asleep.
WALK STRENGTHENED BY MY WORD AND HAVING A SOLID FAITH BECAUSE I, YOUR LORD AND YOUR GOD, WILL NOT ABANDON YOU.
I bless you with My Love so you will strive and get to live in My Will.
Your Jesus
HAIL MARY MOST PURE, CONCEIVED WITHOUT SIN.
HAIL MARY MOST PURE, CONCEIVED WITHOUT SIN.
HAIL MARY MOST PURE, CONCEIVED WITHOUT SIN.