Monday, June 15, 2015
Message Given by the Most Holy Virgin Mary
To Her Beloved Daughter Luz De María.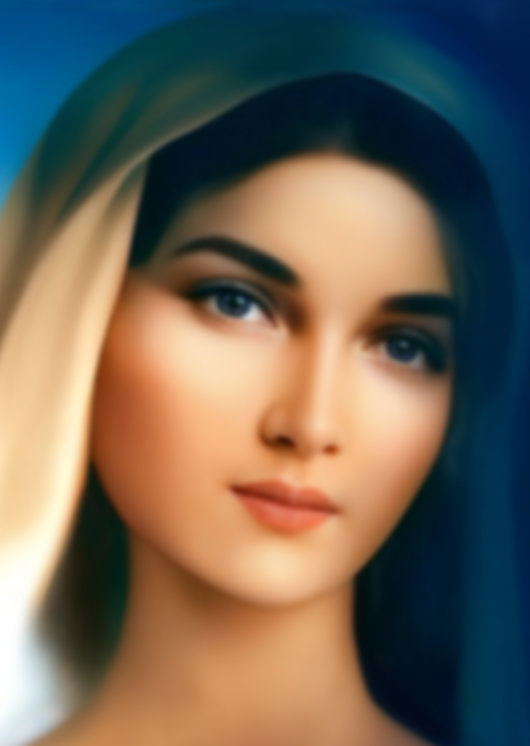 Beloved children of My Immaculate Heart,
ALL SHOULD DELVE IN THE KNOWLEDGE, THE FAITH, AND THE PRACTICE OF LIVING IN A
FUSION WITH THE DIVINE WILL; THIS WAY YOU WOULD CONTEMPLATE THE WONDERS OF
LIVING IN A CONTINUOS ACT OF OFFERING EVERYTHING THAT HAPPENS IN YOUR PASSAGE THROUGH THE WORLD TO THE HOLY TRINITY.
Suffering would not remain unfruitful, the tribulations would not fall in the void, the instants of happiness would be greater because you would not live them the human way--so attached to what is earthly—instead, each instant would be a continuous offering. Just like the constant to and fro of ocean waves, you would not move far from the constant Union with the Divine Will: each instant would be an opportunity to get close to My Son and to Me.
Man's weakness is excessive; the exposure to depravity, envy, immorality, and vice keep My children in a continuous sin. The male does not control his sight; instead he is controlled by it. In the mortification of sight, they do not control themselves in a permissive society with women wandering in almost total nudity.
My children continue with the fatigue of sin left behind by the sinners who fail to neither repent and accept their faults, nor go with a desire for conversion. Each human creature is a constant manifestation of the Divine Glory in and for his brothers. My Son is consolation for those who need it; and the brother can be kind to those in need.
My Son is coming to separate the wheat from the chaff; however, before this, man by himself will have separated in the Great Warning.
Beloved children of My Immaculate Heart,
YOU MUST SAVE THE TRUTH AND FULFILL IT IN EVERY ACT OR DEED. My Son must live in each sense; do not forget that the mind either disfigures the man or leads him to be the best. In each person's mind My Son, His Acts, and His Deeds must remain imprinted, so you will be true children, faithful, responsible, aware of all that happens within you in the midst of humankind, and to fulfill responsibly My Son's Mystical Body. As My Son's true children, seek the good of your brothers and prepare yourselves with the Scriptures because each one of you must be that lit lantern that does not hide so as not to give light, but for you to be light along the way, not just the personal path but also those of your brothers.
I CALL MY BELOVED SONS, THE PRIESTS, THOSE I KEEP INSIDE MY HEART SO THEY WON'T DEPART FROM PRAYER, SO THEY WILL LIVE FOR MY SON AND HIS FLOCK TENDING AND SHEPHERDING ALL HIS SHEEP, without forgetting that you must not be bones of contention; instead you must be sources of harmony, always being clear that the honor and the glory are for My Son and not for the men, even when they have consecrated themselves to My Son's Service. Do not live to please men but to comply with My Son's Will at every instant and under all circumstances, without forgetting that you must strengthen those who are sick, those who are weak, those who are mistreated, strengthening them in the Faith and in the Divine Love.
Children of My Predilection, the Priests,
DO NOT GO NEAR TEMPTATIONS, and when they come to you uninvited, remember that My Son suffered for each one of you so you will be the Favorite and Beloved Sons of My Heart, capable of defeating and avoiding, promptly and completely, not only temptations but sin itself.
A CONSECRATED PERSON WITHOUT PRAYER IS A BUILDING ON QUICKSAND, and when the wind comes and blows with force, it will bring down every structure that has been founded on quicksand. Beloved, there is still time to move the building onto solid rock, keeping in mind My Son's pain and the torments suffered by My Son.
YOU, MY CONSECRATED CHILDREN, PREPARE YOURSELVES IN A SPECIAL WAY FOR THE
TRIALS. I am not referring to the imminent dangers that remain within My Son's Church for you to deny them; instead, it is for you to prepare yourselves properly, and thus bring My Son's Word to His Flock. Strengthen those who are weak announcing to them the coming events; do not leave them adrift; do not try to dress the wounds before you heal them because the sick will not heal without the right medicine.
MY SON'S PEOPLE: MY CHILDREN MUST KNOW THAT MAN CANNOT LIVE ONLY OF FERVOR; HE MUST COMPLY WITH THE DIVINE WILL THAT DOES NOT HIDE THE CALAMITIES FROM HUMANITY, INSTEAD THE DIVINE WILL MAKES THEM KNOWN SO THAT EACH SHEEP IN THE
FLOCK WILL GET READY AND COMPLY WITH THE GOOD DEEDS, THE COMMANDMENTS, AND THE SACRAMENTS, which cannot vary the way the times vary. My children, this is the reason why prayer is important and why it is important for each Favorite Child to comply with the Father's Will. All the knowledge you have acquired must be used to build, not to allow evil to take the harvest.
Beloved children of My Immaculate Heart, beloved sheep of My Son,
Be careful, be obedient to My Son, and love My Calls because as Mother I do not lead you to the cliff. Do not leave your brothers without giving them the opportunity of knowing the instant that is in front of all humankind without partiality. The tribulations are no longer future, they are for this instant and they should not make you afraid, they should make you stay on the true path.
THE TRIALS MUST NOT BE FEARED BECAUSE MY SON AND I WILL NOT ABANDON YOU AND
THE TEST WILL NOT EXCEED THE STRENGTH OF THE FAITHFUL. GET READY FIRST BY LOVING
GOD ABOVE ALL THINGS AND YOUR NEIGHBOR AS YOURSELF.[23]
Children, for the love of His children I am sent by God to continue warning those that I received at the foot of the Cross. For each one of you I give Myself in this Word so you will resume the true path; I would not be a good Mother if I did not warn My children, because that would be like dressing the wound and leaving the infection inside.
REPENT, KNOW THE DIVINE WORD, AND DELVE DEEP IN THE SCRIPTURES SO YOU WILL GROW SPIRITUALLY. NOTHING HAS BEEN GIVEN AS DIVINE WORD THAT COULD BE CHANGED AT MAN'S CONVENIENCE.
The Church as My Son's Wife remains subject to Her Husband's Word.
At this instant man has transformed morality and has turned it into immorality…
The rules have been changed for convenience… Love is momentary, not like My Son's Will… Man destroys and will destroy…
The powerful have usurped the Gift of Life and My Son remains attentive to it.
Beloved children of My Immaculate Heart, do not continue blindfolded because you will see evil as good and good as evil.
Pray, beloved children, because My Son's Church will live the Great Schism and those who do not know the Word in the Holy Scripture
will wander in ignorance from one place to another in search of the Truth—their lack of knowledge due to living away from the Divine Will. All must arrive at the knowledge of Faith.
Pray, My children; the great powers have decided that war must happen and the world population must be reduced; do not feed on death.
Pray, My children, pray for Indonesia and the United States.
Pray for Japan and Venezuela.
Beloved children of My Immaculate Heart,
DO NOT TREASURE SIN AND DO NOT DENY MY MATERNAL LOVE.
I AM THE MOTHER OF TRUTH, AND WITH THAT TRUTH FOR WHICH MY SON SUFFERED AND
RESURRECTED, FOR THAT TRUTH IT IS THAT I WANT TO RESCUE YOU
FROM THE IGNORANCE IN WHICH THEY WANT TO SUBMERGE YOU SO YOU WILL DELIVER YOURSELVES IN THE HANDS OF EVIL.
You are living severe instants before Creation which does not recognize the man that has altered, destroyed, and contaminated it. The Earth will be shaken with force.
BELOVED CHILDREN, DO NOT BE AFRAID OF EARTHQUAKES, OR VOLCANOES, OR WINDS THAT WILL LASH, OR COLD, OR HEAT. BE ARAID OF OFFENDING MY SON AND BE AFRAID OF NOT REPENTIING.
You are My children, I love you and bless you.
Mother Mary
HAIL MARY MOST PURE, CONCEIVED WITHOUT SIN.
HAIL MARY MOST PURE, CONCEIVED WITHOUT SIN.
HAIL MARY MOST PURE, CONCEIVED WITHOUT SIN.