Wednesday, June 17, 2015
Message Given by the Most Holy Virgin Mary
To Her Beloved Daughter Luz De María.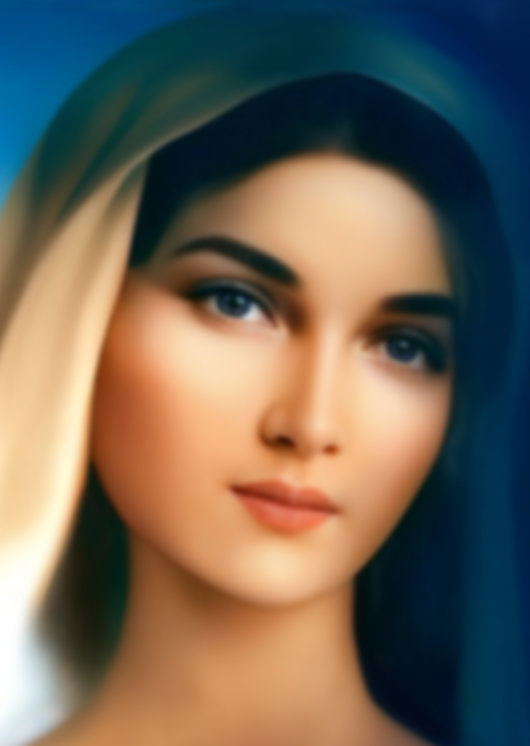 Beloved children of My Immaculate Heart,
I LOVE YOU SO MUCH! I KNOCK SO MUCH ON THE DOOR OF EVERY HEART FOR THEM TO ATTEND MY PLEAS!
AS MOTHER I ASK EACH ONE OF YOU TO OPEN THE DOOR TO YOUR HEART FOR ME SO I CAN CONTINUE TO INTERCEDE IN YOUR FAVOR BEFORE MY DIVINE SON.
This generation grows rapidly; the advances in every area are surprising: Good has tasted man's proper use of the capability of the intelligence to create what benefits man. Regrettably, My children, evil has usurped the place of good and has managed to change the objectives that man had for each advancement to be for the good of humanity. At this instant science has ultimately transformed into a power struggle through which it has ruthlessly taken the destruction of man as its goal.
There are countries, powers, that do not have great economies to sustain a war, but they have the herod of this generation: They have nuclear weapons with which they could cause fatal damage to this humanity…
Which man of science has created something that he will not use?
Which power has acquired what it will not use to defend itself?
The lack of awareness of the man of this generation has reached such a high point that it leads him to a continuous struggle to achieve global supremacy.
SO MANY ARE ASSURED THAT THE WAR WILL NOT HAPPEN! BUT THIS IS NOT TRUE; THEY IGNORE THAT IT IS ALREADY HAPPENING. There will be great destruction throughout the Earth and, due to this, the laments will be so great that they will reach My Son's Home before the ingratitude of those that, based upon their power, have destroyed not only man but also everything that My Son has offered them for the good of each human being.
AT THIS INSTANT IT IS NECESSARY FOR YOU TO REINFORCE THE FAITH; YOU MUST BE CHRISTIAN MEN AND WOMEN IN SPIRIT AND TRUTH. The temples may be full on Sundays, but the inner temple within each one of My children is empty, especially in big cities.
THERE IS NO AWARENESS OF LIFE AFTER DEATH. Man has promptly forgotten about this. He is interested in living this life using his free will even if it leads him to live in a continuous state of sin; and this to a great extent has been caused by the wrong direction in which My Son's Church has been taken.
Beloved children of My Immaculate Heart,
EVIL EXISTS AND IT IS A FORCE SUPERIOR TO THAT OF MAN IF HE HAS NO FAITH, IF HE HAS NO STRENGTH, IF HE HAS NO KNOWLEDGE, AND IF HE DOES NOT TRULY LOVE MY SON.
Still they have not understood My Words, still they have not obeyed My Son Who repeatedly announces how the demons are found above the men stalking them instant to instant to make them fall, and when they fall, the same demons pounce on them and torment them to seize the minds of My Son's children.
Children of My Immaculate Heart,
BECAUSE OF MAN'S DISOBEDIENCE, YOU GENERATE YOUR OWN CHASTISEMENT…
AND BECAUSE OF YOUR OBEDIENCE, YOU GENERATE BLESSINGS FOR YOURSELVES.
You, My children, have great intelligence and the Gift of Wisdom, but these remain dormant at this instant when My Son's People are dedicated to a life of speculation:
Truly believing that evil does not exist…
Truly believing that neither Purgatory nor hell exists after death…
Truly believing that the Earth is the place to suffer the committed and acquired wrongdoings…
How wrong you are, My children!
EVIL EXISTS ON THE FACE OF THE EARTH.
SATAN, THE TEMPTER OF MAN, EXISTS,
THERE EXISTS A PLACE OF GRIEF AFTER DEATH, AND ETERNAL FIRE EXISTS.
THIS IS THE INSTANT WHEN MY CHILDREN MUST LOOK BEYOND AND MUST REFLECT ON ETERNAL LIFE AFTER THE EARTHLY LIFE.
All those who call themselves Christian will have their faith tested; this is why We have insistently called you to know My Son's Word, to practice and live in the Divine Will, and to live in a constant observance of the Commandments, because he who complies with the First Commandment is therefore compliant to the other Commandments.
Children, when the sun is at its zenith, it covers the Earth, it covers all My children. Each one of you must be a sun that shines, wherever you are, on all your brothers.
STOP IT! Do not allow the human "ego" to control man's senses!
STOP IT! Do not be slaves of the "ego"!
STOP IT! Do not live by good intentions!
STOP IT! Do not offend My Son!
STOP IT! Do not deny Salvation!
WAKE UP YOUR SENSES AND CONSECRATE THEM TO OUR SACRED HEARTS.
You have great blessings granted by the Paternal House; you have Fellow Travelers who alert you and defend you, even when you are not aware of it. Call them; it is important that you constantly invite them to remain with you. Pay attention to the signals that My Son allows to occur in the Firmament, because soon there will be so many signals that the men without Faith will run to hide so as not to look.
Children of My Immaculate Heart,
AT THE PRECISE INSTANT, HELP WILL COME FROM THE DIVINE HOUSE TO LIFT THOSE WHO ARE ABOUT TO FALL, but after the antichrist traps the souls, how will this Mother be able to intercede if the human will is not willing to be rescued?
My Son's People are facing great threats… The microchip is the claim of the devil on man and on the creatures' souls. Some people saw it as something distant or as a fantasy, but the implantation of the microchip is a reality that will be established soon.
I CAN ASSURE YOU THAT I SEE A GREAT WAVE THAT IS APPROACHING HUMANKIND FROM ALL DIRECTIONS… and inside it contains man's rage, revenge, terrorism, the malpractice of those who call themselves saviors of humankind.
MY SON'S CHURCH WILL BE STRONGLY SHAKEN BECAUSE SEVERAL PRONOUNCEMENTS WILL DIVIDE IT. Children, do not separate from The Commandments, they are God's Word expressed for all mankind for all times; and this Divine Word is not subject to man, it was revealed for man to abide by the Divine Word. Fulfill the Sacraments; do not discard them because they are Divine Will.
AT THIS INSTANT EACH ONE OF MY CHILDREN MUST REMAIN ATTENTIVE
SO AS NOT TO BE DECEIVED;
AND MUST KNOW OF DIVINE OMNIPOTENCE
AND MUST NOT LIMIT THAT OMNIPOTENCE TO THE NARROWNESS OF THE HUMAN MIND.
Pray, My children, pray for the Chilean People whom I invite to hold another Reparation Vigil for the offenses, not against this Mother, but against the Divine Will that sent Me to appear in Peña Blanca.
Man is very quick to judge, he is quick to despise the coming events and to look only at the negative point to deny the whole Truth; and this is lack of humility and lack of charity.
Pray, My children, pray for Ecuador. These My beloved People have been invaded by communism and when they want to protest, the communism silences them.
Pray, Nature is waking up.
Pray, My children, pray for Italy. The great volcano will wake up to announce to these
My beloved people that, just like it awakens, those who do not love My Son's Church have awakened and plan to enter that territory.
Pray, children, so My Son's Word and My Word continue to reach you, guiding you and alerting you so you will not be afraid; instead, it is for you to get ready mainly in the spirit, so you will get to truly know My Son,
so you will love His Omnipotence and Omnipresence, and so you love your Fellow Travelers who have alerted man at the decisive instants for humanity.
MY CHILDREN, DO NOT FORGET THAT NEVER THE ASKING, WITH A TRUE HEART AND A FIRM PURPOSE OF AMENDMENT, IS IGNORED BY THE FATHER'S HOUSE AND BY THIS MOTHER.
Love one another, protect one another; at this instant—more than at any other previous instant— the unity of My Son's People is indispensable.
You proclaim the Glory of God; you adore My Son in the Most Holy Sacrament while you still can meet there, before the Temples are closed.
My beloved children,
I PROTECT MY CHILDREN WITH MY MANTLE. BE FAITHFUL TO MY SON'S WORD.
DELVE IN THE KNOWLEDGE AND LET THE FAITH INCREASE IN YOU SO YOU WILL HAVE THE COURAGE NOT TO DENY THE FAITH IN MY SON.
Let everyone who reads this Word from this Mother be blessed by My Son in a special way, not only for reading this Message, but also so that with firm purpose initiate the change at this instant. Fight against the human self because at this instant conversion is absolutely necessary, not in the future when you will no longer have neither the courage nor the strength to convert.
MAY MY SON INUNDATE YOU WITH HIS HOLY SPIRIT SO YOU WILL MEEKLY ENTER INTO MY SON'S SACRED HEART.
I bless you.
Mother Mary
HAIL MARY MOST PURE, CONCEIVED WITHOUT SIN.
HAIL MARY MOST PURE, CONCEIVED WITHOUT SIN.
HAIL MARY MOST PURE, CONCEIVED WITHOUT SIN.