Saturday, July 4, 2015
Message Given by Our Lord Jesus Christ
To His Beloved Daughter Luz De María.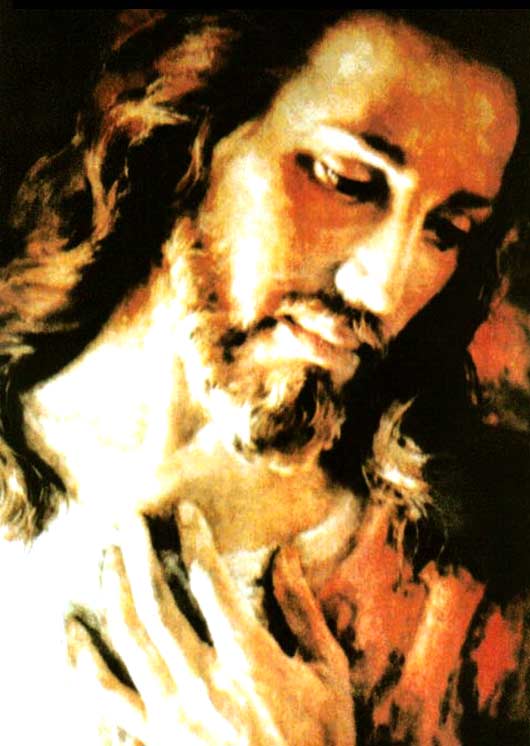 My most beloved People, children of My Eternal Love,
I bless you with My Love, I bless you with My Mercy, I bless you with My Justice.
My beloved children, this instant is a common instant:
IT IS A CRITICAL INSTANT FOR HUMANKIND IN GENERAL.
Beloved, I will punish anyone trying to destroy the Earth.
My People have left Me out of My Kingdom.
I HAVE CALLED YOU TO KNOWLEDGE, TO DELVE INTO MY WORD SO YOU CAN DELVE WITHIN ME.
I ask you: Who are those who have power over My children? Those who know the secrets that have been hidden from My People. The ones who have the power over the worldhave been forming a select group of people to command the history of man; but they forget that …if they decide to destroy the world, I will intervene over them.
You have forgotten that at some instant the communications will fail either because of the sun flares, or because of strife among men, and humankind will be left without communications.You will not be able to know what is going on somewhere else on Earth. At that time you will be sorry for not having the help of My Angels because you never thought it was necessary to remain close to them and to keep them close to you. At that time you will regret having neglected My Mother and not having called Her 'Mother' since I began to warn you.
My children will cry, they will be sorry; they will tremble for not having obeyed what My House is revealing to you at this instant.
WHEN YOU WANT TO LOOK FOR WISDOM YOU WILL NOT FIND IT BECAUSE IT WILL BE
RESERVED EXCLUSIVELY FOR THOSE WHO WILL HAVE REMAINED FAITHFUL AND WILL HAVE STRIVED AND WILL HAVE PASSED THROUGH THE CRUCIBLE.
Children, so many false prophets have been on Earth giving wrong dates and causing incredulity at this instant when men do not believe My Calls!
You are heading for the end of this generation, not the end of the world.You will encounter all the trials at the signs of this instant, at the signs with which I announce to you that evil is greater than good, that war intends the possession and extermination of much of the human race, the abuse of men causes dominance, that racism will produce new uprisings, that corruptionwill be the letter of introduction of those who remain ruling the peoples, and that the violations will be the result of degrading barbarism and diminished morality of man at this instant.
Who brings about all of these labor pains? The devils of flesh and bone that live maybe nextdoor to some of you.More than ravenous wolves in sheep's clothing, at this instant the devils are mixed among the wheat and the weeds and have been created by the minds and the hardened hearts of men who have voluntarily distanced themselves from the Divine Will and from My Mother.
Children, I am not talking about the past; I am talking about this instant and the ones that follow, when people do not have faith, and they will move from one country to another looking for safety, but throughout the planet the insecurity will be the same.
I have called you to approach the Eucharist to receive spiritual strength, and for you to grow spiritually giving life to your prayers "whether the time is favorable or unfavorable."31My children, those who do not pray do not get close to Me or to My Mother; those who do not pray are not tuned into the same spiritualmelody as those who do pray and attract blessingswith their prayers.
It is urgentthat my peoplelivefirsthandthe needto approach Me at this instant of great spiritual turmoilthat humankind is living; at this instant of great spiritual confusion—moral and social—at this instant when those who manipulate humanity in several countries need to give the people greater baseness,since amid the baseness, man's spirit declines and man no longer hears My voice or My Mother's. Thus, when human creatures do not live in the truth, evil wins souls.
WAKE UP! EVIL'S ALLIES ENGENDER EVIL FOR HUMANKIND.
IT IS THIS WAY THAT THEY ARE CREATING A GENERATION OF VIPERS WHO DESPISE ME, OFFEND
ME, DO NOT LOVE ME, DISRESPECT ME, AND THEY ENCOURAGE THIS GENERATION TO DISOBEY MY WILL AND MY COMMANDMENTS…
A worthy ruler maintains the dignity of his people; he does not encourage them to practice what is not My Will but satan's trap.
CHILDREN, HOW CAN YOU NOT REALIZE THAT SATAN HAS TAKEN OVER THE MINDS OF GREAT LEADERS AND THROUGH DEBAUCHERY AND LUST IS REACHING MY CHILDREN?
THE ANTICHRIST IS ON A LAYER INVISIBLE TO THE EYES OF MY PEOPLE BUT VISIBLE TO THE RULERS WHO HAVE COMMITTED TO HIM TO GIVE HIM POWER AND FAME.
312 Timothy 4:2 New Revised Standard Version Catholic Edition
MY SMALL CHILDREN HAVE BEEN TRAINED AT HOME, THEY HAVE GROWN UP IN TRAINING, AND AT THIS INSTANT THEY ARE THE RESULT OF WHAT THE PARENTS GAVE THEM TO DRINK, TO EAT, …TO LIVE.
Hollywood's big business has sold violence to the world, and the world took the forbidden fruit and ate, thus getting poisoned with wickedness in order to give evil in all its forms to their brothers at this instant.
I warned you and you did not obey; I called you and you rejected My call; I announced to you ahead of time the coming events, and you mocked them.
My children, humankind will change from one instant to the other without giving you the opportunity to do or to change anything…
The economy will be the misery of mankind…
The poles will be inverted… and My disobedient People will cry until the tears dry up…
Darkness will cover humankind for three days during which you will be purified like never before because of the sin without measure to which man has come.
Within My Church they have flirted with evil; freemasonry holds power…
My children, pray; the evil one will harm My children and will confuse them.
Beloved children, pray; the earth will tremble with force.
Beloved children, pray, convert; pray for the United States and for Colombia; they will suffer with great pain.
Beloved children, wake up! I call you to convert; be a blessing for your brothers, do not join those who persecute My People, do not be those who with their words deny My Mother; warn your brothers so they won't fall prey to the clutches of evil and lose their souls.
Wait, My Help will arrive from Heaven. My House does not leave you alone; the true wisdom is coming, My People will be consoled and the faith of My own will be vindicated.
Do not be afraid, remain firm, do not stagger in your faith; be continuators of My Will, be observant of My Will, be My faithful People.
I bless you with My Most Precious Blood.
I bless you with My Love.
Your Jesus
HAIL MARY MOST PURE, CONCEIVED WITHOUT SIN.
HAIL MARY MOST PURE, CONCEIVED WITHOUT SIN.
HAIL MARY MOST PURE, CONCEIVED WITHOUT SIN.