Tuesday, August 4, 2015
Message Given by Our Lord Jesus Christ
To His Beloved Daughter Luz De María.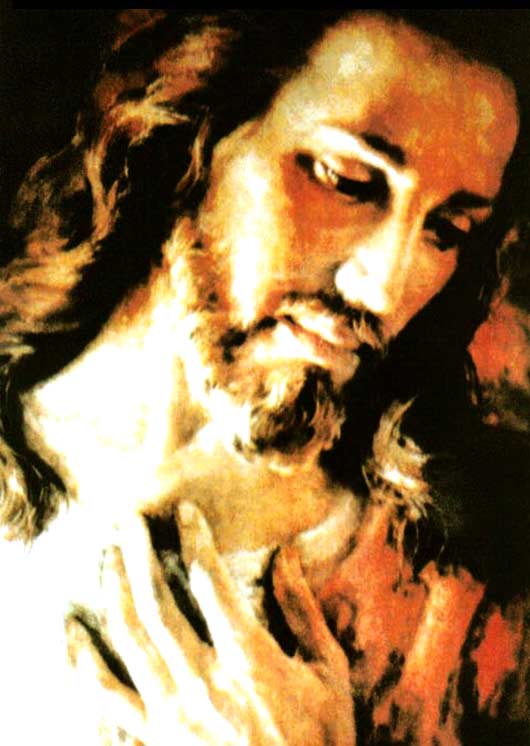 My beloved People,
My beloved children,
The love of each of you captivates Me, attracts Me, fills My Heart with the soothing balm of those who fight to comply with Our Divine Will.
The love of My faithful children constantly keeps Me alerting you—instant to instant—so you will not be lost.
AS GOD, I DO NOT ABANDON MY OWN. MY CONSTANT CALLS ARE TO ALERT YOU OF THE EVENTS THAT ARE IN FRONT OF YOU. I ALERT YOU OUT OF LOVE. I ALERT YOU OUT OF LOVE.
No event will ever come to pass without My encouraging you to come to Me ahead of time. No event will ever come to you impromptu because I alert you first. My Mercy is so infinite that wherever I see a drop of My Sons' love, I go there and I form a fathomless ocean of My Mercy for all My children. This is precisely why I am alerting you and I call you to be obedient children at these instants.
My beloved People,
THESE INSTANTS ARE OF PREPARATION FOR YOU TO COME CLOSE TO ME. These instants of My Mercy are for those children of Mine who are not properly prepared; retake the straight path that takes you to Me.
So many of My children belong to different groups of religious nature!
So many think they have attained Heaven ahead of time just for belonging to some particular group!
So many of My children feel they are saved and no longer try to comply with The Commandments, the Law that moves all "Our Love!" Each one of you must become a repeater of Our Divine Love.
My beloved People,
BELONGING TO A SPECIFIC GROUP IS NOT WHAT SAVES THE HUMAN CREATURE. So many are great theologians! So many learn the Holy Word by heart, but remain empty inside! There are so many who think that because they acquire great scientific knowledge they have achieved everything! There are many who walk towards their brothers day and night to help them! And I love these deeds, but I also come to examine your insides. "SO FAITH BY ITSELF, IF IT HAS NO WORKS, IS DEAD."[38] "NO SLAVE CAN SERVE TWO MASTERS"[39] THIS IS WHY THE WORKS AND THE ACTS MUST COME FROM THE FUSION OF THE CREATURE WITH HIS CREATOR.
IF YOU DO NOT RECOGNIZE ME, IF YOU DO NOT LOVE ME, YOU CANNOT GET TO ME. This is why I call you to see inside yourselves, because you cannot pretend to act and work if My Love is not within you, present in every work and act penetrated by My Love.
THE GROUPS—RELIGIOUS AND NOT RELIGIOUS—THAT ARE DEDICATED TO HELPING THE
BROTHERS, MUST GROW SPIRITUALLY AT THIS INSTANT, THEY MUST GET TO KNOW ME, LOVE ME, INVITE ME TO EACH ACT AND WORK, because, if you walk alone, you run the risk of allowing your human will to take over and control you, and, thinking you are doing the right thing, you would not be totally compliant or obedient. You run the risk of deifying yourselves or other human creatures, and thinking you are doing everything, you do nothing.
Beloved children,
YOU MUST PRAY, YOU MUST LEARN TO FAST WHEN NECESSARY—THOSE WHO ARE ABLE, THOSE WHO ARE NOT SICK OR UNABLE TO FAST—MUST FAST. I retired to pray alone with My Father, and I found My Disciples asleep; this is precisely the work that the adversary of the Salvation of men has been doing. He has led you to take interest in other aspects; he has taken you around the periphery, making you set aside what is most important to walk righteously: Be obedient to the Divine Will, and thus obey the Commandments, comply with the Sacraments, receive Me in My Body and My Blood, because I am the Divine Food.
So many have spent years along other paths performing other duties or jobs, and have left Me by the wayside! But it is not too late; it's just that at this instant you must seek Me hastily, you must pray promptly to make sure you walk towards Me and not towards false gods, because, for not having delved deep in prayer, in the Holy Scriptures, in the total compliance with The Commandments, you have accepted as holy word what some human god you have forged has professed.
My beloved People,
I need you to recognize Me "in season and out of season"43 immediately…
I need children of action, but within that action, they must understand that I AM FIRST, so they will walk safely…
I need My children to be unified, not to combat one another, because I will make sure to expose those who at these decisive instants crawl on the ground, like serpents, betraying their brothers; I will expose them to make them recognize their mistake… Those who crawl so as not to be seen trying to topple over My Works will be exposed.
I need unity for the walls to be strong because "...anyone among you who is without sin be the first to throw a stone..."44 So many come to receive Me with their tongues dirtier than mud! because they have uttered slander and libel against their brothers, because they have dared to blame and judge with the double-edged sword which is the tongue.
My People,
THESE INSTANTS ARE FOR YOU TO WALK TOWARDS ME BEING TRUE, FOR YOU TO RECOGNIZE YOUR MISTAKES AND LEARN TO FORGIVE—yourselves first, and then your brothers—because I come to separate the wheat from the weeds, for he who does not bear fruit will be tossed from My side. I come to look at the deeds and works you will present to Me, but they must have the
43 2 Timothy 4:2 New Revised Standard Version Catholic Edition
44 John 8:7 New Revised Standard Version Catholic Edition
implicit seal of My Love, My Charity; and that which has not looked for Me in prayer, in the fulfillment of the Divine Will expressed in The Commandments, cannot have the seal of My Love.
MY CHILDREN GET NOURISHMENT FROM LOVE, FROM MY LOVE, AND, IN MY LIKENESS,
THEY BURN WITH LOVE FOR THEIR FELLOW BEINGS; IT IS NOT THE WORLDLY LOVE
WHICH IS COARSE AND OFFENDS ME; IT IS THE LOVE THAT IS BORN IN THE
DEPTHS OF THE CREATURE, THERE WHERE NO ONE CAN EVEN SEE IT, ONLY ME.
You must be aware that I have come closer to this generation because of the excess of sin that abounds everywhere so you may repent. Little by little, the Cup has been spilling over this generation. Do not expect another generation before My Mother's announcements come to pass. It is this generation! And those that, in spite of the events that happen rapidly and with great haste, still do not believe, will regret it; they will wail and, if that wail comes from true repentance and contrition, I will be there to give them My Hand and lift them, because I am a God of Mercy.
My beloved People,
MY LOVE IS SO INFINITE THAT IT CARRIES MY JUSTICE IMPLICITLY.
AT THIS INSTANT THE CREATION REACTS AGAINST SO MUCH OFFENSE GIVEN BY HUMANKIND.
How can you not see that everything accelerates?...
How can you not recognize the Signs of this instant?...
How can you not see the natural disasters that happen with great frequency and intensity?...
How can you not be aware of the constant movements of the earth, much more so than in the past?...
How can you not see the appearance of plagues and pests of which you had not even heard and that happened during My People's captivity?
My beloved People,
At this instant you are captives, captives of evil, captives of the technology, captives of indifference, of habit…
You are captives of ignorance…
You are captives of denial…
You are captives of your submissiveness due to human respect…
You are captives of the innovations in fashion…
You are captives of immorality…
You are captives of the economy…
You are captives of misused science…
YOU ARE CAPTIVES OF SPIRITUAL BLINDNESS WITH WHICH SATAN AND HIS LEGIONS HAVE
INVADED YOU TO SEPARATE YOU FROM ME, FROM MY TRUTH; TO SEPARATE YOU FROM MY
MOTHER WHO CONSTANTLY ANNOUNCES ALL THAT IS COMING SO YOU WILL PREPARE IN THE
SPIRIT, SO YOU WILL GROW IN THE SPIRIT, SO YOU WILL COME TO ME THE WAY YOU SHOULD HAVE ALREADY DONE.
My beloved People,
BE REBORN SO YOU WILL REUNITE WITH ME. I do not want any of My children to be lost, but the earth is tainted more and more with the blood of many innocents.
My children are persecuted for carrying or wearing My Cross, but "Blessed are those who are persecuted for"[40] My Name.
Blessed is he who wears Me around His neck with Faith, knowing that I am his God, and is persecuted and pointed out for that reason.
Blessed is he who is insulted and slandered for obeying My Word and for being faithful to Me.
Blessed are My children, but besides being blessed by Me, they must know Me better and they must grow in deeds and works, in giving testimony, and in alerting their brothers.
My People, the war is approaching humankind; the allies of this instant will betray one another. The plagues and pests will turn up one after the other, because they are not sent by Me; they have been created in laboratories.
My Heart is in so much pain for that!
I suffer so much for that, because of man's folly, because of man's indifference towards his brothers!
My beloved People,
Pray "in season and out of season."46
Pray for My beloved Mexican People because My Mother, being present there, sheds tears for so many babies that are aborted and because of so much immorality that should make My children ashamed.
Pray, My People, pray for My beloved People of Brazil; they will suffer.
The land will be tainted with blood. I suffer for it.
Pray, My People; the seawater will be contaminated.
What My Father created with so much Love, man has destroyed so much!
Pray, My People, My Church will be strongly shaken.
Look at the Signs up above; they will not stop giving Signals to My children.
EACH ONE MUST EXAMINE YOURSELF, LOOK AT YOURSELF, GET READY FOR IT…
I LOVE YOU. I LOVE YOU SO MUCH THAT I ALERT YOU, I WARN YOU, I CALL YOU, I CLAMOR FOR YOU TO CHANGE. DO NOT TRADE ETERNAL LIFE FOR AN INSTANT OF PLEASURE. At this instant, what it means to man to walk within what is normal, causes Me pain, because most of what is normal at this instant is a continuous offense towards Me. This is why I do not abandon My People, My children. Every instant I have sent a Creature to accompany My People, and this generation is not the exception.
My People, oh, how I Love you! I very much need for you to wake up immediately!
Do not resist your God. Wake up! The deceiver is getting ready to spring up and take My People captive.
My beloved People,
GET UP! DO NOT SLUMBER! I AM HERE WITH MY INFINITE MERCY AND MY PROMPT JUSTICE.
I bless you; I love you; you palpitate within My Heart; you are the apple of My Eye.
I come for the "…land flowing with milk and honey."47 My People, here I am. I bless you. I love you.
Your Jesus
HAIL MARY MOST PURE, CONCEIVED WITHOUT SIN.
HAIL MARY MOST PURE, CONCEIVED WITHOUT SIN.
HAIL MARY MOST PURE, CONCEIVED WITHOUT SIN.
46 2 Timothy 4:2 New Revised Standard Version Catholic Edition
47 Exodus 3:8 New Revised Standard Version Catholic Edition