Monday, August 24, 2015
Message Given by the Most Holy Virgin Mary
To Her Beloved Daughter Luz De María.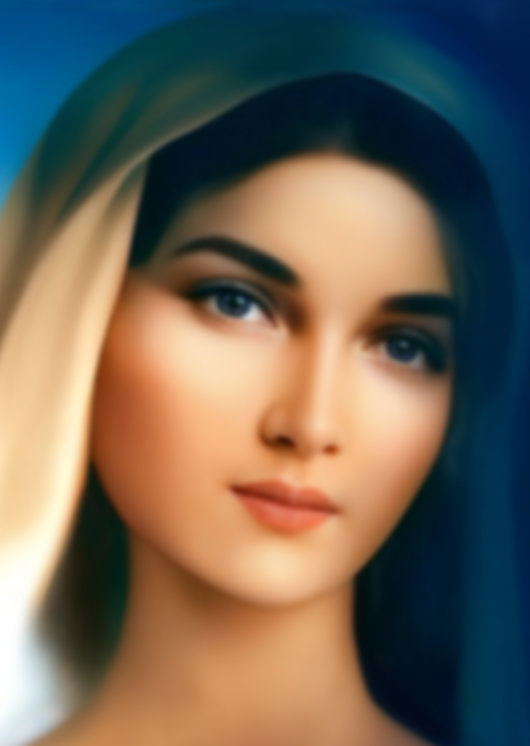 Beloved children of My Immaculate Heart,
AS MOTHER OF HUMANKIND, I BLESS YOU; AND TOGETHER WITH THIS BLESSING I INVITE YOU TO REMAIN UNITED IN THE FAITH TOWARDS THE HOLY TRINITY COMPLYING WITH THE DIVINE WILL.
My Mantle is sign of My Maternity under which I shelter all men without distinctions…
My Mantle is Revelation for all humankind because in it remains the Dome of the Universe, created by God the Father…
I AM QUEEN AND LADY OF THE ANGELS AND MY LEGIONS WAIT FOR THOSE WHO ARE MINE TO CALL THEM AND THEY WILL PROMPTLY COME TO HELP YOU.
My beloved, humanity is ambushed by the envoys of the evil one who snatch the human creatures that do not have God, and take them to the perdition of their souls. You do not see them, but the temptations constantly wait in ambush to make you fall in sin.
AT THIS INSTANT IT IS NECESSARY AND ESSENTIAL FOR MAN TO COMPLY WITH MY SON'S MANDATES, WITHOUT VARYING THEM OR INTERPRETING THEM, BECAUSE IT IS THE LAW THAT DOES NOT CHANGE.
Beloved children,
Do not get distracted by things the evil one places before you to prevent you from concentrating on this instant which is precious; do not get distracted by issues that are irrelevant to you and will only lead you away from My Son. Given the continuous wave of indifference towards the fellow human beings, the killing of the innocent, and the transgressions of God's Law, this generation lives of instants. Immorality remains as the normal rule, and the values have been minimized so the human being, which is God's creation, will forget the principles that govern him.
At this instant, My children are being persecuted in several countries which gives My Heart great pain; evil rejoices attacking My own and making them suffer terrible hardships. This is why Heaven cries, because this woe will spread with terrorist acts for the joy of evil and My pain.
The non-believers over abound they deny everything related to My Son's Calls and My Calls to humanity, Our Calls to conversion before the night will no longer allow My children to react.
Man's mind has become an outline of a structure where they have imprisoned My Son and they have dared limit the Divine Omnipotence to minimize the fact that My Son and this Mother alert this generation, which constantly sinks more into perdition. The great elite that governs the world, and thinks it decides humanity's destiny, is responsible for the distancing of humankind from the One who created them. The rulers are directed by those who decide humanity's destiny, a humanity that has been sold to them by the same rulers.
Beloved children,
WAKE UP! LOOK AT ALL THAT'S HAPPENING!
AT THIS INSTANT SEVERAL EVENTS CAN HAPPEN, EVENTS THAT I HAVE ANNOUNCED TO YOU BEFOREHAND FOR YOU TO GET PREPARED; the tentacles of the antichrist move more hastily than My children because My children remain lethargic asking where to go and what to believe due to their lack of knowledge, not only of the Holy Scripture, but also of The Commandments, the Sacraments, the Works of Mercy, the Beatitudes, the Capital Sins, and they are not aware of the value of the Eucharist or why they must remain in a state of Grace.
With languid, empty, and deceptive words My children have grown in the shade where they have not received the Light like at high noon, so that under the Rays of the Holy Spirit they can receive the necessary Gifts and not pass being shadows; on the contrary, they be LIGHT AND TESTIMONY for their brothers.
Beloved children,
There are so many at this instant who talk about the Days of Darkness and, when they panic, they often stock up on candles which they take to be blessed! And the more candles they have on hand, the better!
Little children,
Will the candle light if it is owned by someone who is in mortal sin and who refuses to repent of the sins he has committed? And those who offend and deny My Son, will their candles light? Those who live on account of false human gods, will their candles light? And those who, even though they have committed themselves to My Son, have deviated God's children from the True Path and from a full education which would keep them away from sin, will their candles light?
NO! BELOVED CHILDREN, FOR A CANDLE TO GIVE ITS LIGHT THE CREATURE MUST:
Remain united to My Son…
Be aware of what it means to be a son of the King…
Remain firm and defeat temptation…
Get away from everything dealing with novel ideologies that separate you from the True
Path…
Know My Son and His Word…
Love his fellow creatures in spirit and truth…
Be humble to recognize that he has offended My Son and, having a firm purpose of amendment, ask His forgiveness…
MY CHILDREN ARE CREATURES OF ACTION, TENACIOUS IN PRAYER, AND AT THE SAME TIME THEY KNOW THAT WHEN THEY PRAY THE ROSARY THEY RECEIVE GREAT BLESSINGS, not only personal but also for those for whom they offer the prayer, and for their brothers, even for those they do not know but who need spiritual assistance at that instant.
The blessings derived from praying the Holy Rosary are innumerable, because those who pray it receive My Help, and My Angels watch over them and keep them Protected. The evil one moves away from he who prays unrushed and not just to comply with something he does not want. In the Holy Rosary you must find the joy of uniting with My Son and with this Mother.
My beloved,
The Calls from so many different times are the same as now, at this instant; they are no different in terms of the content, they are different in terms of the urgency of your compliance with each of My requests.
THIS INSTANT HAS BEEN TAKEN BY SATAN AND HIS LEGIONS, CONFUSING ALL HUMANKIND, ESPECIALLY THOSE WHO HAVE TAKEN THE GOD MONEY AS THE GOD OF THEIR LIVES. These will panic and, when they find they are spiritually empty, many will take their own lives.
Beloved children of My Immaculate Heart, pray for the United States; it will be scourged by Nature.
Beloved children, pray for Israel; it will enter a great conflict.
Beloved children, pray for Korea; it hangs on arrogance.
Children,
DO NOT DECLINE, GROW IN THE KNOWLEDGE AND THE LOVE FOR MY SON, REMAIN IN PRAYER. IN THE FACE OF THE FULFILLMENT OF MY REVELATIONS, MY CHILDREN WILL BE EXAMINED IN LOVE, AND IN AN INSTANT THE DAY CAN BE NIGHT.
Man's weaponry power is about to be used for the sorrow of all humankind. Man does not create something he will not use. Men enter into social unrest in several countries at the same time.
My children, the Earth trembles and the sky lights up. Pray "in season and out of season,"54 "whether the time is favorable or unfavorable"55 and, together with your prayers, be action in favor of your
54 2 Timothy 4:2 New International Version
55 2 Timothy 4:2 New Revised Standard Version Catholic Edition
brothers by means of the word so that, when you alert your brothers, they will see the Merciful Love of My Son while being aware of the Divine Justice.
Humankind will live sorrowful instants… There will be astonishment when the modernism that My Son does not want will come from the United States, when in the United States strategies will be announced which will confuse My Son's Mystical Body.
My Son's People,
REMAIN FAITHFUL!
ETERNAL LIFE IS NOT FOUND ON EARTH,
BUT ON EARTH YOU DO EARN THE MERITS NEEDED TO REACH THE ETERNAL LIFE.
Beloved children, do not be afraid, all of the DIVINE LOVE will be poured on My Son's People and, together with My Celestial Legions, you will walk towards Eternal Life.
I, as Mother, intercede for you every instant; I do not abandon you. Remain faithful to My Son's and this Mother's indications.
The trials and the Crucible are necessary for you to achieve the Eternal Life; you forge the Crown of Glory at this instant.
Children of My Immaculate Heart,
The infinite Divine Mercy rewards temporary suffering with unlimited glory; remember "it is more blessed to give than to receive"[44] Obedience is Divine Pleasure, even if it means going against what is worldly.
YOU, MY BELOVED, WERE NOT BORN TO PERISH IN THE ETERNAL FIRE BUT TO ENJOY ETERNAL GLORY.
BE ACTION, TAKE THE WORD TO YOUR BROTHERS; PASSIVITY AND LAZINESS ARE MATES, AND LAZINESS IS A CAPITAL SIN.
Do not allow yourselves to be deceived, condition yourselves for the salvation of the soul, live to take part in the Eternal Joy.
I bless you, I love you.
Mother Mary
HAIL MARY MOST PURE, CONCEIVED WITHOUT SIN.
HAIL MARY MOST PURE, CONCEIVED WITHOUT SIN.
HAIL MARY MOST PURE, CONCEIVED WITHOUT SIN.