Sunday, September 13, 2015
Message Given by Our Lord Jesus Christ
To His Beloved Daughter Luz De María.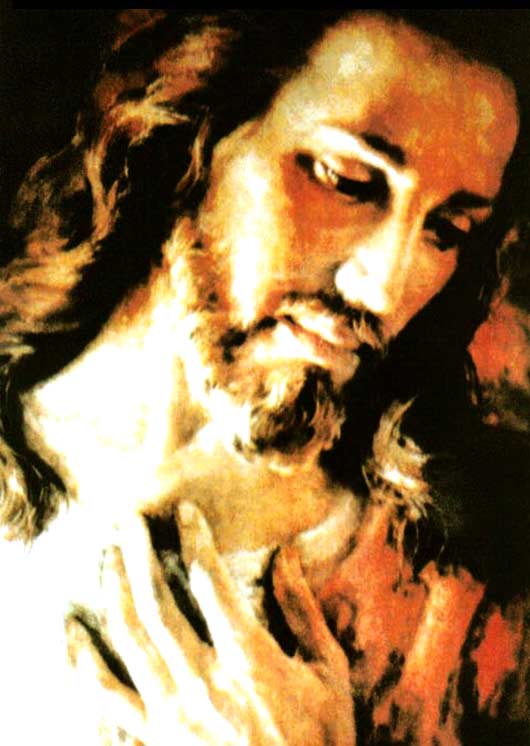 My beloved People,
I bless you with My Mercy.
MY WORD CONTINUES TO TOUCH MY PEOPLE
TO SOFTEN HEARTS AND TOUCH CONSCIENCES.
Those who approach Me looking for dates or out of curiosity will be disappointed. This My Word is understood by means of My Love and the reciprocity of My children's love. Even so, I see those who come to Me repented as if it were the first time and I embrace them like newborn babies.
Children, most of you persist in debating My Word, forgetting that one Word of Mine suffices to silence you altogether.
My beloved People,
Within the Earth, a series of happenings converge, some human and some planetary, that urgently call man to come towards Our Holy Trinity and towards our Mother.
In all decisive moments for humanity, the signs have been prompt to wake the sleeping man, urging him to react and come to Me.
This generation has transgressed My Law, and everything that has been created by My Father reacts with man to make him renew the unity with Our Trinity, by means of repentance and then by means of obedience.
Man has taken My Law and scorned it falsifying it and making it accessible to the fashion of the instant. THEY HAVE VIOLATED MY LAW, THEY HAVE TRANSGRESSED IT. I am Mercy and I am Justice.
My Church must retake its legacy and give testimony to My People of the commitment to be "Light of the world and salt of the earth"Mattew 5: 13-14
My beloved People, at this instant, not all you see is the center of the real catastrophe… the true catastrophe arrives from outside.
My children are persecuted and taken to slaughter in the cruelest way; My children are feared because My Spirit lives in those who not only confess but also live fully My Father's Will. This instant is of lies for those who are Mine, lies that come from those who hold earthly power. Because My children ignore My Word, they flutter from one place to another, they remain blind and do not want to see voluntarily that they are prey to the lies. They will wake up when I confront them with their own lives during the Great Warning; and even then some will deny that the Warning comes from My House as an act of Mercy towards those who are Mine.
My children, remain attentive to the alliances. No matter who carries them out, the alliances are simulated for humanity, they do not reflect the truth; they expose you to greater dangers to then deliver you in the hands of the deceiver. The strongest media on the planet hide the truth from you so you will support, unknowingly, the plans to hasten the establishment of the antichrist. My children live in the era of technology, but it gives My children falsehood as the answer. MY PEOPLE, WHAT DO YOU SEE AT THIS INSTANT?...
Men who love themselves, attentive to their egos as central to their lives, cannot make the relation with Me the foundation of their lives. And sin emerges as their center of gravity, leaving no place for Me in their lives.
Now, breaking the rules belongs to the brave; limits no longer exist since each one walks in search of his own destiny, nothing is forbidden, man thinks about himself and not about the Eternal Life.
Wars are caused by the powerful to reduce the world population, and My poor children suffer because of those who manipulate humanity.
Famine approaches by specific decision of the great powers. Without food, the human being forgets his condition as God's child, and that's what they will offer him, hunger and more hunger.
Children, do not blame Me for what is coming; I have warned you so you would be on guard, but because you disobeyed you have led to rule you those who took power into their hands and used iron to silence you: Communism, about which My Mother warned so much.
Pray, My children; the eyes of humanity will be fixed on the United States where great projects against My People will be generated.
This people of Mine will be plunged into mourning.
Pray, My children, for Europe; it will suffer by surprise, it will be betrayed and Nature will strike it.
Pray, My Church suffers, My children will suffer. I WILL NOT ABANDON YOU.
My Church will suffer; it will be purified in the crucible.
Pray for Costa Rica; it will be shaken.
The land trembles and the volcanoes will awaken again.
My beloved, so many preach everywhere the cycles with which the Earth marks its changes, the cycles of the sun, the cycles of humanity! They ignore that at this instant the cycles are one: What the same man has generated.
The Earth has trembled but not as at this instant when some lands will be desolate.…
The sun will show its power affecting man and every living being…
The day is shorter and the night is not a rest for man but anxiety about tomorrow…
The water is contaminated by radioactivity…
The signs abound; coming from space, incandescent fire will fall on Earth…
Signs in the sky like they have never been seen before are reason for alarm…
Man dresses as woman and woman as man…
The souls who receive Me with dignity are a few. My priests do not require their parishioners to receive Me with dignity; confession is a thing of the past and the clothing they wear to come to Me makes Me nauseous…
They have banished Me and they have erected great sculptures to the devil to whom they deliver their children…
I AM A GOD WHO BEGS THE LOVE OF HIS CHILDREN.
Children, My People, the economy will have a slight upturn, and then it will be buried sinking humanity in total chaos. Then the unification of all the powers will be imposed on all humanity, and at that instant you will remember Me and My Mother, when you'll be limited to what the elite will give you.
No, children, it is not a fantasy, it is the future of My children, the ones who have responded with disobedience and rebellion, they have denied My Word and scorn the Divine Law. But those who are aware of My Omnipotence will be satiated and for them My Love will over abound; the Love I have offered to all but has been rejected.
Not all has been said.
MY PEOPLE, MY BELOVED PEOPLE, LOOK ON HIGH; THE SIGNALS ABOUND, AND YOU WILL DISCOVER WHAT SCIENCE WANTS TO HIDE FROM YOU. REMAIN ON GUARD; THIS IS NOT THE INSTANT TO HESITATE.
I promised that My People will be guided by Me, and that's what I do at this instant. Do not be afraid, children, you will not be lost; the seed will continue to grow and get strong through the explanation of this My Word. I will not abandon you no matter how strong the trials will be; I will send My Word and the Shepherding to My children.
Continue praying, receiving Me in the Eucharist and adoring Me in the Most Holy Sacrament of the Altar. Comply with Our Divine Will in the Commandments, pray and remain aware of the great trial that is coming, know Me in the Scriptures, be knowledgeable of My Word. NOT ALL WHO PERFORM MIRACLES ARE FULL OF MY HOLY SPIRIT; DISCERN.
I bless you with My Love.
Your Jesus.
HAIL MARY MOST PURE, CONCEIVED WITHOUT SIN.
HAIL MARY MOST PURE, CONCEIVED WITHOUT SIN.
HAIL MARY MOST PURE, CONCEIVED WITHOUT SIN.