Sunday, October 25, 2015
Message Given by the Most Holy Virgin Mary
To Her Beloved Daughter Luz De María.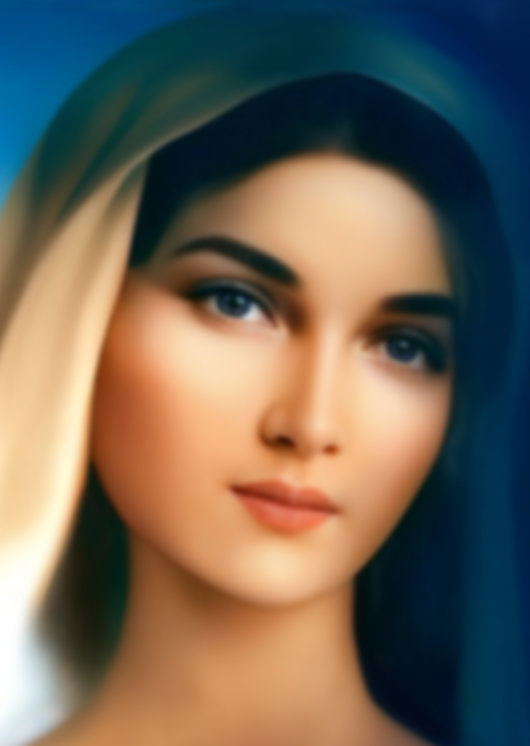 Beloved children of My Immaculate Heart,
My Love keeps Me in constant vigil for those who are Mine.
My Son's beloved People, you are the ones who repair for the wrongdoings of most of your brothers.
My Mantle protects those who pray with Faith and fidelity to My Son, and they have witnessed this Mother's protection when My children clamor in unison.
The water and the wind stopped before My Mantle which covered Mexico, giving this beloved People of Mine an opportunity to convert. The offenses against My Son are constant and diverse. My beloved Mexican People have received a new opportunity to stop the excessive sinning that has made its home in these People who love Me.
The devil introduced himself into My beloved children so sin will over abound where I live; he introduced himself in the whole world. And My children have been seduced by evil and his machinations, forgetting that when they act and work like this, they gravely offend My beloved Son.
Beloved children of My Immaculate Heart,
BE FAITHFUL TO MY SON AND DO NOT STOP LOOKING AT THE SKY; THE SIGNS DO NOT STOP, THE SKIES PROCLAIM WHAT HUMANITY WILL SUFFER.
Man forgets quickly My constant Calls to convert before you have to examine yourselves given the wrong acts and works you have lived. Before you see yourselves in the inside, you will live the external side of the Great Warning; sin does not only affect man in his soul, it has also affected everything around you. As a consequence, the skies will give you the prior notice of the Warning; YOU WILL SEE A GREAT SIGN IN THE SKY. It will not harm you physically, but the impression will be great when you see the skies light up in the middle of the darkness like never before, like you have never ever experienced. Men throughout the whole world will feel, see, and live in great uncertainty, because they know that these signs announce the Warning.
Beloved children, accept My Words so you will fight for conversion. I will not go into My Son's Second Coming before preparing you and calling you to a life change so that in the Warning you can repent of your wrong works and wrong acts; of what you have done, and what you have failed to do.
After having been alerted previously and briefly, all of humankind will enter the Warning in unison wherever they are. DO NOT WAIT UNTIL YOU SEE THE SIGNS. YOU MUST GO THROUGH A SERIOUS
TRANSFORMATION—RIGHT NOW!—SO YOU WILL NOT BE CAUGHT SLEEPING IN DISOBEDIENCE.
Man's disobedience attracts dire tribulations. Water is a sign of purification. Humankind will never again be punished with a deluge; although this does not mean that the water will not penetrate the whole land to purify it. Once again the water will purify the improper acts and works of this generation. The coming events will shift the terrestrial axis; this together with the event that will make Earth move with great force, will make the seawater come onto the land powerfully—a phenomenon different from a tsunami.
In spite of all this, humankind will continue to be immersed in sin, in moral decadence and, therefore, in spiritual decadence, until they see fire coming down from heaven with great force.
Yet humanity will continue placing themselves in the hands of evil, giving the antichrist power over the human destiny.
Beloved children of My Immaculate Heart, you have not yet gone into the end times. THIS IS THE BEGINNING OF THE GREAT TRIBULATION: A TRIAL FOR THE CHRISTIAN, NOT ONLY IN THE FLESH BUT ALSO IN THE SPIRIT WHICH WITH FIDELITY WILL OBTAIN HEAVEN FOR MY CHILDREN.
Do not be confused, My children, the fighting will recrudesce as the instant goes by. The fulfillment of Great Revelations is still pending, revelations that concern the salvation of mankind; they have not complied with the Consecration of Russia to My Immaculate Heart, they have consecrated France to My Son's Sacred Heart, and the whole world, BUT THEY HAVE NOT COMPLIED WITH MY GREAT PETITION TO AVOID CALAMITIES AND GREAT SUFFERING FOR THIS GENERATION.
TIME IS NOT TIME, IT'S AN INSTANT, AND WITHIN THAT INSTANT IT SEEMS ROME DOES NOT LOOK AT THE INSTANT AS SUCH, BECAUSE THEY DO NOT COMPLY WITH MY PETITION.
My Son has accepted the good intentions of some of My beloved Peters when they have entrusted the world to My Immaculate Heart, but they have not yet fully complied with My Indications.
Beloved children of My Immaculate Heart, do not be afraid, be lamps that are lit at every instant.
In each one of My Apparitions and in each Revelation, I continue to complete the information of
all the events and the suffering of humanity given the rebellion of the same humanity against God's Law and the disdain towards My Son and everything that represents Him.
As Mother of the Apostles of the End Times, I alert you tirelessly, not for you to be afraid, but for you to decide to have a life change and amend the way to the perdition of the soul.
The acts and works of this generation are abominable, the giving of themselves to debauchery is uncontrollable, humanity's miseries have surfaced, and the rebelliousness and disdain towards My Son have taken them to adore satan, who will send to them the biggest persecutor of humankind against Christians—whom he will call adorers of evil to support their contempt for the children of Christ, King of the Universe.
BELOVED CHILDREN, DO NOT BE AFRAID, GLORY AWAITS YOU; ETERNAL LIFE IS NOT ATTAINED WITH ONE SINGLE PRAYER BUT WITH A CONTINUOUS LIFE IN DIVINE WILL, overcoming temptation every instant and fulfilling everything you know is God's Law; and bringing the practice of the knowledge and the Faith to the brothers who do not know My Son and have not Heard of Eternal Life; those who ignore the prophecies, who have not taken Me as their Mother or My Son as their Savior.
Beloved children, pray for Chile; the land will shake.
Beloved children, pray for Argentina; the inhabitants of this beloved country will take up arms.
Beloved children, pray for México; it will be shaken. Beloved children, pray for Indonesia; it will suffer.
The unexpected arrival of an asteroid brings great suffering to My children.
MY BELOVED CHILDREN, I SUMMON YOU TO GET READY TO REPAIR FOR THE OFFENSES AND THE DONATIONS TO SATAN WITH WHICH HUMAN CREATURES WHO DO NOT LOVE MY SON MAKE HIM SUFFER GREATLY BY GIVING THEIR LIVES TO SATAN ON OCTOBER 31st. Be prepared to repair for the sacrifices of innocent children with which these creatures please satan on that day; repair for the rituals of those creatures that joyfully celebrate that date and declare satan the owner of humankind.
MY SON'S PEOPLE, YOU, AS APOSTLES AND MISSIONARIES OF MY SON AND OF MY IMMACULATE HEART, PREPARE THE CONSECRATION—PERSONAL, OF THE FAMILY, AND OF THE WORLD—TO OUR SACRED HEARTS FOR THIS COMING OCTOBER 31 ST TO REPAIR THE OFFENSES TOWARDS MY SON. It is not necessary to dress the kids with clothing reminiscent of Christian signs, or religious demonstrations; you do not have to allow that day to be considered as a festivity. It is a tradition that has nothing to do with Christianity; it is a pagan tradition offered to darkness and related to evil, whereby the year is given to darkness.
Beloved children,
Christians attach traditions which are not Christian but pagan to their lives. God's children must not take any part in it and must not allow their homes to be part of a place that attracts evil.
This generation has not understood the need to be totally spiritual, the need to give themselves to the Divine Will, to live consecrated to Our Sacred Hearts so the fight against evil will be less painful.
Beloved children of My Immaculate Heart, this pagan celebration will cause pain, not only to My Son, but also to you.
THE NEARNESS OF WHAT IS COMING DOUBLES THE OFFENSES OF
THOSE WHO HAVE CONSCIOUSLY AND UNCONSCIOUSLY GIVEN
THEMSELVES TO SATAN. REPAIR, MY CHILDREN, TO HELP ME RESCUE SOULS.
Be conscious of God's Law, be conscious of sin, be conscious of the offenses against My Son, be conscious of My Son's Word and of everything He declared to be righteous acts for His children, and be conscious of everything He declared to be contrary to the good acts of His children.
MY BELOVED, AT THE END MY IMMACULATE HEART WILL TRIUMPH AND MY CHILDREN WILL SEE THE DIVINE GLORY.
I BLESS YOU IN EACH ACT BY WHICH YOU REPAIR, YOU OFFER AND ACT TO REPAIR SO MANY CONTINUOUS OFFENSES TO THE LIVING GOD, THE TRUE GOD, KING OF HEAVEN AND EARTH.
You, children of My Immaculate Heart, pray "whether the time is favorable or unfavorable." (2 Timothy 4:2) Be the practice of the Divine Word.
I bless you with My Immaculate Heart.
Your Heavenly Mother
HAIL MARY MOST PURE, CONCEIVED WITHOUT SIN.
HAIL MARY MOST PURE, CONCEIVED WITHOUT SIN.
HAIL MARY MOST PURE, CONCEIVED WITHOUT SIN