Sunday, November 22, 2015
Message Given by the Most Holy Virgin Mary
To Her Beloved Daughter Luz De María. in California, Usa.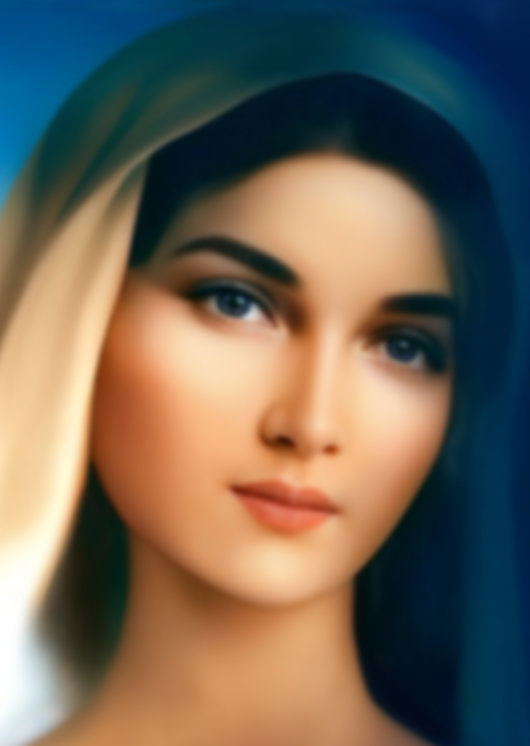 Beloved children of My Immaculate Heart,
I BLESS YOU, I LOVE YOU, I CARRY ALL OF YOU IN MY MATERNAL HEART LIKE PRECIOUS JEWELS THAT MY SON BEQUEATHED TO ME FROM HIS CROSS OF GLORY AND MAJESTY.
I see you walk, I see you act and work, I see you thirsting for Divine Love and, at the same time, I see you take the wrong path, I see you veer off the True Path and take easy shortcuts in the mundane, but these shortcuts distance you from My Son and from Me.
Beloved children of My Immaculate Heart,
MY HANDS REMAIN OPEN TO TAKE THE HANDS OF
ALL OF YOU AND—AS INTERCESSOR BEFORE MY SON—LEAD
YOU TOWARDS THE TRUTH OF MY SON'S WORD, LEAD YOU TOWARDS DIVINE WILL SO YOU WILL COMPLY WITH IT.
At this instant, man walks regretfully, overwhelmed, and desolate because of his free will. It is Divine Will that all His children be saved, but you walk against Divine Will, totally immersed in your free will, in the modernized human debauchery. You get carried away by appearances that are not good, although the disguise they present may seem good; but you cannot grope seeking blindly to distinguish between good and evil, you cannot tell the difference because you walk within a line of thought complaisant towards evil, within a worldly line of thought that understands evil as good. This, My children, is not Divine Will; this is man's perdition. This is the work of evil that governs those who do not obey and do not strive to know the Divine Word in order to delve in a stronger relationship with My Son and with Me.
The fickleness with which man walks at this instant makes him spiritually mediocre. Even those who are learned, even theologians or experts in Holy Scripture, keep their titles to stand out before their brothers, but leave out their spiritual relationship with My Son and with Me.
The world moves by titles, by documents, by politics and by money; but entering into the Mystery of My Son's Love cannot be bought, it must be earned. And those who wish to earn that relationship with My Son and with Me, must learn to "take up their cross" (Luke 9:23) and be experts in Love.
FANATICS SUPERABOUND, AND THIS IS NOT WHAT MAKES OR DISTINGUISHES THE TRUE
CHRISTIAN; IT IS THE TESTIMONY OF LOVE—ON WHICH EACH INSTANT OF HIS LIFE STANDS— THE SOLID, FIRM, AND STRONG FOUNDATION USED TO INTERACT WITH HIS BROTHERS, BECAUSE IN ORDER TO BE EXPERTS IN BECOMING IMAGES OF MY SON, FIRST THEY MUST BE
EXPERTS IN LOVE, "AND ALL THESE THINGS WILL BE GIVEN TO YOU AS WELL" (Matthew 6:33).
So many of My children say they preach the Sacred Word but their hearts are empty of a true love for their fellow men!
So many of them display their titles but their hearts are empty of love for their fellow men!
So many who do not have titles do have all of My Son's Love to share with their fellow men and give testimony of the true acts and works of Christians!
Beloved children of My Immaculate Heart,
YOU MUST REMAIN FIRM, BUT TO DO THAT YOU MUST HAVE KNOWLEDGE SO YOU CAN LOVE THE ONE YOU KNOW, AND THE WAY WILL BE EASIER; not because knowledge will remove each instant's cross, but because knowledge will make you understand that to be My Son's true children—at every instant of your lives and in that cross that accompanies you—you must find the true sense of being My Son's children.
These are difficult instants for humankind; difficult because man's enemy is constantly hurling himself over humankind in search of the minimum instant to make you trip and fall.
Confusion is more widespread. I see My children confused. I see My children scared. I see My children suffering; and it's that men have stopped loving one another as children of the same Father because of the violence each human creature generates by working and acting under the rule of free will. This violence is undermining men's hearts and is turning men into rocks totally devoid of feelings and without the least fear of My Son, without the least remorse. This is why the enemy of souls is happy to see men attack their brothers and make them commit the most atrocious and ruthless crimes.
My children,
REPENT!
REPENT AND CONVERT!
The instant ceases to be instant before the shuddering of the earth which will once again make the Earth's axis shift.
THE INSTANT SHORTENS BY DIVINE WILL BUT, AS IT SHORTENS, THE MUCH HERALDED GREAT TRIBULATION—AT ITS UTMOST EXPRESSION—RUSHES TOWARDS HUMANKIND. My Son's children will suffer the greatest persecution ever thought, indescribable, throughout which the enemies of My Son's Church will take pleasure in My children's suffering and will rejoice at the blood shed by My children.
Children of My Immaculate Heart,
I MUST ADDRESS YOU WITH THE TRUTH SO YOU WILL NOT
WASTE THE INSTANT, SO YOU WILL GET SPIRITUALLY PREPARED
AND WILL JOIN MY SON, AND THAT UNION WILL BECOME FUSION
AND THAT FUSION WILL KEEP YOU WITH SUCH A FAITH THAT WILL ALLOW YOU TO WEATHER THE ENTIRE TRIBULATION STANDING.
Beloved children of My Immaculate Heart,
Nature continues to flog humankind, the humanity that looks at her with great indifference. The earth continues to crack open; the earth continues to shudder.
Pray, My children, pray for your brothers in Chile.
Pray, My children, pray for your brothers in the United States and in Mexico.
Pray, My children, pray strongly for Italy.
And in that rebellion of Nature, I call you to pray for Ecuador; it will suffer because of the volcanoes.
My children, pray for Indonesia; its colossus will awaken.
Pray, My beloved; from one instant to another, there will be a great storm that will make My children tremble.
Beloved children of My Immaculate Heart, man hurls himself against man and, in so doing, he causes deep and mortal wounds that wake up his brothers, so from country to country, they will rise up against each other.
YOU ARE WAITING FOR THE DECLARATION OF THE THIRD WORLD WAR AND IT ALREADY STARTED.
My children, what are you waiting for to alert yourselves when the pain of humanity will arrive relentlessly and will run with the wind causing mortal wounds on the skin of My children, devastating Nature and contaminating the water, leaving everything inert?
The sun will be darkened and all of humankind will have to live amid the darkness because of the incorrect use man has made of science.
Beloved children,
I have called you insistently but I am not Heard, My Maternity is ignored, and My calls are put aside…
My Son's Church will be gravely wounded…
The persecutors of My Son's Love have not ceased in their zeal for making love disappear from the face of the Earth, because, as satan's followers, they have been obstinate in causing man to become hostile and violent against the same man, turning the mind obscure, the thoughts blurry and the reason oppressed, so the human beings will no longer think, no longer reason, and follow, as automatons, the one who will arrive to rule humankind passing for a savior of humanity. At this instant, the antichrist moves the minds of the great politicians of the Earth so they will carry out his plans to the letter.
YOU, MY CHILDREN, WAKE UP! BE OBEDIENT; APPROACH MY SON, HE IS IN THE TABERNACLE
WAITING FOR YOU TO COME TO HIM. HE IS INSIDE EACH ONE OF YOU, JUST LOOK WITHIN YOURSELVES AND REPENT—YES, YOU MUST REPENT—ASK MY SON FORGIVENESS AND ASK THE HOLY SPIRIT TO GUIDE YOU IN DISCERNMENT.
As Mother of humankind, I offer you My Immaculate Heart, I offer you My Shelter and My Intercession, I offer you these My Calls so you will not lose Eternal Life. Listen to Me, My children, do not turn a deaf ear to My Pleas which I raise to each of you because I wish to touch your hearts so you will feel, so you will perceive and live this Mother's Love for each of you.
With My Tears I will turn the heart of stone into a heart of flesh, I will make the oppressed mind find freedom, and I will guide reason—blurred by the mundane, by avarice, by ignorance and indifference—to find My Son's Light.
My beloved,
COME TO THIS MOTHER, COME TO ME!
My children, you well know that terrorism hurls itself over humankind…
My children, you well know that these are instants of great tribulation…
But you well know, My children, that this Mother has never abandoned you and never will…
COME TO ME! I AM YOUR MOTHER. I WAIT FOR YOU TO TAKE YOU TO MY SON AND TO PROTECT YOU EVERY INSTANT FROM WHATEVER MAY COME.
As Mother, I come to help you and for this reason I bless in a special way all those who at this instant read My Word, My Call, those who are struggling to defeat their free will and strive in search of true freedom and true happiness which is My Son's Will.
I bless in a special way those of you who sincerely listen to Me; I place My Mantle over each of you so your thoughts steer away from evil and focus in merging with the Divine Will.
COME TO ME, MY CHILDREN. I BLESS YOU IN THE NAME OF THE FATHER, AND OF THE SON, AND OF THE HOLY SPIRIT.
Amen.
Mother Mary.
HAIL MARY MOST PURE, CONCEIVED WITHOUT SIN.
HAIL MARY MOST PURE, CONCEIVED WITHOUT SIN.
HAIL MARY MOST PURE, CONCEIVED WITHOUT SIN.