Saturday, November 28, 2015
Message Given by the Most Holy Virgin Mary
To Her Beloved Daughter Luz De María.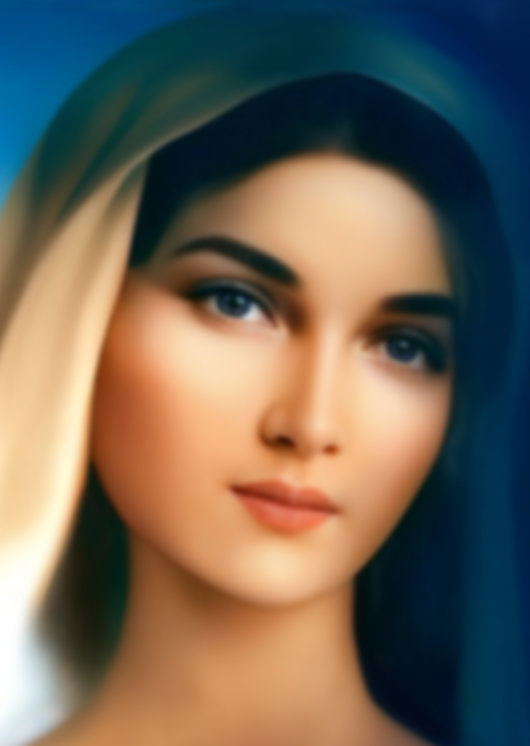 Beloved children of My Immaculate Heart,
MY HEART REMAINS OPEN TO INTERCEDE FOR ALL OF GOD'S PEOPLE.
I REMAIN IN CONSTANT INTERCESSION BEFORE THE HOLY TRINITY. I DO NOT WANT MY CHILDREN TO BE LOST.
God the Father has given Me the order not to abandon you.
My constant apparitions all over the world are a call to conversion because a majority of human creatures do not want to know of effort or penance, of sacrifice or of loving their fellow beings; all they want is an effortless easy life. I asked you to obey My Son; I Call you time and again to head towards the fusion with the Holy Trinity, and I receive rejection towards My Son and Me.
I did not rest and I do not rest in My effort to bring you close to Our Sacred Hearts, even though men, in a great majority, will leave aside the Holy Trinity to cling to the mundane, giving themselves to the vileness that the devil instills—and will instill ever more forcefully—in men's minds owing to their great spiritual weakness.
YOU WILL NOT REACH THE CORRECT PATH AND YOU
WILL NOT BECOME BETTER IF YOU DO NOT APPROACH MY SON AND DECIDE TO CHANGE RADICALLY.
I give Myself to My children, I do not abandon My children; instead, I guide My children because I see a weak Faith, and the responsibility does not fall entirely on My Son's Mystical Body. Some of the depositaries of the Ministerial Priesthood have not instilled in My Son's People the responsibility of knowing the Divine Word nor have they alerted their communities about the power and control of evil over those who embrace false ideologies that take them to detach themselves from My Son for not obeying the Divine Law and for placing themselves in the hands of evil. My Son's People are driven away from My Calls; they are invited to enter and get involved with the modernism that leads humanity to the abyss of perdition when they accept all that is contrary to My Son's Call and to God's Law.
THE INSTANT HAS COME WHEN MAN DOES NOT ACCEPT AND WILL NOT ACCEPT THE DIVINE
TRUTHS. Man will eliminate them from his mind and will tell reason that free will is the solution to all the problems and, by so doing, he will grow a heart of stone, impenetrable, where the Law of Love is and will be intolerable for man.
The terror caused by the specter of terrorism will increase. They will continue to devastate the peace of the People for no reason at all. Life is not and will not be respected; on the contrary, it will be their pleasure to bring suffering to humankind with innocent victims. Mass media will provide popularity to terrorism with words and news reports that increase the eagerness of some men to support those they mistakenly see as heroes in a society that knows not which way to go. The great nations seek outside their borders what they have in their own territories.
THE HARDNESS OF THE HUMAN HEART WILL BECOME SO EXTREME THAT BLOOD WILL MAKE MORE THIRSTY ALL THOSE WHO REMAIN AWAY FROM MY SON INVOLVED IN IDEOLOGIES CONTRARY TO THE DIVINE WORD.
Beloved children of My Immaculate Heart, man's disobedience directs humankind towards this suffering.
I alerted you and I alert you about the confrontation between the great Nations where sophisticated weaponry continues to cause pain on a larger scale; one act of carelessness will cause the allies to become enemies in instants.
WAKE UP, MY CHILDREN! The arms of evil work fast, satan does not rest and My children remain asleep…
WAKE UP, FAVORITE CHILDREN OF MY HEART! AWAKEN MY SON'S PEOPLE! Alert them about the instant they are living and about the coming events which I have announced.
Do not reject My Pleas; do not allow My Son's flock to be destroyed by ignorance. Keep in mind that good intentions must materialize so that they bear fruit. DO NOT REMAIN SPEECHLESS IN VIEW OF THE PROGRESS OF EVIL WHICH DOES NOT REST.
Beloved children, pray for your brothers who suffer although they are innocent.
Beloved children, pray for Brazil; lament comes.
Beloved children, pray for the United States; it will suffer because of man and Nature.
Children, you will suffer because of earth's continuous shaking. Land will shake where it did not shake before; where land remained firm, it will open; where volcanoes had stopped roaring, they will roar again with great force.
Pray for Peru; it will be shaken and My children will suffer.
Pray for Mexico; My children will suffer an earthquake causing the lament of those who are Mine and the water will flog them.
Beloved children, do not deny what hits you in the eye. Humankind is at war and it will be more intense as confrontations increase for different reasons.
The devil raises his arms, those which are tentacles of the antichrist; he waves them against humanity spreading his malignant legions to corner all those without Faith, all those who refuse to return to My Son, all those who delight in evil by free will or by a consented ignorance.
†Return promptly and repair the offenses committed against My Son.
†Do not despise the Calls to the encounter and reconciliation with My Son.
†Pray and act in favor of your brothers.
†Be testimony of My Son's Word and Mine, do not be of those who live with arms crossed watching evil grow without alerting My children about what is coming so they will wake up. †Come properly prepared to receive My Son in the Eucharist regretting the evil done and the good you have omitted.
†Continuously live the Mass, not only at the Temple but also in each act and work of your lives.
†Know the Divine Word; you will not be able to love someone you do not know. My children are superficial in the knowledge of My Son and, because of their lack of knowledge, they fall easy prey to evil.
†Just like communism takes hold of Peoples, evil—which goes with it—destroys the freedom of God's children.
†Delve humbly in the Holy Scripture so the Holy Spirit will enlighten you and you will walk safely.
THE SCRIPTURE IS FULFILLED BEFORE HUMANKIND'S INDIFFERENCE; THIS IS WHY YOU ARE NOT AWARE OF IT AND YOU DENY IT.
THE HOLY WORD WAS NOT WRITTEN FOR THE PAST; THE DIVINE WORD HAS NO END. KEEP ALERT SO HE WILL NOT FIND YOU ASLEEP.
Humankind's pride has increased to the point of denying what your eyes see. Men love themselves, they love money more than they love My Son; and for money they have become enemies of one another; they are disloyal because of their money god; man is hubristic and rejects My Maternal Love.
CHILDREN, WAKE UP! BE NOT LIKE THOSE WHO APPEAR TO KNOW
ALL I ANNOUNCE AND YET THEY ARE INCAPABLE OF COMPLYING BECAUSE OF THEIR LACK OF KNOWLEDGE REGARDING EVERYTHING MY SON AND I HAVE REVEALED TO YOU.
Children of My Immaculate Heart, a tragedy will make humankind shudder; however, those who are far away will look and will forget until the pain comes to them.
My beloved, pain does not live forever. Man's heart will be softened by suffering to which man has given himself by free will.
MY ANGELICAL LEGIONS REMAIN ABOVE MY SON'S PEOPLE; EVIL WILL NOT OVERCOME GOOD
EVER, and man will not be able to destroy the Earth that the Eternal Father created with His Divine Love. For this, those who are faithful will give testimony of the Divine Love for His children.
Do not forget that the Divine Protection remains with you. Help for the body and for the spirit will come. You will not be unattended; every instant you will continue to be "in the Shadow of the Almighty" (Psalm 91:1); mostly this is what infuriates satan: The Faith of My Son's People.
The Divine Word will resound in you; the Divine Word will continue to be preached. FROM ON HIGH WILL COME THE HELP OF MY CHILDREN, THE SHELTER FOR MY CHILDREN, AND THE CONSOLATION FOR MY CHILDREN… AND EVIL WILL NOT BE ABLE TO KEEP HIM AWAY FROM YOU, BECAUSE THE DIVINE LOVE WILL REMAIN WITH HIS PEOPLE THROUGH WHOM, BY DIVINE WILL, WILL COME TO BE CONSOLATION FOR GOD'S CHILDREN.
Beloved children of My Immaculate Heart,
You will be astonished at the degree of wickedness that resides in men without God, but I, as Ark of Salvation, remain attentive to rescue you for My Son so you will not be lost in the eternal abyss.
Do not ignore My Calls. I look at you and I hasten to warn you.
I bless you and I love you.
Mother Mary.
HAIL MARY MOST PURE, CONCEIVED WITHOUT SIN.
HAIL MARY MOST PURE, CONCEIVED WITHOUT SIN.
HAIL MARY MOST PURE, CONCEIVED WITHOUT SIN.