Tuesday, December 1, 2015
Message Given by Our Lord Jesus Christ
To His Beloved Daughter Luz De María.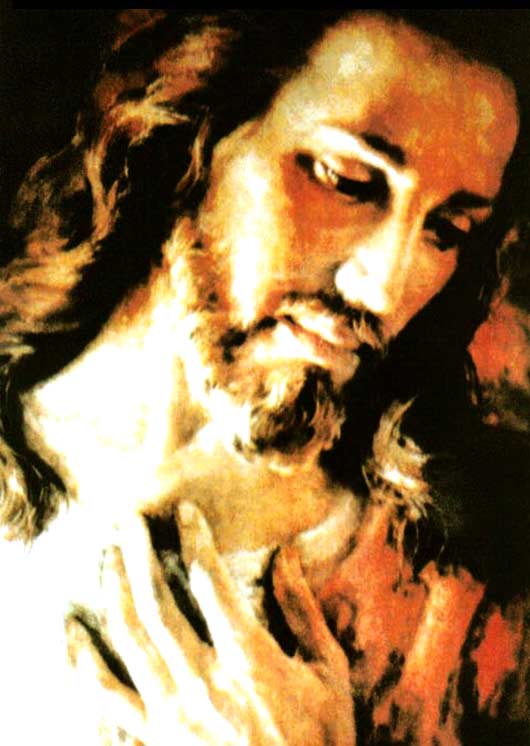 My beloved People,
GIVEN THAT MY LOVE KEEPS ME AWAKE FOR EACH ONE OF YOU, I CONTINUE AS BEGGAR FOR
RECIPROCITY IN MY CHILDREN, BUT I DO NOT FIND RECIPROCITY OR MUTUALITY IN THE RELATIONSHIP…
IN EACH HUMAN CREATURE I LOOK FOR A BIT OF LOVE FOR ME
SO I CAN OVERFLOW AND UNITE MY CHILDREN, MERGING
THEM INTO ONE IN MY HEART, TO HEAL WOUNDS AND FREE THE CAPTIVES, KEEPING THEM IN THE UNITY OF MY LOVE.
My People, the ones who do not know Me are the ones I seek tirelessly, even if they close the door on Me—not only the door to the heart, but also the door to the human will—although they have been chosen and, as My chosen ones, I engraved in each one the path for them to find Our Trinity's House; those are the children for whom I wait every instant, including the last one.
LOOK FOR ME, CHILDREN! LOOK FOR ME!
I know you are not all the same, but there exists one and only one path to come to Me: "The gate is narrow and the road is hard" (Matthew 7:14), the road traversed by the meek and humble in heart; not the road of those who have personalized Me and trample on those who are humble and simple, those to whom I give Myself to teach humanity that I Am God, and I choose those who give themselves to Me, like small children, for Me to teach them and for them to know Me as I Am.
Man is so complicated! He looks for the least difference to cause conflict between My children, even though each instant I give Myself to Mine without stopping.
My beloved People,
DO NOT WANT TO PERSONALIZE ME OR TO STOP ME IN HUMAN TIME.
I AM ETERNAL PRESENT; I REMAIN IN EACH ONE IN A PARTICULAR WAY; I DEAL WITH SOULS IN MY ETERNAL PRESENT.
My beloved People, in the search for perfection, humanity has fallen in the greatest imperfection of all instants: Hubris, when man disowns Me and removes Me from his existence. I had already announced it ahead of time: Man will come to disown Me, allowing the forces of evil, directed by satan, to penetrate My children, to penetrate their senses, deviating them from Me and, through the reason, making them withdraw from the purpose of finding Me, making them ignore Me and, unknowingly, putting themselves at the service of the propagation of evil throughout humanity.
Evil has no eyes but sees it all…
Evil has no words, but he talks to man, reaches in the heart and talks to it…
Evil has no feet and no hands, but uses those of men to cause wickedness and to drive the human creatures to despair.
My beloved People,
Wake up! You think you fear evil, but you cannot avoid it if you do not know Me!… You cannot love Me if you do not know Me… You cannot think of Me if you do not delve in Me and take Me so the longing to know Me will penetrate and you will achieve Salvation. MAN CANNOT ARRIVE TO ETERNAL LIFE BY HIMSELF; I CAN SAVE YOU IF YOUR HUMAN WILL IS OPEN AND READY FOR IT.
HUMANITY, MAN MUST BE AWARE OF HAVING A GREAT ENEMY THAT CONSTANTLY STRIVES TO
MAKE HIM FALL AND TO TAKE HIM AWAY FROM ME
BY ALL MEANS AND IN ALL ASPECTS OF DAILY LIVING.
THIS IS WHY YOU MUST KNOW ME SO YOU CAN RECOGNIZE ME.
It is not the lack of Divine Love for Our children what is driving so many human creatures to place themselves in the hands of the devil and serve him; on the contrary, it is man's hubris that betrays him, due to the spiritual ignorance with which he sees everything around him, he does not recognize the deception to which he has been driven.
My People,
I CALL YOU NOT TO LOSE YOUR SOUL, TO WAKE UP! The thing is that I call you and you do not know the depth of what it means to wake up. Because of the lack of personal interest in learning about man's organism—material and spiritual—you are not aware of what the soul is for man.
You hear about the soul and you do not know what the soul is; you hear, you only hear about everything without believing and, therefore, since you do not have enough Faith, you live without thinking about the instant when you will be summoned before Me.
Children, if for a minimum instant I were to give you a taste of what the soul experiences in a state of Grace, I would be giving you ahead of time a taste of Heaven, which is where I reside fully. Each soul has printed on it the Price of My Blood; this is why I call you and I do not want you to be lost by spoiling the soul with the mire of sin.
I speak of the soul and of sin, when for a great majority of humanity, sin is the daily bread, and this leads Me to suffer in constant pain. HOW CAN THOSE WHO CALL THEMSELVES LEARNED SCHOLARS INSINUATE THAT I DO NOT SUFFER AT THIS INSTANT, WHEN MY PASSION LIVES IN CONSTANT CURRENT ACT FOR ONE SINGLE SOUL?
NOURISH THE SOUL, PRAY, ADORE ME IN THE EUCHARIST,
PRAY TO MY MOTHER,
DO NOT NEGLECT AN INSTANT, NOT EVEN AN INSTANT; AN INSTANT IS WORTH ETERNAL LIFE.
My favorite children must instruct My senseless People who say they are saved before purifying themselves from all the wrongdoing committed. They do not recognize the mistake in which they live; they do not recognize that they are not the owners of life; they do not recognize that they are limited; therefore, because of so much hubris, man will purify himself.
I am in front of each of you. By showing repentance and firm purpose of amendment not to fall again in the same sin, and the continuous purpose of amendment not to offend Me, bringing down the selfishness of the human ego, I embrace you and lead you with My Mercy which is infinite; I am not the God that remains accusing you or judging you continuously…
YES, I AM GOD. I SEE THE ACTS AND WORKS OF THOSE WHO ARE MINE, AS I WAIT FOR THOSE
WHO ARE LOST TO RETURN TO ME, AND I ENCOURAGE THOSE WHO DO NOT MOVE AWAY FROM ME.
AS GOD, I DO NOT REJECT THOSE WHO REPENT BUT I DO NOT WELCOME SIN, I DO NOT EVEN
SEE IT WITH INDIFFERENCE; FOR THIS REASON THE LAW WAS GIVEN TO YOU; OTHERWISE, MY FATHER WOULD NOT HAVE GIVEN IT TO BE FULFILLED.
My children cry to Me when they feel barrenness; they ignore that it is a great sign of brisk walking. Therefore, in the midst of barrenness, pray, practice acting and working in My Love and My Will, and this way the soul will revolve within the infinity of My Mercy and the creature will find his nothingness so that I will be everything in him.
My beloved People,
How very powerful the worldly powers present themselves when they have to their credit military power! And the greater the weaponry, the greater the power!...
How very powerful a man feels when he is wielding a weapon!...
How very powerful it is that they feel before the hungry they who have joined the god money without thinking that one single instant is enough for Me to make that power tumble!...
Children, I allow you to continue until each one returns to Me.
The devil has stopped prowling; he has taken man and has transformed him into a creature locked up in the jail of ignorance and detachment from everything My Love means.
I WANT EACH ONE WHO READS OR HEARS THIS MY WORD TO MEDITATE AND BECOME AWARE THAT HE CANNOT ALLOW HIMSELF TO BE LOST.
My beloved People, are you suffering? You will suffer more...
Fire will fall on the earth and you will wish you had never moved away from Me. I know this scares you. What about sin? Does sin scare you? And offending Me? Does that not scare you? Not even dying in a state of sin scares you?
MY PEOPLE HAVE NOT BEEN INSTRUCTED THE WAY I INDICATED IN WRITING, SO THAT MY
PEOPLE WOULD KNOW THAT
SIN IS CALLED SIN AND SIN IT IS, THAT EVIL IS EVIL AND
HE WHO LIVES IN EVIL WITHOUT REPENTANCE IN EVIL HE WILL DIE.
Do not live in fickleness or in liberalism, it leads to perdition when man falls into those states and, because of the confusion, the conscience is stopped and forgets My Mandates, forgets My Love, and then, giving himself to the devil, follows the steps contrary to My House. How very free is man when he walks in My Freedom!
My beloved People, war intensifies, the pain of terror expands; it is carried in silence and then the pain is heard with a great echo; evil takes pleasure in this. The allied nations will betray one another and division will set in; then it will be the shocking fire that will animate the living beings in the face of the great confusion.
Pray, My children, pray for Russia.
Pray, My children; mutually, the nations will give one another great suffering.
Pray, My children, ask My Mother for Her Intercession as the earth shakes; Norway will cry.
My beloved People, man is out of control; this makes Creation react and, in a lament, clamors to man for him to be a part of the Divine Order.
Children, you self-mutilate in the spirit when you give yourselves to evil and yield to him the power over you; you do not feel it, you do not perceive it because the mundane is integrated as part of your lives in a great majority of My children. You suffer by your own hand and because you do not remember Me
Do not forget that "I [Am] the Lord your God" (Isaiah 41:13) and I remain with My People, the People that are waiting for Me at My Second Coming.
I bless you, I love you; do not forget My Love for each one of My human creatures.
Your Jesus
HAIL MARY MOST PURE, CONCEIVED WITHOUT SIN.
HAIL MARY MOST PURE, CONCEIVED WITHOUT SIN.
HAIL MARY MOST PURE, CONCEIVED WITHOUT SIN.