Tuesday, December 15, 2015
Message Given by Our Lord Jesus Christ
To His Beloved Daughter Luz De María.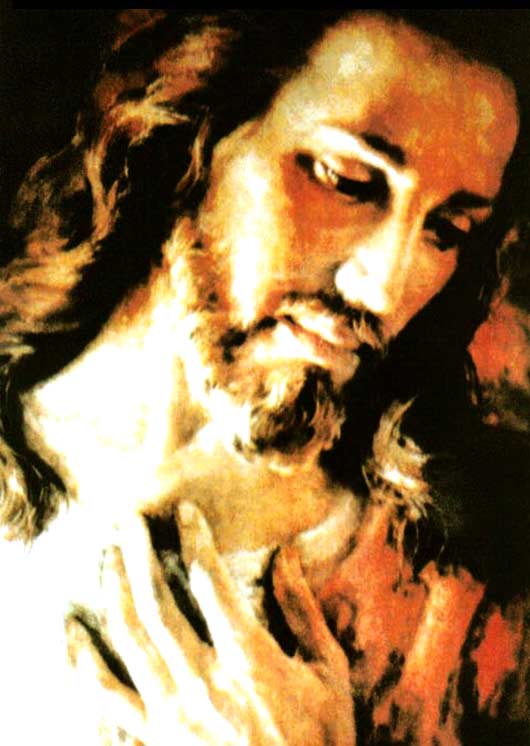 My beloved People,
YOU ARE MY PEOPLE FOR WHOM MY FATHER SENT ME…
YOU ARE MY PEOPLE, THE ONE I LOVE
AND TO WHOM I BEQUEATHED MY MOTHER…
I continue to be King and Beggar at the same time. My Love leads Me to seek souls; I wish "everyone to be saved and to come to the knowledge of the truth." (1 Timothy 2:4) This way My People, purified of all wickedness and folly, will be Light in the middle of the darkness of the world.
My children, I have called you so much!... and at this instant, more vehemently because of the nearness of the coming events. The wise of the world call My children not to obey Me, not to believe Me, and to go on with their lives without looking at the surrounding reality, very different from what humankind sees.
Man bases his wisdom on what is far from true Wisdom. My children must come out of the night in which they live and seek My Light from the contemplation of My Love; only this way will they find the Truth.
My children do not know themselves and therefore they consider themselves to be incapable of ascending towards Me at this precise instant when evil, which they do not see, constantly leads them from one fall to another and does not let them see with the eyes of the soul what truly is evil…
THE DEVIL IS NOT AN ALLEGORY, HE IS NOT A STORY, HE IS NOT MYTHOLOGY. THE DEVIL IS THE REALITY THAT SURROUNDS YOU, THE REALITY WITH THE PURPOSE OF TAKING YOU TO THE ETERNAL FIRE WHERE YOU WILL REMAIN VERY FAR FROM ME.
Who dares to contradict Me?
Too many of My children contradict Me… precisely when I call them to do some soul searching, to revise their inner selves, and to clearly see the spirit that invades humanity seeking homogeneity in the denial of My Truth, My Existence, My Surrender, to make way for everything the antichrist has marked as his own goal to possess My children.
MAN IS IN A BLATANT SELFISH STATE IN THE DEPTHS OF SELFISHNESS, AND MAN WILL COME
OUT OF THERE ONLY IF HE RECOGNIZES THAT BY HIMSELF HE IS NOTHING AND HUMBLY CALLS ME SO THAT MY HOLY SPIRIT WILL BE EVERYTHING IN MAN.
My beloved People, where in the Scriptures did My Father invalidate My explanations to My children regarding their living, their acts and works, at this instant, when Our Trinity is the Eternal Present and We will not leave Our People without Help?
Children,
DO NOT BE FOOD FOR EVIL: WHEN A HUMAN CREATURE WORKS OR ACTS AGAINST THE COMMANDMENTS AND THE BEATITUDES, THOSE WORKS AND ACTS RESULT IN SIN, AND SIN IS FOOD FOR THE DEVIL.
Beloved children,
THE DEVIL IS USING ALL THE FOOD GENERATED BY ACTS AND WORKS CONTRARY TO THE DIVINE
LAW TO GROW AND DEBASE THOSE WHO HAVE PLACED THEMSELVES AT THE SERVICE OF EVIL.
This is why I continuously call you to come to Me in the Sacrament of Reconciliation and to receive Me in the Holy Eucharist so that you will not continue promoting evil to grow.
At the Creation, My Father established an Order. I recovered this Order for you to remain within the Order and not be strangers to the Divine Will. At this instant, man immediately truncates this
Divine Order and turns it into a whim in his hands. The Gift of life is manipulated by man and, without a conscience, truncates the life of another brother, without remorse, like a delirious object in the hands of the devil.
MAN MADE THE DIVINE ORDER COLLAPSE WHICH CAUSES EVERYTHING TO ENTER A GREAT CHAOS WHICH, IN TURN, GENERATES THE SELF PURIFICATION OF HUMANKIND FOR THE DIVINE ORDER TO BE RESTORED AGAIN. For this I am Crucified time and again, My Passion is in current state; I do not move away from My children, on the contrary; otherwise what kind of God would I be?
I call My People to be aware of all their acts and works so that everything aims to recover the Divine Order.
You, beloved children—who pray and practice the prayers by acting in favor of your fellow humans—are beacons of Light that I see and which keep Me constantly looking your way. My Mother does not abandon you and She will not abandon you; She will shelter you until Her Immaculate Heart triumphs over evil, and righteousness reigns throughout the Earth.
My children,
YOU HAVE LED TO MUTATE EVERYTHING I HAVE GIVEN TO YOU, AND YOU HAVE CONSENTED TO
THE DEFORMATION BECAUSE YOU HAVE SUBJECTED YOURSELVES TO WHAT IS OF THE BODY
AND TEMPORARY; YOU DO NOT WANT TO GROW IN THE SPIRIT, YOU DESPISE KNOWLEDGE BECAUSE OF YOUR LITTLE YEARNING TO UNDERSTAND…
Beloved children, look on high, do not despise the Signals, remain attentive to Heaven… What will make humanity tremble is near.
Do not continue lulled in the lethargy produced by those who prepare the footstool for the antichrist; reunite with Me, I seek the Prodigal son, the lost sheep, the one who does not know Me so that he will, the one who despises Me and then repents. I AM THE TRUE LOVE.
My beloved People, I call you to pray for the countries that will suffer because of the water which will increase without precedent.
My beloved People, I call you to pray for Italy; it will suffer, lament, and cry. Man's hand looks for vengeance. My Church in Rome will suffer great shaking. My beloved People, pray for Germany; it will be flogged.
Step into My Way where you will not be misled…
KNOW ME SO THAT YOU WILL ACQUIRE THE KNOWLEDGE WHICH WILL BRING YOU CLOSER TO ME AND SO THAT YOU WILL FIND THE STRENGTH TO REMAIN BY MY SIDE AT THE INSTANTS WHEN ONLY I WILL KEEP YOU TOGETHER IN ONE SINGLE FLOCK, BECAUSE I AM THE ONLY SHEPHERD OF THE SOULS, KING OF KINGS, AND LORD OF LORDS.
My People, I come for you so that you will not be lost; be unity; there must not be a single fissure in My People. My Love prevails among those who are Mine and no wind topples them.
Your Jesus
HAIL MARY MOST PURE, CONCEIVED WITHOUT SIN.
HAIL MARY MOST PURE, CONCEIVED WITHOUT SIN.
HAIL MARY MOST PURE, CONCEIVED WITHOUT SIN.