Thursday, January 21, 2016
Message Given by Our Lord Jesus Christ
To His Beloved Daughter Luz De María.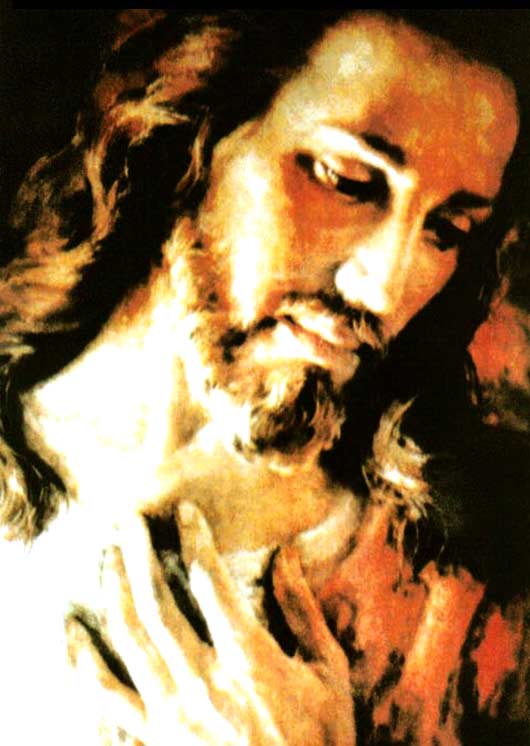 My beloved People,
I PROTECT YOU AND I LIGHT THE PATH WITH MY WORD SO THAT YOU REMAIN ALERT AND NOT ALLOW YOURSELVES TO BE CONFUSED.
My People realize that they are not the same, they recognize that they fail, but they do not strive to get out of the mud for fear of being singled out by the current of the world. They are not aware of the blessing it is to be children of Our Trinity and My Mother's children.
My beloved People,
You can clearly catch a glimpse of what is presented in front of you: The great strategy of the one who lurks to take possession of the road that has been prepared for him by those who have remained away from Me, the antichrist. YES, CHILDREN, THE ANTICHRIST COMES TO SUPERSEDE AND REPLACE WHAT IS DIVINE TO INTRODUCE WHAT IS DEMONIC ALL OVER THE WORLD, IMPLEMENTING DIRE AND DIABOLIC DOCTRINES WITH WHICH ONLY HE WILL HAVE TOTAL CONTROL OF HUMANITY.
At this instant, the economy is one of the strong strategies of the antichrist with which he will destabilize the Nations until he makes them succumb, and he will buy the souls of those who do not want to suffer because of lack of money. At this technological instant in which humanity lives, man has been led to see as normal to have a chip implanted, but My children must not accept it, it is the sign of the beast by means of which they will become the beast's slaves.
Beloved children,
MY PEOPLE WILL BE TESTED LIKE GOLD IN THE CRUCIBLE…
TOO MANY ASSURE ME THAT THEY LOVE ME, BUT HOW MANY WILL GIVE UP EVERYTHING FOR ME?
HOW MANY WILL REMAIN FAITHFUL IN THE MIDST OF THE CRUELEST BLOODIEST PERSECUTION?
Children, humanity walks behind false gods, idols in human skin that lead you to the cliff…
You follow men, not Me; you remain under the word of false gods and relegate Me to a second place.
THIS INSTANT IS OF GREAT CONFUSION; some speak in My Name, taking attributions that Our Trinity will not give to any creature at this instant.
I have pointed out the coming events to My instruments…
I have revealed to humankind what is near…
I have warned this generation about what will cause confusion, grief, and uncertainty...
I have warned you to remain alert, watching out for those who claim to be so close to Me that this generation depends on what happens to them. Look at what the Scriptures say and what Our Legions Sing in unison: Yours is the Honor, the Power, and the Glory forever.
OUR SPIRIT ADORNS WITH GIFTS AND VIRTUES THE MAN WHO LIVES STRUGGLING FOR
SANCTITY AND, FUSED WITH OUR WILL, IS HUMBLE, OBEDIENT, WITH A DEEP FAITH, AND BRINGS
HOPE IN MY MERCY TO HIS BROTHERS, BECAUSE HE KNOWS THAT I, THEIR CHRIST, LIVE THIRSTING FOR SOULS.
Keep in mind that each one of My Messengers is the most humble, the most charitable, the most obedient, and the one who calls you the most to be My followers; not his followers, Mine. The soul's enemy deceives man easily causing confusion in My People, creating false expectations so that someone of Mine will take attributions that I have not bestowed on him.
Beloved, My children work and act in Our Will. My children know Me so as not to be deceived; they pray to discern, and they love My Mother and ask for Her Help so that She will guide them and intercede in favor of each one of them, lighting the way when the heart—agitated in the face of deception—beats quickly to make him react.
ONE AND ONE THOUSAND FORMS OF DECEPTION REVOLVE AROUND HUMANITY, SO MUCH SO THAT MEN OF SCIENCE HAVE INVESTED THEIR EXISTENCES AND THEIR LIVES LOOKING FOR A WAY TO SURPASS ME, wantonly creating life to the point of integrating human tissue in the organism of an animal (3), causing a series of aberrations against human nature. The Tower of Babel is small compared to what this generation has come to perform… likewise; the continuous change in humanity will be large.
I call you constantly so that you do not forget everything I have announced to you; you know the theory, but what will you do when you face some violent action of Nature or the increasing low instincts of man that evil causes to surface?
THE INSTANT IS BLOODY, BUT THE MAN OF FAITH REMAINS STANDING, BECAUSE MY HOLY SPIRIT LEADS HIM TO WITHSTAND WHAT HE MUST, AND TO GIVE UP WHAT HE MUST LEAVE ASIDE.
I call My People not to stop at this instant…
I call My People to control the free will…
I call My People to maintain that honesty with which my faithful children are distinguished amid the ongoing suffering…
As in the past, you continue not believing. You eat, you drink, you marry, you give in marriage, you buy, you sell, you sow, you build, ignoring the Calls from Our House (Matthew 24:37-39) ignoring the terror that your brothers already suffer and that will spread throughout the Earth. You live without love, you disobey Me as if I did not see you; you think you deceive Me when I am the One who knows what each one has inside.
CHILDREN, REMAIN ATTENTIVE!
I AM THE ETERNAL PRESENT, I AM KING AND MY KINGDOM IS NOT MODERNIZED LIKE WHAT IS WORLDLY IS MODERNIZED…
PAY ATTENTION!... I AM YOUR GOD (Isaiah 41:13)
My beloved People, the waters of the oceans will be agitated and in their anger they will penetrate inland, the volcanoes erupt with great force, the tree that used to bear fruit will be like the fig tree that withered away, the plant that had a crop in March will give its crop in September. The rivers will no longer carry much water; the threats from the sky will be constant. Scientists will warn about celestial bodies approaching Earth, thus the same scientists will corroborate My Word.
Beloved, the plague moves ahead and another one arises which affects the digestive system with nausea and vomiting, and raising the body temperature until the creature sees his skin darken. This is the result of improper manipulation in the laboratories where great experiments are carried out.
Pray, My children, pray for Brazil, the beaches that now are a source of evil enjoyment will become inaccessible for man.
Pray, My children, pray for Greece; it will suffer on its land.
Pray, My children, pray for Italy; pain will reach several cities. The volcanoes Vesuvius and Etna will cause fear with their eruptions.
Pray, My children, pray for China; it will suffer the shaking of its land.
Pray for the United States; Nature alerts its inhabitants so they will not allow this nation to be the cause of the world war.
Pray, My children, the land will open up in Peru causing horror.
My beloved People,
IT IS NOT OUR WILL THAT YOU SUFFER. IT IS THE INCORRECT USE OF FREE WILL THAT LEADS YOU TO SUFFER MORE HARSHLY EACH INSTANT.
COME TO RECEIVE ME. YOU MUST REMAIN STRONG IN THE SPIRIT. THE FAITH MUST BE SOLID. JOIN ME AND LET ME HELP YOU. PRAY THE HOLY ROSARY. DELVE INTO THESE CALLS THAT EXPLAIN MY LOVE SO THAT YOU WILL BE PREPARED.
You know that out of Mercy I will come to examine you; it will be a small judgment; repent so that you will not suffer more.
Beloved, as Infinite Love that I am, I will not abandon you. These My Calls and My Mother's Calls will keep being the breath, the help from My House to My People. This Word from Our House will remain to guide you. What kind of God would I be if I left My People adrift, bereft of My Word and without alerting you?
OBEY! ALERT YOUR BROTHERS WHO LIVE IN SPIRITUAL IGNORANCE.
I am with you, My children, I do not deny you My Consolation or My Forgiveness. I bless you and I love you.
Your Jesus.
HAIL MARY MOST PURE, CONCEIVED WITHOUT SIN.
HAIL MARY MOST PURE, CONCEIVED WITHOUT SIN.
HAIL MARY MOST PURE, CONCEIVED WITHOUT SIN.