Tuesday, February 9, 2016
Message Given by Our Lord Jesus Christ
To His Beloved Daughter Luz De María.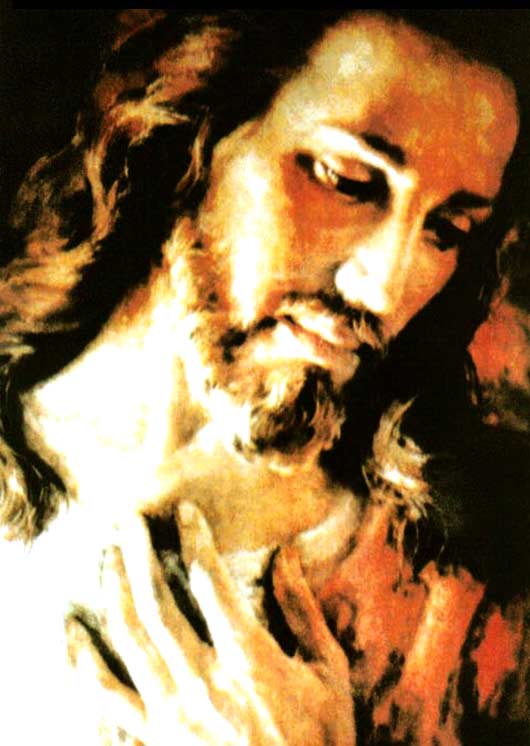 My beloved People,
YOU, MY CHILDREN, BECAUSE YOU ARE AWARE OF ALL YOU ARE LIVING, YOU WILL CONTINUE
ALONG THE PATH, STRENGTHENING THE FAITH, AND WITH THE HELP OF THE HOLY SPIRIT, YOU ARE GUIDED TO THE WHOLE TRUTH AND, AIDED BY MY MOTHER, HOLDING HER HAND, YOU WILL RESIST THE ATTACKS OF THE EVIL OPPRESSOR.
My People are aware of all that is coming…
My People must look up and remember Who created everything that you see in Creation. You owe Me the Honor, Power, and Glory, Forever and Ever.
Beloved People,
At this instant, the enemy of the soul keeps his diabolical legions upon all mankind, as it has previously done in the history of mankind to deceive...
At this instant, My faithful People share a feeling, and it is to warn that humankind will suffer because they disobey My Word. My People feel this. The rest of the men, those who reject Me or those who do not take Me seriously, look at the way the world appears to be instead of looking at the shocking events, and then say, "Life goes on as usual; those who announce that everything will change are wrong, they are fakers." Saying this, children, is part of the action of evil to keep you in denial, to be lost.
I give you My Word with Love, and My Mother keeps you warned; but you keep reading or hearing the Calls from My House waiting for the fulfillment of the events in order to react… you wait for proof to react…
CHILDREN, WHEN PROOF COMES BEFORE YOU, YOU WILL NOT BE ABLE TO ACT LIKE A JURY TO FIND A CONSENSUS VERDICT.
ALTHOUGH MY MERCY IS INFINITE, NOT EVERYONE WILL HAVE THE BLESSING OF BEING AWARE
IN INSTANTS OF AGONY IN ORDER TO REPENT OR TO SAVE THEMSELVES FROM SATAN'S CLAWS,
DESPITE THE INFINITY OF MY MERCY WHICH DOES NOT REJECT
THE SLIGHTEST SIGN OF REPENTANCE TO EMBRACE MY CHILDREN.
My People, misused science is generating a new race as an attempt to surpass Me. ABOMINATION is what these creatures commit against the gift of life, and My Justice will be prompt.
You are this generation that the Holy Scriptures announce: You will witness the fulfillment of the Prophecies just like Noah's generation did.
Humanity, you dance, eat, drink, plunge into wickedness… life is despised, betrayals come up, one after the other, the signs in the Sky abound; but men go on as if nothing were happening, as you are witnessing some who walked under My Word and today have surrendered to darkness, mocking Me, My Warnings, and the Calls from My House.
EVIL MULTIPLIES SPEEDILY, terrorism will wreak havoc; prowling all over Earth, it will carry death with it. Without fearing My Justice, the haughty and arrogant man will fall to the ground at his own foolishness.
THEY DO NOT BELIEVE IN THE EXISTENCE OF EVIL. This way they give authority to evil to move around freely with great intelligence, inserting itself in man to make him despise Me and deny My existence. They call sin good; and good, sin. This is how evil takes men by surprise, disguised as good, due to the ignorance of mankind that does not know Me.
Woe to him who does not alert My children about sin and who does not call sin, sin!
Woe to him who confuses My People and leads My innocent along paths of error and horror!... "It would have been better for that one not to have been born." (Matthew 26:24)
THE SOULS FAITHFUL TO ME AND TO MY MOTHER AT THIS INSTANT ARE SPIRITUAL LIGHT THAT FORCE ME TO KEEP LOOKING AT EARTH, even though the human creatures are immersed in vices and perversions, in the mafia, trafficking in human life and in scientific advances that are not My Will. The human creatures that are immersed in iniquity and incredulity are more separated from Me and from everything related to the Salvation of the soul.
Pray, My children, pray for My Church; a false unity is brewing to supplant My Law.
Pray, children, pray; you will hear roars coming from the sea, evaporation of polluted seawater will rise and fall on land as foam, of which man should be afraid.
Pray, My children, pray for Chile; the land continues to tremble.
Pray, My children, pray for Mexico; it will suffer.
Pray My children, pray; surrounding the Sun you will see a new phenomenon that will presage pain for man.
My beloved People,
EARTH TREMBLES WITH THE SEQUENCE OF HUMAN SIN. EARTH SPEAKS TO MAN WHO REFUSES TO KEEP ME IN HIS HEART. Lights pierce the Earth's atmosphere more frequently causing alarm in those who see them. Space is attracted by the terrifying sin that over abounds on Earth.
The word will stop being word; man and his brothers will not understand one another; everything will be confusion (See Genesis 11:1-9). Good intentions will be considered bad and rage will arouse deep divisions between Nations in greater conflict.
My beloved People, as night is embraced by the light of the new day, man will wake up with a light that will destroy everything in its way, a light which descends because of the attack of the one that, before humanity, seemed to be asleep but was secretly preparing the lunge. Pain and ruins, the crying of humanity, the suffering of My children…
Pray, My children, pray for Indonesia; it will suffer in excess.
THERE IS SO MUCH PAIN IN MY HEART BECAUSE OF MY CHILDREN'S DENIAL!
My Mother has called you and you have rejected Her...
My Church did not obey Her Requests; for this humanity will suffer...
You are soon to face your own sin. Repent!
Hubristic People, heed My Call!... And wait with Faith the assistance from My House.
I Love you.
Your Jesus
HAIL MARY MOST PURE, CONCEIVED WITHOUT SIN.
HAIL MARY MOST PURE, CONCEIVED WITHOUT SIN.
HAIL MARY MOST PURE, CONCEIVED WITHOUT SIN.