Sunday, February 28, 2016
Message Given by the Most Holy Virgin Mary
To Her Beloved Daughter Luz De María.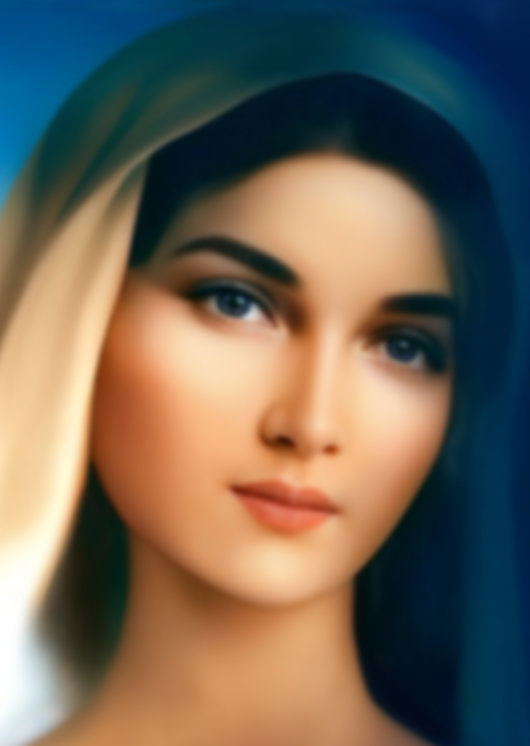 Beloved children of My Immaculate Heart,
I LOOK FOR THE LOVE OF MY CHILDREN AND FIND IT IN JUST A FEW … YOU HAVE BROKEN AWAY FROM THE LOVE TOWARD MY SON AND THE HEART HAS BEEN EMPTIED.
Children, you are in the generation of the fulfillment of the Prophesies that I have transmitted all over the world at different times.
Humanity does not perceive the geomagnetic (*) change constantly presented by Earth. The poles suffer great changes that influence humanity announcing to man that, in order to amend his acts and works, he must reunite with His God and Lord.
NOTHING HAPPENS IF IT ISN'T TO CALL HUMANITY TO SAVE THE SOUL.
The seas will roar and you, My children, will search for the source of the sound. Then you will see the waves of the sea rise and go inside the land with phenomena never before seen, and not being precisely water.
NOT EVERYTHING IS CALAMITY FOR THOSE WHO REMAIN IN THE PATH OF TRUTH. This generation has abandoned the Truth and for this reason, when you least expect it, My Son will come for His children, and…What will He find? Cities at war, pain and incessant suffering …destruction and famine, because when they speak of peace, that's when war will be closest to man. Peace is a means necessary to the Nations, but not this peace concocted by interests such that, in the minimum instant, like wolves of prey, they will violently hurl at one another annihilating millions of human creatures.
MAN IGNORES SO MUCH ABOUT CREATION THAT, WHEN IT REBELS, EVERY CREATURE WILL BE SURPRISED BY THE MAGNIFICENCE OF GOD THE FATHER, and they will see, with horror and dread, how they contaminated the perfection of the Divine Work.
Science has helped man with discoveries which have made it easier for him to face the vicissitudes of life; but, at the same time, science has been used for evil and it is responsible for major hecatombs at different stages of mankind.
You have lived in the midst of slanderous human beings that have led man to suffer cruelly. AT THIS INSTANT THE POWERS UNITE TO GIVE WAY TO THE TRUE ANTICHRIST WHO WILL SOW TERROR IN HUMANKIND IF THEY DON'T BECOME HIS ALLIES.
My children, do not forget that at this instant the families will be divided and, for their subsistence, they will turn on one another. This is not by chance; humanity has been led to this, to detachment, to disobedience, to disrespect, to denial, to irreverence, to living the instant without thinking of God. Parents lament their children's disobedience without thinking that, throughout their children's lives, they have given their children not what they need but what are whims. This is how youngsters acquire power little by little until they achieve control over their parents and elders.
This is the youth who have stopped loving, they have substituted love with an instant without feelings, without recognizing in themselves and in their brothers the fraternity to which My Son has called. Youngsters isolate themselves and, in this frantic race to isolation, they want to live alone, because in solitude there is no need to make efforts to be better; instead, they can give free rein to the human ego. By not sharing, youngsters become dehumanized when they do not want to interact with someone that means effort, someone to whom they must cede a place, a time, a space. This is what they raise in the homes where there is no communication. Love is not a central theme and it is not a matter of effort for the one who says, "This is who I am" and this is the response to everything that happens to them in life. The solitary man will be more easily the persecutor of his brothers.
What is there in the heart of man? Trepidation of the instant…
My Son is despised… He who gave himself for Love, is despised!… HE WAS ENTRUSTED WITH THE FULFILLMENT OF THE FATHER'S WILL, AND WHAT WILL MAN ANSWER WHEN QUESTIONED REGARDING THE HANDLING OF EVERYTHING THAT WAS GIVEN TO HIM?
Beloved children of My Immaculate Heart,
At all instants the Prophets have managed to get the Divine Word to God's children, and at this instant, the explanation of the events that are happening throughout the world is an act of infinite Mercy for this generation, a generation that has deviated the Divine Plan of Salvation, a generation that, overwhelmed by the desire to possess, has joined all that is mundane and that exists to degrade man, to debase him, and to make him be part of those who believe in a limited god that is not able to transform evil into good with a breath of his mouth.
Beloved, you have not understood that the true Prophet, because of the Divine Light that invades him, does not need human understanding; instead, he gives and gives all that he receives from the Most High.
REVELATION IS GIVEN TO MAN AS KNOWLEDGE OF WHAT MAN WOULD NEVER BE ABLE TO
LEARN AHEAD OF TIME, AND IT IS GIVEN TO MAN IN ORDER FOR HIM TO GET PREPARED, NOT ONLY IN THE PHYSICAL PLANE, BUT ALSO IN THE SPIRIT.
Beloved children of My Immaculate Heart, delve into that Inner Peace where you find yourselves alone with God, and do not go on with life as if there were no other instants in which to purify and bless the path however difficult it is. By himself, man would not approach God if God did not attract man to Him.
Beloved children of My Immaculate Heart,
HEED MY PLEAS. I DO NOT WISH FOR YOU TO HEED THEM WHEN IT IS LATE. It was predicted that evil would take over humanity with modernisms, with music, with games, with disobedience, with famine, violence, war, plagues… AND MY SON WARNS YOU: PREPARE NOW, DO NOT LEAVE IT FOR ANOTHER INSTANT.
You know there is life in you because you breathe; but My Son does not wish this kind of life, He wants the giving of yourselves in a complete surrender, and on this you must focus.
Little children,
HUMANITY'S SUFFERING WILL NOT REMAIN IN WHAT IT IS LIVING AT THIS INSTANT; HUMANITY'S SUFFERING WILL ADVANCE.
EVIL WANTS TO EXTERMINATE YOU AND MY CHILDREN DO NOT NOTICE… NATURE GIVES YOU IMPORTANT SIGNS AND MY CHILDREN DO NOT NOTICE…
Volcanoes awaken and human beings ignore it. It will be when the big volcanoes of the world erupt with the force they have contained and level entire cities thus advancing the darkness of the night; it will be then when man will manage to experience some respect for the warnings Heaven has sent to him.
Dehumanized humanity wanders looking at itself… The worship of satan has aroused the forces of evil so that the heat will enter the Earth causing large fires that man cannot control. Children of My Immaculate Heart,
What is coming for humanity is not encouraging for those who do not maintain Hope in Divine Love and Mercy.
Betrayals between those who have signed for peace will soon arise, and this will start, with even more folly, the attacks against those who do believe in peace. With pain I look at the treachery into which humanity will fall, treachery brought on by freemasonry which rules everything it can on Earth, and has taken over the governments of the world without some governments noticing. Children, do not be part of those who contribute to the new economic rise which the devil has designed.
Some of those taking part in the Bilderberg Club and those who are their servile offspring are laymen from My Son's Church; they are the ones who lacerate this generation and make it suffer ad nauseam and, once the antichrist is in power, these powerful will be left aside because of the command they granted to the antichrist.
CHILDREN, WAKE UP! SAVE THE SOUL! COME TO ME; I CONSOLE YOU SO THAT YOU LIVE IN TRUTH.
Beloved children,
Pray, My children, pray for Spain; it will fall prey to panic; Nature touches it with a firm hand.
Pray, My children, pray for Turkey; war remains over this Homeland making the instant advance.
Pray, My children, pray for India; they will not be able to resist the scourge.
Pray, My children, pray with force for England; it will be shaken by hatred.
Beloved children of My Immaculate Heart,
MY SON HAS NOT BEEN HOLDING YOU IN THE PALM OF HIS HAND FOR YOU TO FALL PREY TO SATAN; HE RETURNS ACCOMPANIED BY CELESTIAL POWERS TO BE CONQUEROR KING. Heaven will open and there will not be a creature on Earth who will not tremble at the majesty of the Celestial Powers that will accompany Him. They will joyfully sing as no man has ever heard, and those who recognize Him will go down on their knees before such Glory.
Beloved children of My Immaculate Heart, there will be celebration and rejoicing in the world that will recognize His Lord… BUT BEFORE THIS HAPPENS, A CREATURE WILL PRECEDE IT, A CREATURE THAT WILL SEEM YOUNG TO THE WORLD BUT WHEN HE SPEAKS THEY WILL KNOW THAT HE IS THE MAN AND THAT WHATEVER COMES OUT OF HIS MOUTH IS MORE THAN WORLDLY, AND FAITH WILL RETURN TO MY CHILDREN.
I Love you with My Heart.
Mother Mary.
HAIL MARY MOST PURE, CONCEIVED WITHOUT SIN.
HAIL MARY MOST PURE, CONCEIVED WITHOUT SIN.
HAIL MARY MOST PURE, CONCEIVED WITHOUT SIN.
(*)The Earth's geomagnetic field is the magnetic field associated with Earth which extends from the internal nucleus of the Earth to where it meets the solar wind, a current of energetic particles emanating from the Sun. After certain periods of random lengths—with an average length of several hundred thousand years—the magnetic field of the Earth reverses itself; i.e. the North and South geomagnetic poles interchange positions. In the past, these reversals have left a record on the rocks which allow the paleomagneticians to calculate the drift of continents and the changes in geography, climate, and life itself.