Wednesday, April 27, 2016
Message Given by Our Lord Jesus Christ
To His Beloved Daughter Luz De María.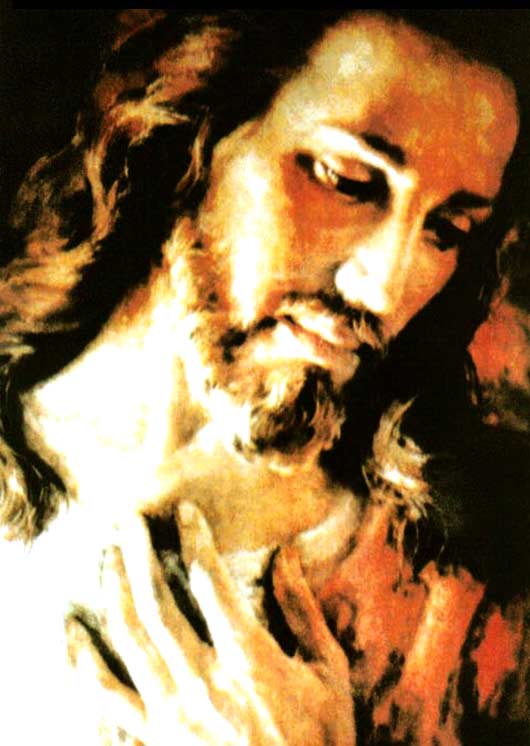 My People, My beloved People,
I AM THE SAME YESTERDAY, TODAY AND FOREVER … I AM INFINITE LOVE… EACH OF YOU IS TO ME THE REASON FOR MY LOVE.
My People, you will walk filled with tribulations until you return to Me. I do not abandon you, but you reject My Protection…
I do not abandon you; I anticipate the events so that you will get ready by coming back to Me, but you despise My Warnings…
Disobedient people! You attenuate My Word like wax in the fire… You are deaf to My Calls because you are controlled by human blindness, which defeats each one of you so that you will not see or hear or face the truth of the coming events.
MY WORD IS FULL OF LOVE FOR HUMANITY, CONSTANTLY CALLING YOU TO RETURN TO ME SO THAT I EMBRACE YOU ANEW.
I am the Mystery of Love revealed at the Cross, but humanity used the Cross as a generalized fashion symbol—not out of love and not for its Meaning—until this moment when what was taken as fashion is a source of shame and persecution.
You take up the fight against Our Divine Law without compunction, adulterating the Will of Our Trinity to fall prey to satan.
MY PEOPLE NEED ONLY A BREATH TO FALL INTO THE CRAG. For this reason and before it happens, I will intervene giving humanity a new opportunity to look at yourselves—each one of you in particular—and be renewed by My Holy Spirit, and be filled with Faith, Strength, Hope, and Charity so that you face all that this generation must encounter to be worthy of My Goods which this generation has despised.
My Mother wails in pain for Her children, for all humankind, and She continues to be despised by much of humankind.
DIVINE LOVE CALLS HUMAN LOVE TO BECOME SPIRITUAL, BECAUSE ONLY THIS WAY YOU WILL BE NOURISHED BY MY WILL WHILE STAYING IN THE WORLD WITHOUT TAKING PART OF
WORLDLINESS. Only with Our Divine Strength will you be able to resist the attacks of the evil legions.
When calamities are accentuated, there is a proliferation of those who announce in My Name these and other calamities, or of those who, taking advantage of the circumstances, are perceived as indispensable for their brothers.
My People, you do not mature because you do not know Me!
My Father sent Me and I am still the Eternal unknown! (Ref John 1:10)
I AM THE CENTER OF MY PEOPLE, I GIVE UP MYSELF TO YOU IN MY BODY, MY BLOOD, AND MY DIVINITY IN THE EUCHARIST; I AM THE ETERNAL FOOD.
At this instant, I am not received with decorum; My children come to My Temples sloppily dressed, shamefully dressed, without scruples, and My Representatives do not warn them that in order to enter My House they must dress properly, and that to receive Me, they must be properly prepared.
MY PEOPLE SEE THE COMMANDMENTS WITH CONTEMPT AND WITHOUT ATTENTION; THEY COME IN SIN TO RECEIVE ME WITHOUT CARING THAT THIS IS A MAJOR SIN. The awareness of approaching Me in a state of sin does not exist, they have left it underground; they come to receive Me as a social participation, for participating in something they do not see as Sacred or Divine; instead they SCOFF AT ME IN FRONT OF ME.
Sometimes people take me and bring me to dark places or places of satanic rituals; and I see with pain the scope of human indifference and unconsciousness, conditions that allow the devil to seize more souls and My Representatives do not raise the voice.
My People must awaken from the sedative that evil has given to My children, invading them strategically to achieve spiritual decay of My children.
MY MOTHER HAS REVEALED TO YOU THE WISHES OF OUR WILL, YET HER WORD HAS BEEN HIDDEN, DEVIATED, AND DOWNPLAYED BY ALL MY PEOPLE; SATAN HAS TAKEN ADVANTAGE OF THIS AND HE ELABORATED HIS INSERTION WITHIN HUMANITY WITHOUT BEING IDENTIFIED. He took possession of My People by means of misused science with which man has pleased the whims of the devil that has wasted no time.
Children, the intelligent, rational and thinking man has been sold, and he himself has allowed it. His possessions have gone to other creatures without man being totally aware of it. An enemy has gotten inside the households and with great joy you open the doors for him, and he arrives to cause more division than there already is, he brings about diseases not only at the personal level but also emotional. My Mother has already warned you and you have failed to get ahead of that enemy; instead he has entered your homes and, at this instant, he has become familiar with the family members and with all of society, thus achieving greater family disintegration, infidelity, and psychological disturbance; I speak of the most popular means of communication at this instant: the phone.
I SEE A ROBOTIZED PEOPLE WALK IN A STATE OF SEDATION, HYPNOTIZED BY TECHNOLOGY, DEBASED BY TECHNOLOGY.
THEY HAVE LOST MODESTY, SHAME IS NOT KNOWN TO THEM; AND THIS IS THE WORK OF SATAN WITH THE COMPLACENCY OF MAN WHO USES THIS AS AN EXCUSE TO DELIVER HIMSELF TO SIN IN MOST CASES.
New things will arrive with which evil will dazzle man, and man will love the new things and will despise God… My Mother warned you.
My beloved People, Earth has been saturated with sin which, for most, is an everyday thing, nothing new. This sin is a magnet that attracts more calamities towards humanity.
The land will crack majorly, the landslides, man will not be able to justify this. Misused science has led and leads My People towards hatred, revenge, sin, death, lust, senselessness, and Creation reacts without science being able to explain it.
My beloved People, the sun will emanate its heat affecting communications. It will be then when humanity will feel silence and impotence.
My beloved People, pray for Nicaragua; this Nation will be flogged.
My beloved People, pray for Germany; it will be betrayed and it will live the harshness of Nature.
My beloved People, pray for Japan; its land will shake with force.
My beloved People, pray for the United States and for Mexico: the great shuddering of the earth will cause alarm and Nature will affect them greatly.
Pray for Central America.
My beloved People, do not separate from My Mother; I am Her Son.
My beloved People, the tyrant that will persecute you has given the order to hasten his plan.
Continue growing in My Love, in Wisdom, and in Knowledge.
Wait patiently; My House will assist you; do not give up. "I AM WHO I AM" (Exodus. 3:14) and no one will snatch My faithful.
Beloved children, control your free will lest it control you.
MY PEOPLE, BEFORE DARKNESS INVADES YOU, APPROACH ME.
COME TO ME, ALL YOU THAT ARE WEARY AND ARE CARRYING HEAVY BURDENS, AND I WILL
GIVE YOU REST. (Matthew. 11:28)
I bless each one of you,
Your Jesus
HAIL MARY MOST PURE, CONCEIVED WITHOUT SIN.
HAIL MARY MOST PURE, CONCEIVED WITHOUT SIN.
HAIL MARY MOST PURE, CONCEIVED WITHOUT SIN.