Sunday, May 8, 2016
Message Given by the Most Holy Virgin Mary
To Her Beloved Daughter Luz De María.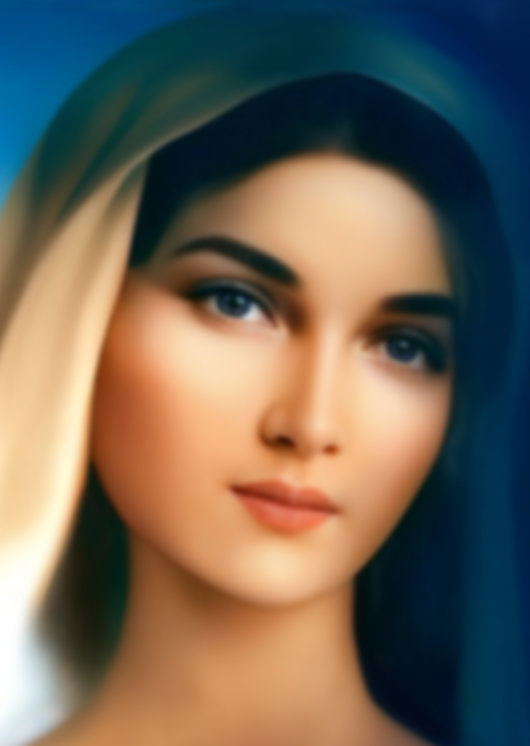 Beloved children of My Immaculate Heart,
I seek a place of refuge, I pilgrim from heart to heart in My children to give them the support of My Maternity and lead them to My Son: "the Way, and the Truth, and the Life." (John 14:6).
Beloved children, you must not separate from Divine Will where all order is concentrated: Goods, virtues, and gifts over abound for those who decide to be more spiritual.
My Son continuously calls you to live in Divine Will; that is, IN OBEDIENCE TO DIVINE WILL, TO ORDINANCES, TO A LIFE OF LIVING TESTIMONY OF DIVINE LOVE AND OF EVANGELIZATION OF THE WORD—REVEALED IN THE SCRIPTURE AND EXPLAINED IN THESE CALLS OF LOVE—AND THE DAILY PRACTICE OF IT ALL, WHICH CHARACTERIZES MY SON'S PEOPLE.
Beloved children, you must understand that each of you has been given, from on high, a mission which is to be living examples of the acts and works of My Son, and to fight for Eternal Salvation, not only personal, but also that of your brothers.
This generation has transgressed the Law given by The Father to His children, ETERNAL AND UNIVERSAL LAW. THIS LAW WHICH HAS GIVEN YOU THE KNOWLEDGE OF GOOD AND EVIL IN THE INTIMACY OF THE HUMAN CONSCIENCE BY MEANS OF THE INTELLECT, SO THAT YOU CHOOSE, IN FREEDOM, THE WAY MAN HAS BEEN ALLOWED TO CHOOSE. THIS GENERATION CHOOSES EVIL AND—WALKING AGAINST THE UNIVERSAL LAW—REVOLTS AND REFUSES THE ILLUMINATION OF THE HOLY SPIRIT EVEN THOUGH THEY ARE RATIONAL CREATURES.
Beloved children,
Human will needs Divine Help to continue in union to the fullness with force. At this instant, humanity strongly rejects this Divine Help and embraces evil which it should not access, thus hindering the human powers, rendering them inert by acting on the inferior which is evil. At this instant, man looks at himself and stagnates; he does not think there is something more. All are My Son's children, BUT NOT ALL HAVE GAINED ETERNAL LIFE.
YOU MUST ACT AND WORK IN LIKENESS TO MY SON,
YOU MUST OBEY HIS WILL, YOU MUST LIVE THE COMMANDMENTS,
YOU MUST EMBRACE THE BEATITUDES, AND FULFILL THE SACRAMENTS IN ORDER TO BE WORTHY HEIRS OF ETERNAL LIFE.
All have been redeemed by My Son, but not all live the Redemption or are extensions of it. Therefore, not all accept to participate of HIS LOVE or ETERNAL SALVATION. Not all have gained Heaven; each one must achieve it.
Beloved children of My Immaculate Heart, use your reason to ask yourselves: What have I given? … What do I deserve?...
MY SON DOES NOT DECEIVE YOU WHEN HE PROMISES ETERNAL LIFE;
WHAT HAPPENS IS THAT MAN DOES NOT KNOW WHAT IS ETERNAL LIFE,
HE DOES NOT DELVE INTO THE SALVATION OF THE SOUL WHEN HE IGNORES WHAT IS THE SOUL AND HOW HE MUST SAVE IT.
My children see what happens to them, but they do not see what they do and do not think about how they use the human will; and, My children, it is precisely the human will the one that is innocent or guilty of man's acts and works.
Men say that mercy comes from God. And Justice? Divine Justice is the Justice of the One who is Just among those who are Just; Divine Justice is not given if man is not worthy, if he does not attract it.
Fear, insecurity, wondering what is about to happen, confusion, disobedience, rebellion, and incoherence are human factors with which the man of little faith makes himself known, as well as his big question…
To believe or not to believe in what is coming, in the crises, the great shortages, rebellion, pandemics, political coups, robberies, killings, and persecutions, among some cases I mention, together with the scourges that will arrive from the Universe to Earth, signs and signals of the elements; it is a sign of man's spiritual immaturity, immaturity in the face of a reality that is closer each instant and that man will only manage to stop with a serious repentance and constant conversion.
My children, My Immaculate Heart calls you to return to the righteous path, listen to the voice of the Shepherd of Souls; do not confuse the Divine Word with the word spoken by men. Know the Sacred Word and allow the Holy Spirit to guide you. Do not let reason be a hindrance; instead, it should be light that leads you to penetrate the Heights.
Beloved children, the sun remains in constant boiling; a great sign will descend from the sky that will arrive on Earth; the meteorite will wreak devastation. The world powers do not ignore this; you must not ignore it. All of you have been warned by My Son and by Me. This signal will cause terror while it leaves death along its way; the tsunami will rise and in instants will usurp life.
Wickedness has increased without measure; the devil has embedded his wickedness in men, transforming the minds and the hearts into shields contrary to Love and to Life. On the face of the Earth there has never existed a generation so lacking of will as this one that is subjected by the devil forbidding man to express the Faith in My Son.
Immorality—the lack of God in present society and in the whole world—is a great sign that I have announced in My Apparitions; and men do not wish to see it as such. Egotism among men is so great that they kill one another as they throw venomous criticism to defeat missions without thinking that the devil is the one gaining ground when God's children are divided.
Parents come into anguish, their children revolt, lying rises and gains territory, the enemy eclipses the youth that have lost all shame, because of the air that has been contaminated with the insanity of the devil.
YOUTH THAT FALLS IN THE BASENESS OF ERROR…
PARENTS WILL LAMENT FOR NOT HAVING LED THEIR CHILDREN TO KNOW MY SON!
Pray, My children, pray; industries are closing down around the world, the economy falls, and man looks for the guilty ones.
Pray, My children, pray for Argentina; it suffers by man, pain precipitates. The weather will be relentless and will cause more pain. Convulsion is on hand; minds are inflamed.
Pray, My children, pray for the United States; its land shakes with force, weakening arrives, its inhabitants have fallen in great error, politics will stop as never before.
Pray, My children, pray for Italy; its nightmare arrives amidst torment; volcanoes roar, the slumbering ones awaken, Vesuvius yells, and men run out of time. Men with economic power will want to share their riches, but it will be late, too late.
Beloved children of My Immaculate Heart,
THIS THIRTEENTH OF MAY, I WISH A WORLD CHAIN OF THE HOLY ROSARY (4); EACH HUMAN CREATURE MUST CONSECRATE HIMSELF TO OUR SACRED HEARTS. IT IS IMPORTANT FOR HUMANKIND TO UNITE AND THE PRAYER OF THE HOLY ROSARY BE UNINTERRUPTED IN THE ENTIRE WORLD.
Pray for Russia; the one that slept in seeming peace awakens.
Pray, My children, love and adore My Son; remain in Faith so that the winds not bend you before the steps of the great tyrant of Humanity.
Earth speaks to man, but man has not listened to it before the instants of great compromise with evil. What is mundane continues to exist and will recrudesce giving free rein to evil; My children will feel to die. Do not turn away from My Son; receive him worthily prepared.
You, My children, wait patiently and in Faith. You will witness the Angel of Peace that My Son will give to His faithful so that they will not be oppressed by the wickedness of the antichrist.
Beloved children of My Immaculate Heart, save the soul; call Me; I am with you to lead you to My Son.
I am Mother to each of you and, as Mother, I lead you to the Light.
ASK THE HOLY SPIRIT FOR HELP; DO NOT WALK WITHOUT ENTRUSTING YOURSELVES TO HIM.
My Son is life and life in abundance; do not let your Faith decline.
I warn you so that you be prepared, not for you to decline or lose heart. Be one in My Son's Love. Come, I take you on the path of good.
THOSE WHO READ AND PUT INTO PRACTICE THIS WORD, I BLESS EACH ONE OF YOU.
I bless you. I Love you.
Mother Mary.
HAIL MARY MOST PURE, CONCEIVED WITHOUT SIN.
HAIL MARY MOST PURE, CONCEIVED WITHOUT SIN.
HAIL MARY MOST PURE, CONCEIVED WITHOUT SIN.