Saturday, June 18, 2016
Message of Our Lord Jesus Christ
To His Beloved Daughter Luz De Maria.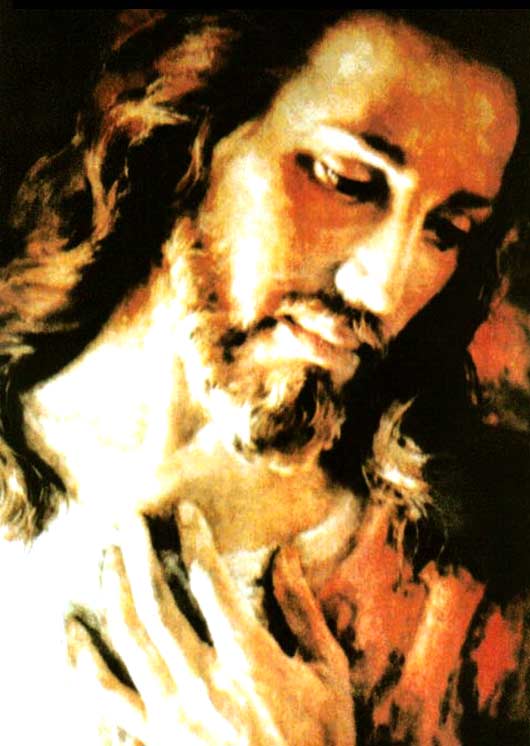 My Beloved People:
IN THIS INSTANT MY PEOPLE MUST POSSESS COURAGE, WILL AND DECISION.
My People maintain the intent of being obedient to Our Will. In this instant, intention is not enough for My People to continue advancing in the midst of the spiritual density that humanity carries.
I call you to be more spiritual in order that fortitude forces you to change for the good of the soul. The crazed workings and actions of Humanity in this instant, taken by evil, must find My People spiritually strong.
My children must remain immune to the world's constantly attractive activities, before the rampant and undenounced immorality, before obliviousness and bad attitudes. You will not be able to reach this if you do not commit yourselves to Me, being better children for Me, praying and being the praxis of that prayer, being aware of what happens throughout the world, fortifying each other and receiving Me in the Eucharist.
You must save your soul by remaining strong amid so many false doctrines, amid so many opinions that lead you to doubt and stagger regarding My Word. In this instant man is violent, arrogant and does not enjoy peace. You do not think that Creation sees the cruel acts that you commit.
CHILDREN, YOU MUST CENTER YOURSELVES IN MY LOVE IN THIS INSTANT, YOU MUST KEEP THE FAITH GROWING CONTINUOUSLY, KNOWING ME, ADORING ME AND REMAINING IN MY LOVE.
You have to understand that Love unites you to Me, as the rational creatures that you are, the bond of Love keeps you united to Me and to neighbour. It is therefore necessary for you not to forget this LAW, in order for evil to not rejoice in bringing you into disunity. Remain attentive to the slightest loss of peace, stop, examine yourselves and do not allow evil to lead you to discord. Be astute and know that this is the work of the devil: to keep you in argument, disagreement, misunderstandings, in order for interpersonal relationships to break and My children be dispersed, and scorn fraternity.
Humanity, in living the exercise of free will, is mistaken in exercising it without placing it in Our Divine Will, and this is the reason why it becomes sin on the majority of occasions.
My people, I call you to practise prayer and to be contemplatives in order for you to keep serenity and find the Truth that resides within each person. Otherwise, you will live as repeaters, robots of your brothers, whether the brother's work or action is right or improper.
Man believes that he is master of his life, he thinks that he directs his earthly passage very well, believes that he is the actor of life. The majority of man in this instant maintains perversion within his environment; the word cancer is applicable to the human ego of a large portion of My children. The demands of the human ego are bringing homes to ruin, when within families the pursuit of power is taken up on the part of one of its members with a constant excess of harassment towards members of the family entourage.
My People, until you examines yourself with the truth, and you are able to see your own defects without masks, and what these defects have an effect for ill on yourselves and of your own square metre, until you see yourself as you are, it will otherwise be the devil who moves you at will like pawns, working and acting in a terrible way. If you do not recognize your errors you will not overcome ambition, you will never be capable of discarding your own, ill-intentioned convenience.
My People, when the human creature is not capable of seeing itself, it causes such a disaster to its brothers that it leaves deep wounds which leads to contempt within for whoever acts in this way.
"I AM WHO I AM" (Ex 3, 14) AND I KNOW EACH ONE OF MY CHILDREN, AND I ASK YOU THAT IF YOU WANT TO SEE YOURSELVES AS YOU ARE, THE GOOD OR DAMAGE THAT YOU MAY BE CAUSING, BE HUMBLE AND SEE YOURSELVES WITH EYES WHICH ARE NOT THOSE OF THE HUMAN EGO.
Beloved, pride leads you to believe that you are indispensable, granting you the power to try to subdue those who stand in your way, until loneliness takes possession of the human creature and helplessness gives the human ego a lesson when your brothers go away and the creature understands that it is just one more among those at My disposal for making the GREAT WORK.
Children, in this instant the devil is throwing his darts towards the human ego, with the goal of taking intolerance to families. The devil knows that society without the family is a society in chaos.
Man in his eagerness to stand out from his brothers, has decayed and fallen spiritually; the devil has taken advantage of this to attack forcefully and to bring evil to men, consciously or unconsciously or out of ignorance. In the spiritual dimension, those who keep doing evil have been prepared to "do evil", while My children have stagnated and remain in a spiritual state in which it is difficult for them to act immediately against temptations, against what is improper, against sin.
THE HUMAN BEING HAS DEVOTED ITSELF TO KNOWLEDGE, WITHOUT MY ASSISTANCE, AND THIS HAS CAUSED THE EGO TO BECOME SATURATED WITH HUMAN KNOWLEDGE, WITHOUT LEAVING ROOM FOR A KNOWLEDGE MADE MORE PERFECT BY THE ACTION OF THE HOLY SPIRIT.
Although evil is limited, because it acts as far as I allow it, you have not kept the proper spiritual balance so that evil no longer work within you. I do not want fanatical children, I do not want blind children, I do not want impatient children. I WANT SPIRITUAL BALANCE TO LEAD YOU TO MAINTAIN THE CORRECT FUSION WITH OUR DIVINE WILL. THE GOOD OF MAN GOES AS FAR AS MAN HIMSELF ALLOWS IT.
Do not forget that the devil needs followers, and through wrongdoing, without being aware of it, you come to act negatively and isolate yourselves in this negative field, working and acting in evil, without realizing it.
YOU MUST DRAW NEAR TO ME, SINCE WITHOUT ME YOU WILL NOT ATTAIN ETERNAL LIFE.
My People: How much I have warned you to prepare, and yet I see few that attend to the explanation of My Word!
Creation is reacting faced with the proximity of events, and man, not wishing that I guide him, leaves My Warnings aside.
Pray My children, pray, in every instant evil is gaining followers, it seizes souls through rancour, discord and presumption.
Pray My children, pray, the United States will no longer be the strong power that used to take decisions, it is one more power, lacking Me. It has therefore become pliable to unsuspected
attacks by those who identify themselves as its enemies. Thus this Nation will suffer in instants when its destiny must be traced. Nature scourges it strongly as this Nation devotes itself to remaining in a constant blasphemy, heresy and profanation of My Word. The earth shakes and some coastal cities will suffer as never before seen, the land will not be land but sea.
Pray My children, pray for England, it suffers from error. Water will scourge it through a strange meteorological phenomenon. They have scorned me, supporting what is not Our Will, transgressing My Law. Suffering comes coupled with the disease that went through this Nation many years ago.
Pray My children, pray, Russia is arising, it seemed asleep, it strives against Humanity
and in a temporary alliance, is feared by all.
The one you saw from far, shows its power, and with hundreds of creatures will come to Italy where it will discharge its anger. Italy, how you will weep before you are awakened and warned so you do not drink the elixir of death! The world's amazement will be a lament for you, oh Italy.
Pray, My children, pray for the France of the music, of the bohemian nights, which is simultaneously My People, and it is for this people that I come, even if I find little acceptance. With the high tower cast down, this land will shake.
Turn to the prayer of the Holy Rosary, keep praying, and enter into a real commitment to spreading the explanation of My Word. The comet looms, the instant will arrive when I will make known to My children the evil that threatens them.
Pray My children, pray for Venezuela and Argentina, the peace of these countries will destabilized, crazed and fanatical minds distribute arms to the people, who without knowing why or for what, receive what will then make them lament; they will bring violence which will awaken the nations of the world.
MY PEOPLE, CONTINUE TO BE FAITHFUL; I AM FAITHFUL AND A JUST JUDGE. My People will be purified but never defeated, evil will cause Mine to suffer. Then I will give My People My own Love, and without weapons made by men My People will be strong; being faithful to Me, they will plough their way, awaken the sleeping, they will see the firmament and will know that I see them in every created element, in all matter surrounding them, in silence and in the Word.
THE ENEMY OF THE SOUL WILL NOT TRIUMPH, I WILL RESCUE YOU FROM ETERNAL DEATH.
You are My People, the apple of My Eye.
I bless you, I love you.
Your Jesus.
HAIL MARY MOST PURE, CONCEIVED WITHOUT SIN.
HAIL MARY MOST PURE, CONCEIVED WITHOUT SIN.
HAIL MARY MOST PURE, CONCEIVED WITHOUT SIN.