Sunday, October 2, 2016
Message from Our Lord Jesus Christ
To His Beloved Daughter Luz De Maria.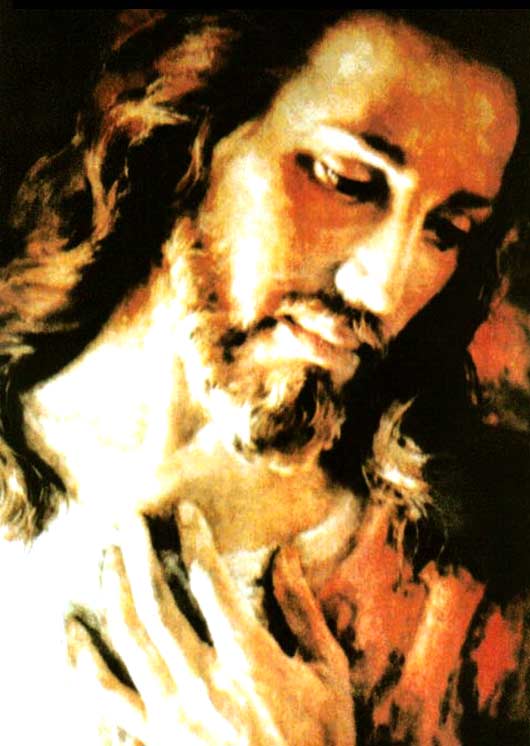 My Beloved People:
I BLESS YOU, I CALL YOU TO PRAYER, TO REMAIN UNITED TO ME.
Receive Me in My Body and My Blood, properly prepared, with full awareness of the need for a real amendment. Do not deceive yourselves, do not dig your own condemnation.
I love you, My People, I await you, having repented of your works and wrongdoings, I await you at every instant in order to press you to My Heart.
My people, keep Faith in My Protection, remain on constant spiritual alert in these instants in which turmoil is proliferating throughout the Earth, on which the spirit of evil has settled as it had already been announced to you.
I do not come in vain, I come to each one of you who read this exposition of My Word so that you put it into practice.
I GO FROM SOUL TO SOUL, CRYING OUT SO THAT YOU DO NOT DEPART FROM ME AND EXPOSE YOURSELVES TO THE CLUTCHES OF EVIL.
Events of all kinds are increasing without stopping; you My children, feel it constantly - My Word is not in vain.
The devil together with its legions are advancing, seizing souls given over to what is worldly, in every state in which man lives. Within society shamelessness is progressing, the offences do not stop, the massacres of the innocents continue mercilessly. For evil there are no social distinctions; it penetrates the top of society and the lowest level of society.
I call you to remain on spiritual alert so that evil does not take you by surprise. My desolation finds no refuge in those who do not fulfill My Calls. How much the man who disobeys the Divine Calls has to repent!
I do not come to give a different description of the hardness of human ignorance; this would be to deceive you so that you do not wake up, do not return to the path to Me and do not convert.
Not all Humanity is marching toward the abyss, but not all humanity is crying out for My Love. On the contrary, much of humanity is led blindly towards wrong paths, disguising sin in order that you surrender to it, being subjected and chained to the increasing sequence of acts and works contrary to Our Will. Satan's ruse is to hold you in total contempt of obedience and the fulfillment of the Divine Law; the ploy of Satan has been to keep sin escalating so that you do not have time to notice the evil in which you are perishing.
No spirit of evil is greater than I am, but My People have opened the door to the devil, and the latter, who was prowling around like a roaring lion, has seized everything in its path without man offering resistance.
Humanity has opened itself to evil, with great permission, destroying itself; it is walking towards self-destruction.
OH MY PEOPLE! WHAT HAVE YOU DONE? I LOOK FOR YOU AND SEE YOU SCATTERED AROUND AND AS YOU ALL SCATTERED CONTINUES RUSHING IN THE ABYSS.
I look at my People - decadent, chained to what is wrong, and it hurts My Heart. You do not respect My House, you offend Me, you desecrate and destroy images evoking Our Trinity, you destroy what reminds you of My Mother and you mock the good. CAN A PEOPLE LIKE THAT OF THIS INSTANT CALL ITSELF FAITHFUL AND TRUE? ... CAN SUCH A PEOPLE ONLY RECEIVE MY LOVE WITHOUT ME MAKING YOU KEEP IN MIND THE EVIL THAT YOU ARE COMMITTING WITH PLEASURE? ...
My people, Humanity's mistakes are beyond compare. Some of My chosen ones have deviated from the path to which I called them. Therefore, they cannot ask of My People what they do not offer them as an example of salvation.
YOU WISH TO SILENCE ME AND WILL NOT SUCCEED, MY PEOPLE WILL CONTINUE BEING CAUTIONED BY ME SO THAT THEY RECOGNIZE EVIL, so that they recognize the evil of those who, belonging to sects contrary to Our Divine Will, hold them within erroneous concepts with speeches that confuse them, becoming - without My children noticing it -, the existing power that controls them at will in order that they succumb to errors and depart from My Way, sowing enmity between My children and Myself.
Be seekers of the truth, do not rush in search of novelties without seeking the meaning of what they present to you. The novelty of symbols with which you are being inundated has a dual purpose; firstly to accustom you to bearing symbols on your bodies, and secondly so that you consider them as being part of normal means of expression, gestures and signals with which those who belong to Freemasonry, the Illuminati and other sects that act against My Divine Will identify themselves.
MY CHILDREN NEED TO AWAKEN, TO COME OUT OF THE WORLD OF THE DEAD AND ENTER INTO THE WORLD OF FULL LIFE IN MY WILL.
I want you to continue purifying your senses for the rest of your life. Root out the evil that has attached itself to each sense. Limit the trappings of the emotions in order that the emotions no longer attain supremacy over the senses.
You have been waiting for instructions regarding the sense of taste; have you asked yourself, how is the sense of taste? as you associate it with flavors, heat or cold, but you do not stop to consider that the sense of taste is not only what you associate with the mouth, but at the same time is that which is called reason, taste is at the same time the mind, with those man desires right or wrong.
Through taste, man has become an unreasonable creature, favoring himself in everything without the mediation of love or compassion. I commend to you this difficult task, which is not impossible to accomplish, although you must put every effort into it.
For man it is easy to exclaim 'I do not understand', and with that I do not understand what is asked of me, it is deemed unreasonable, without thinking that understanding comes from reason. Whoever reasons with human reason will not understand; whoever reasons with My Holy Spirit will pass from human reason to reason enlightened by My Spirit. They are two different aspects and the results of both are too far apart; I want you to find the truth within yourselves.
Act sincerely, be pure of heart, transparent. Do not seek human greatness. Although reason leads you to believe that you are great, view yourselves as the smallest, look at yourselves within in order to recognize the smallness in you.
My People struggle against what is worldly, therefore they know that they should not seek places or positions of honor, nor be recognized for excelling except in humility. Everyone has to be aware of the need to know Me in Spirit and in Truth, that is, in the Light of My Spirit, not of human reason, so that you are not be prey to the ridiculous, since some claim to know me and fall into grave errors. Therefore, I call you to devote yourselves to removing from your mind, thought and reason, everything that distances you from My Way.
You will not manage to advance if you welcome whatever comes to mind. The appetites of taste with respect to food must be controlled. Food is ruled by large industries and these do not respect the human body, they invade it with toxins so that you fall sick.
Reason has not been trained by you, it is contaminated through and through. Prejudices come and go at will, because you reason in human fashion. Do not despise your brother; the one you believe to be the most inept may be the one who is most full of Me.
Pray, My People, remaining united to Me at all times. The work and action of My children must testify to My Presence.
The sea is rising; its waves will be greater than normal. At this time, the sun is not man's ally; on the contrary, the Earth will receive a solar emanation without man expecting it.
My People should bend their knees. An advanced generation will go to being a man of primitive science again.
Pray My children, pray for the United States, it is being strongly shaken. Terrorism rages against this nation, paralyzing its normal action.
Pray My children, pray for Canada, encysted evil rears up, causing horror and pain.
Pray My children, pray for Central America, the land shakes. The arm of communism operating and active in small countries will be uncovered, supplying weapons to those who are suffering from hunger.
Pray My children, pray, there is talk of peace and this will be violated, and greater will be the strife.
Pray My children, pray, the land will continue to open, without man lending importance to it. Disease progresses without being stopped, science finds no cure.
My Beloved People:
Continue purifying the sense of taste. Do not forget that taste not only refers to what enters through man's mouth, but also to what enters the mind, reason and thought.
FIRST DAY OF THE THIRD WEEK:
I offer the Gift of taste, on this day, to the Most Sacred Hearts of Jesus and Mary.
I offer You this Gift of taste in this instant for the Divine Glory and for the good of souls. In every present act, my mind, memory and thought will remain attentive, alert, in order not to accumulate what the sense of taste desires and which leads to sin, offending the Most Sacred Hearts.
Give me the strength to free my sense of taste and to make it work and act with regard to the good of my soul and of my brother.
I cry to You, Blessed Mother, so that You take me as Your disciple, to guide my life; and may my path be directed towards meeting Your Son.
ON WAKING I OFFER:
I have mind and thought, I reason for good and evil.
From this instant on I offer my constant effort so that this Gift be made more spiritual, prioritizing the Divine desire for my personal salvation.
I intend to free my reason and my appetite from occasions for sin, seeking the Divine purpose in everything, remembering only the good that each brother has given me, and in Creation the greatness of the Eternal Father.
I do not wish to sin any more with the sense of taste,
I surrender it to the Sacred Hearts so that, being Your child, my Lord, You lift me out of sin.
I do not wish that what I am continues causing bad thoughts, nor that I reject the Divine blessings that lead me to remain in a state of Grace.
Sacred Hearts, be the sustenance of my mind, memory and of my thinking so that my reason leads me to retain only the good.
I restrain my free will and subjugate it immediately and surrender it to the Sacred Hearts, so that they free me from occasions for fault and thus mould this sense so that it brings to my memory only what is for the good of my soul, and so that I do good to my brothers and sisters.
This sense of taste desires the Purifying Water of Love coming from the Sacred Hearts. Amen.
MIDDAY:
With our Mother I review the morning's efforts and make note of weaknesses.
BEFORE GOING TO SLEEP:
I give thanks to the Sacred Hearts of Jesus and Mary the Virgin, to whom I pray that They help me with this intention, in order to be a better child of God.
Our Father, three Hail Marys and Gloria.
Children, come to Me and entrust your lives to me.
I bless you. I love you.
Your Jesus.
HAIL MARY MOST PURE, CONCEIVED WITHOUT SIN
HAIL MARY MOST PURE, CONCEIVED WITHOUT SIN HAIL MARY MOST PURE, CONCEIVED WITHOUT SIN