Sunday, October 23, 2016
Message from Our Lord Jesus Christ
To His Beloved Daughter Luz De María.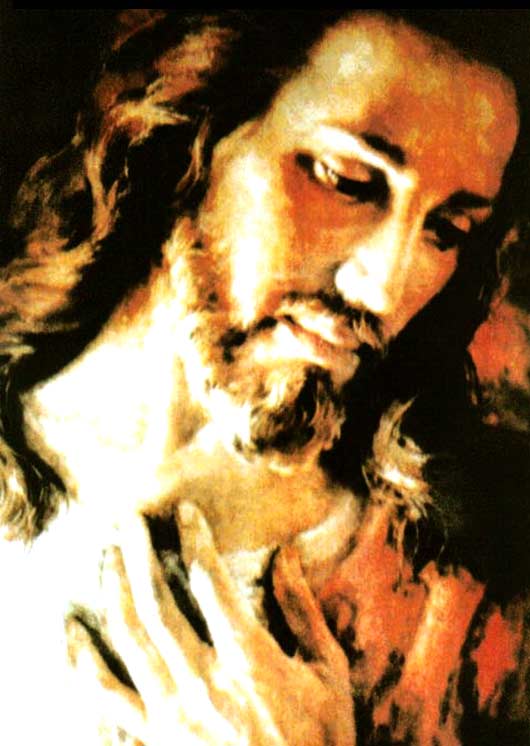 My beloved People, you are My beloved People, whom I love with all My Heart.
I CALL YOU TO REMAIN IN PRAYER, TO BE MESSENGERS OF MY LOVE, TO WORK AND ACT IN MY WILL.
Do not be afraid, "I AM WHO I AM" (Ex. 3:14).
I CALL YOU TO LIVE IN MY LOVE, TO BE FAITHFUL TO MY WORD AND TO LIVE FAR FROM WHAT IS WORLDLY.
This instant is precious; do not waste it on banalities, be prudent and merciful.
Repeat the Consecration to the Immaculate Heart of My Mother so as not to forget that you are Her children. Live with the certainty that My Mother intercedes for you, and each Hail Mary, prayed with consciousness, is a great blessing that you receive, not only for the one who prays but for their brothers and sisters.
EVIL FEARS THE ONE WHO PRAYS WITH TRUE AWARENESS, AND IN UNION WITH MY MOTHER, OFFERS AND LOVES, LOVES AND OFFERS.
The sound produced by the Holy Rosary shakes evil and makes it flee quickly, if the creature is properly prepared, has confessed sins committed and has proposed to amend his or her way definitively in order to turn away from what separates him or her from Me.
My beloved People, stay alert, do not be lukewarm or look with approval at what is apparently good; discern what comes into your hands, since evil prowls like a roaring lion with great cunning in order to mock those who are Mine, taking them down paths that are not My Will.
HOW MUCH THOSE PROGRESS WHO KEEP STRIVING TO DIRECT THEIR SENSES TOWARDS THE WAY OF THE SPIRIT!
Children, whoever does not live of the Spirit walks with greater difficulty because they fight against everything they face without differentiating what is good from what is bad.
My People, you toil to fulfill all the desires of the "ego", whether appropriate or not, and this leads you to fall into vices without being able to control yourselves, and vices cause you to fall onto a steeper and more difficult path. You want to flee the distractions of the world without the caprices of the human ego disappearing, caprices which you hide knowing that you are causing yourselves great spiritual harm, lying to yourselves.
CHILDREN, ASCEND IN THIS DECISIVE MOMENT, CONTINUOUSLY EXERCISING YOUR PHYSICAL AND SPIRITUAL SENSES SO THAT THE WILL AND HUMAN DESIRE ASPIRE TO LIVE IN MY WILL.
You need to be aware that living in My Will is not an accident, but a necessity without which you will not be stable human creatures.
My children are constantly being distanced from everything that leads them to bear witness to faith in Me.
Dispersion reigns everywhere, desensitizing the human heart so that it hardens and humanity struggles for individuality and not for fraternity, thus exuding the poison of man's indifference towards his brothers and sisters.
My Beloved:
NO MAN IS THE OWNER OF MY WORD; ON THE CONTRARY, WHEN MY WORD COMES TO MAN, THE LATTER MUST LISTEN ON HIS KNEES AND WITH DEEP AWARENESS, DISCERNING EVERY WORD IN ORDER TO UNDERSTAND MY MESSAGE FULLY.
In this instant, the action of evil is gathering strength due to the proximity of what you well know. In the pulpits I need strength in preaching so that My People's understanding is not flat, but expand and open up to the Truth of a spiritual reality of which they know little or ignore or deny: the existence of sin, My Second Coming, the existence of the devil, the Warning and what My Mother has announced to you.
Humanity has allowed evil to take hold of it, and evil, finding human freedom willing to accept it, has poured out hatred, indifference, greed, ignorance, wickedness and folly in order to make of Humanity a collectivity ignorant of the Truth and therefore totally stubborn.
The fool in his folly becomes a defender of his own stupidity, and, without wisdom, cannot see or distinguish evil from good, and Humanity's contradictions keep him in total darkness, being a stumbling block to himself and his own.
YOU DO NOT HAVE TO SEEK MY KINGDOM IN THIS WORLD, BUT YES, YOU DO HAVE TO LIVE, WORK AND ACT WITHIN THE DIVINE LAW. At this instant hatred reigns in My People and with it anger is gaining ground, transforming itself into an obsession that brings self-destruction.
I suffer because of ingratitude, because of the proud man who destroys the lives of his brothers and sisters.
I suffer with the lament of the innocent who suffer physical and spiritual hunger, because of a lack of strong training for combatting evil. YOU CANNOT SERVE TWO MASTERS - EVER: YOU MUST CALL EVIL, EVIL; AND GOOD, GOOD. DO NOT PRETEND TO DISTORT WHAT IS CORRECT BY ALLOWING IT, MY WORD IS ONE.
You have not valued Creation, you have not kept due respect for it, nor have you loved it as an expression of Divine Love towards man. The beauty of Creation has been replaced by the cruelty of man who has destroyed beyond measure everything at his disposal.
Humanity does not seek but wants to find everything instantly; he neither devotes his thinking nor his senses to looking for what does not fall into his hands. MY CHILDREN HAVE BECOME CONFORMISTS, TAKING WHATEVER REACHES THEM AND ACCEPTING IT AS TRUTH. Impatience is the principal possession of those who are far from Me. Dominated by impatience, Humanity is fragile and falls into all the defects that open the gates to evil, pouring out upon the Earth the product of the lack of love that lives within those who have diverted the way and have surrendered uncontrollably to all unrighteousness.
Creation, consistent with Our Divine Will, suffers because of the spiritual deafness of Humanity.
Lovelessness is poured out upon Creation which, shuddering, is bathed with the blood of My Own. It is madness in which evil has enraged man, and man accepts, rising up against all that is Divine, as a sign of rebellion and acceptance of whatever is contrary to the good.
MAN, SEPARATED FROM THE GOOD, ATTRACTS EVIL, AND THE CONSEQUENCES ARE DIRE FOR HUMANITY. Indifference to the man on the part of Creation is imminent, thus disasters are increasing and with them the pain of My children.
This is the instant when the Earth, oppressed by man's sin, is strongly shaking; the waters are stirred up, fire progresses relentlessly, the air, taking on forms that intimidate man, is a cause for constant alerts.
Pray, dear children, pray for Mexico, the volcanoes cause pain amid the shaking of this land of My Mother, in which evil has overflowed in all its aspects.
Pray, dear children, pray for Chile, fear looms because of the ground that seems hollow when it is shaken.
Pray for My children of Venezuela; in the grief caused by power, other interests will enter this land. My children wail and with them weapons spread to other nearby lands in which peace is a disguise of power.
Pray, My beloved, this instant draws pain to man who has ignored My Calls and those of My
Mother. From the air the power of evil comes towards My children; lethal weapons will be spread without conscience, destroying life. This grave offense against Our Trinity is the fruit of human pride. Misused science harms Humanity without thinking.
Pray for the United States, disunity enters, giving pain to this nation.
The struggle for world power is escalating amid the increase of rebellions in the world. A phenomenon not seen before occurs in the sea.
My beloved People:
CONTINUE PURIFYING THE SENSE OF SMELL, considering that the physical sense of smell is the one that provides the development of conscience in the man who does not despair but hopes unfailingly. You associate smell with the palate and this is not correct. The spiritual sense of smell leads My children to live in the Hope of Salvation, seeing the goal of the final meeting in an ecstasy of love, that the human creature constantly offers Me in the struggle of each instant. My People desire what is improper and are therefore become corrupt and does not maintain Hope, nor Faith in My Word.
Beloved children, continue awakening the Gift of smell. With a clear conscience, immersed in Hope, My People walk in obedience.
FIRST DAY OF THE FOURTH WEEK:
I offer the Gift of smell on this day to the Most Sacred Hearts of Jesus and Mary Most Holy. I offer You this Gift of smell in this instant for the Divine Glory and for the good of souls.
In every present act, my mind, my memory and my thought will remain attentive, alert, so as not to accumulate whatever the sense of smell fancies and which leads to sin, offending the Most Sacred Hearts. Give me the strength to free my sense of smell and cause it to work and act with regard for the good of my soul and my brother.
I cry to You, Most Holy Mother, that You take me as Your disciple, guide my life and that my path be directed towards meeting Your Son.
ON AWAKENING I OFFER:
I have mind and thought, I reason for good and evil.
From this instant I offer my constant effort so that this Gift comes to be more spiritual, giving priority to the Divine Will for my personal Salvation.
I propose to free my reason and my appetite from occasions for sin, seeking in everything the Divine purpose, remembering only the good that each brother and sister has provided me and in Creation, the greatness of the Eternal Father.
I do not wish to sin any more with the sense of smell; I surrender it to the Sacred Hearts so that, being Your child, my Lord, You lift me from sin.
I do not want what I am to continue causing evil thoughts, nor that I neglect the Divine kindnesses that lead me to remain in a state of Grace.
Sacred Hearts, be the sustenance of my mind, my memory and my thought, so that my reason leads me to retain only what is good. I hold back my free will and subject it immediately, and surrender it to the Sacred Hearts, so that they free me from occasions for fault, and thus mold this sense so that it only brings to my memory only that which is for the good of my soul and so that I do good to my brothers and sisters.
This sense of smell desires the Purifying Water of Love coming from the Sacred Hearts.
Amen.
MIDDAY:
Review together with Our Mother the morning's efforts and note down weaknesses.
BEFORE GOING TO SLEEP:
I give thanks to the Sacred Hearts of Jesus and Mary Most Holy, to whom I pray for succor for this purpose, in order to be a better child of God.
Our Father, Three Hail Marys and Gloria.
CHILDREN, COME TO ME AND ENTRUST YOUR LIVES TO ME.
Do not forget, My children, that the sense of smell fancies attractive aromas, but not everything that is appealing to the sense of smell is right. Gold shines, but gold is not man's happiness.
I love you.
Your Jesus.
HAIL MARY MOST PURE, CONCEIVED WITHOUT SIN