Sunday, June 4, 2017
Message from the Blessed Virgin Mary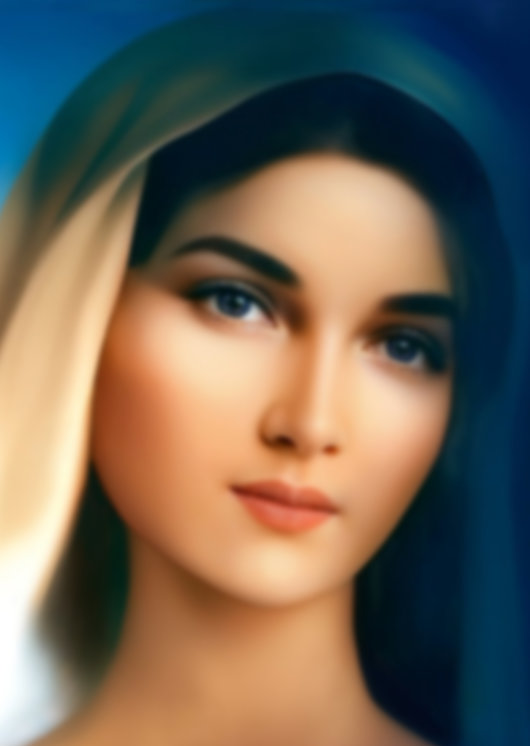 Beloved children of My Immaculate Heart:
WITHIN THE SACRED HEART OF MY SON AND MY IMMACULATE HEART, EACH OF OUR CHILDREN GOES ON BEING ILLUMINATED AND INSPIRED TO WORK AND ACT IN THE WILL OF GOD.
Man should allow, desire and ask for this inspiration so that the Divine Love of My Son might act in the human creature.
I invite you once more to be Love; in everything Divine Love should prevail in order that the act of the human creature might not only be an act that is lost without bearing fruit, but that in the act there would be contained that Love which transforms everything and causes every act and work to be greater and to expand.
BE UNITY, AND AS CHILDREN OF THE MOST HOLY TRINITY, EXPAND DIVINE LOVE, REFLECT DIVINE LOVE THROUGH THE HOLY SPIRIT. If man opens himself to the action of the Holy Spirit he attains reconciliation, liberation, grace and peace to overcome sin, and remember that:
" When the Spirit of truth comes, He will guide you into all the truth; for He will not speak on his own, but will speak whatever He hears, and He will declare to you the things that are to come." (Jn 16 :13)
BELOVED CHILDREN, I INVITE YOU TO CONTINUE WALKING WITHOUT STOPPING, AND AT EVERY STEP, ASK FOR THE GIFTS OF THE HOLY SPIRIT so that, being poured into your hearts, you might be creatures open to reconciliation firstly with the Most Holy Trinity, with yourselves and your brothers and sisters.
Man cannot walk without remaining at peace with God, with himself and with his brothers and sisters. As Mother of all men I look out for your interests, guiding you to God so that you might be sanctified.
I see you putting aside Heaven's Requests in order to fulfill yours first of all. That is why I am calling you at this instant to continue advancing without stopping, advancing with every intention to be better and to take constant steps towards God, who sees you and does not waste human effort but helps you so that you might continue on that path towards Holiness.
Beloved children, every human creature is different, but all must be the same Divine Love, the same Divine Charity, the same Divine Goodness where ever they are, everyone in their own state.
The refusal to improve is not proper for the children of God ...
Uncontrolled anger is not proper for the children of God ...
Criticism is not of the children of God ...
The lack of love is not of the children of God ...
Resentment is not of the children of God ...
Envy is not of the children of God ...
Sometimes you allow anger to lead you into states in which you are unrecognizable, uttering words against your brothers and sisters with a great void in your hearts. When this happens, you become unrecognizable and then must begin again like infants, since the one who rises up without recognizing that they have acted badly, drags along with them the chains of their bad action, and the rags will continue to contaminate them, and instantly that unrecognizable being again jumps out, dragging them away from what a child of Mine should be.
Beloved children of My Immaculate Heart, wickedness goes throughout the Earth sowing panic in Humanity. Some are aware of this, but a great number of My children are not, and the emptiness from which their brothers suffer becomes visible in the indifference with which they look at the events of this instant. They know well that this is the instant when evil has set out to keep Humanity in a state of anxiety, beginning with the great powers and then spreading all over the Earth.
Those who hold power over Humanity are responsible for the acts of terror in which human lives are lost and
My children are kept in great fear. These men and women have decided to continue their persecution of My
Son's Church in order that the latter be diminished until they close the Temples out of fear that My priests and My children lose their lives. For some this seems far off, but they should open their eyes and look at reality. This is the plan of Freemasonry, of the illuminati to which those who hold power over Humanity belong.
YOU MUST CONSTANTLY SEEK MY SON WITHIN YOURSELVES; HE WILL SPEAK TO YOU AND GUIDE
YOU SO THAT YOU ARE NOT CONTAMINATED OUT OF IGNORANCE. AT THIS INSTANT IT IS ESSENTIAL THAT MY CHILDREN KNOW THE TRUTH, THE DIVINE WORD, SO THAT THEY ARE NOT LED TOWARDS ERROR OR HERESY.
Turmoil accompanies My children because the enemy of the soul keeps his legions of demons over Humanity so that turmoil, bewilderment and persecution be the main means by which My children walk away in fear from their duty as children of my Son.
THE EVIL ONE OPERATES IN SILENCE, WITHOUT ANNOUNCING HIMSELF; HE ACTS UPON EACH OF MY CHILDREN WHOM HE KEEPS PERFECTLY IDENTIFIED. He floods you with ills, suffering of soul and body; he constantly wounds your hearts through your weakest brothers in order to divert you from the path where My Son keeps you and on which My children have persevered.
AT THIS INSTANT, MY CHILDREN HAVE TO MAINTAIN SPIRITUAL VIGILANCE FACING THE CONTINUOUS PROVOCATION OF THE ENEMY OF THE SOUL who has managed to make some more susceptible, who makes others hard and insensitive; he holds others to priorities that are not My Son's Will, he sows discord in homes over the smallest matters, he causes other children of Mine to be resentful and not to forgive, he causes other children of Mine to believe that they are always right in relation to their brothers and sisters; he has led others to live in spiritual independence by encouraging their human ego.
THE ENEMY OF THE SOUL ATTACKS PRAYER GROUPS WITH GREAT FURY IN ORDER THAT DISCORD COMES TO SEPARATE AND PUT AN END TO THEM. In those to whom My Son has entrusted great works, he has sown spiritual fatigue and looking at who is working and who is not, judging one another. When a Work of My Son is being built he comes to confuse with various human opinions in order to bring down what was being raised up. Some of My children are conceited and do not accept other opinions or only follow what they think; they have gone from the stage of children to adults yet behave like children who find their satisfaction when their brothers please them in everything, say yes to everything. They take their own decisions and do not unite fraternally with their brothers in Mission, but follow their own guidebook and are not of one heart with the Work but walk alongside in order to be seen by others, yet they hold to their own prayers, their own concepts, their own whims, and they judge according to their way of thinking. How these children of Mine will suffer!
THE EVIL ONE HAS SET OUT TO FIGHT AGAINST THE MISSIONS MY SON HAS ENTRUSTED TO THE FAITHFUL INSTRUMENTS OF THIS INSTANT. He does not want the explanation of the Divine Word to be known, bringing disease down upon My children who are giving everything to keep the Word of Heaven in front of Humanity so as to warn you and motivate you regarding the soul's Salvation. Into some instruments he has implanted conceit so that they come to feel that they know everything, even the slightest whisper of their brothers, and about the events. He makes others think that they alone will be saved because only those who are beside a specific instrument are working and acting correctly. The evil one sows confusion and leads you to admire communist leaders and to use communist signs so that you then easily accept ideologies contrary to the Divine Will and go astray.
Evil knows that it is rising with the great support of the powerful economic and political elite; it knows that its tentacles have attained power over the mind of My children, and it knows the power that it has over Humanity through misused technology, with the aim of distracting My children and so that the latter would focus on pleasing their senses, which require them to remain within the world of illusion and unreality.
The tentacles of evil act stealthily: they have poisoned the youth and the latter rebels against norms of moral, spiritual, educational and social behavior. Young people impose themselves on their parents without any respect, they impose their judgments, desires, they hurl themselves towards perdition, they contaminate their bodies and organism with all that evil offers them, and these children of Mine take everything that is in front of them without any qualms. Modesty does not exist: it is a thing of the past, of antiquity.
How I grieve over the conduct into which Humanity has sunk! Homes suffer because of it: mothers and fathers are immersed in pleasure, keeping their improper acts and works hidden from their family, acts that destroy and undo the family nucleus. Deception, falsehood have become entrenched in homes, and this causes My Son to be constantly kept in His Sorrowful Passion. Society is succumbing to such deceit.
My children:
IS THIS A WRONG DESCRIPTION OF THIS MOTHER WHO WANTS TO MOVE THE HEARTS OF HER CHILDREN SO THAT THEY REPENT?
IS THIS UNREAL OR IS THE TRUTH THAT YOU DO NOT WANT TO SEE IN ORDER TO CARRY ON IN THE CLUTCHES OF SATAN, THE FATHER OF LIES?
Beloved children of My Immaculate Heart, Humanity suffers at the hands of terrorism, suffers at the hands of man himself, suffers from the constant refusal to which you subject My Son in every work or act contrary to the Divine Will.
Beloved children of My Immaculate Heart:
Wake up and believe!
Wake up and change!
Wake up and repent!
Wake up and return to the path that My Son shows you!
Wake up and unite!
Wake up and acknowledge My Son as the King of kings and Lord of lords!
HUMANITY, THIS IS THE INSTANT TO RISE UP AND EMBARK ON A NEW LIFE BESIDE MY SON. DIVINE MERCY IS PRESENT AT ALL INSTANTS FOR THOSE WHO REPENT FROM THE HEART AND AMEND THEIR LIVES. DO NOT WAIT FOR DIVINE JUSTICE!
The convulsion into which they have plunged Humanity is nothing other than the advance of the antichrist and his followers who have arrived in advance before men so that chaos reigns. THE CURRENT STATE OF HUMANITY BETRAYS THE PROXIMITY OF THE EVIL OPPRESSOR OF HUMANITY. DO NOT BE BLIND. WAKE UP!
My Son does not keep His people captive but has given them freedom of choice between good and evil. I call you to the path of good.
MY SON SHALL SEND YOU HIS ANGEL OF PEACE SO THAT HE COMFORTS YOU, OPEN YOUR UNDERSTANDING AND LEAD YOU TO HEED THE DIVINE WISH: that all men be saved and come to the knowledge of the Truth.
You must improve spiritually so that the Light of the Holy Spirit finds a place to be fruitful.
Pray My children, pray for France, it suffers from terror.
Pray My children, the great powers are the target of terrorism, they are headed towards the tension of war.
Pray My children, earthquakes increase and with them changes in Earth's geography are drawing closer to man.
Pray My children, pray, food will be scarce and man will panic. Small countries rise up to divert man's attention away from the true convulsion with which war and the enemy of souls are rising up.
Children, pray with your heart, with your mind, with all your senses. Pray in each work and with every action you perform, pray in every feeling, pray over every intention, pray at every instant. Praying is not just a word, it is not just repeating a prayer, although that is not bad. This is the instant when you need to know that praying is a continuous act that keeps you within the Divine Will, even in your gestures.
Love one another, see My Son in your brothers and sisters.
I keep you within My Immaculate Heart. You are the joy of My Heart when you heed My Requests.
MY BLESSING IS MY OWN LOVE FOR MY CHILDREN.
Mother Mary.
HAIL MARY MOST PURE, CONCEIVED WITHOUT SIN