Wednesday, May 2, 2018
Message from the Blessed Virgin Mary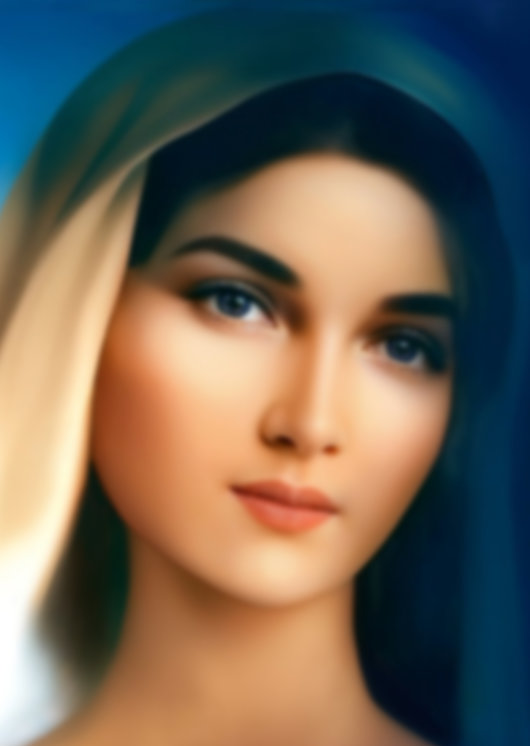 Beloved children of My Immaculate Heart:
MY HEART ABOUNDS WITH LOVE FOR EACH ONE OF YOU.
I am the Mother of Humanity and I receive all the prayers and petitions that you address to Me and raise them up to the Trinitarian Throne as the Daughter of God the Father, Mother of God the Son and Temple of the Holy Spirit.
Beloved children, rekindle the faith by going into the Teachings of My Son so that you are not confused in these instants.
MAINTAIN DUE RESPECT TOWARDS THE EUCHARIST, BE AWARE OF THE VALUE OF THE EUCHARIST AND DO NOT FORGET THAT YOU MUST STAY PROPERLY PREPARED IN ORDER TO RECEIVE IT.
Children, forgive those you must forgive before receiving My Son in the Eucharist, draw near having duly repenting of your personal sins and with the firm intention of not falling into the same sin.
Children, do not receive the Eucharist without prior preparation, do not eat or drink your own condemnation (cf. I Cor 11, 29).
You see the Eucharist; do not be satisfied with seeing, go inside yourselves because the spiritual effect is infinite and prolonged, if you allow it to be so.
Do not forget that you belong to the Mystical Body of which My Son is the Head and that as members of that Body you must be obedient to the Head of that Body.
My pain is sharpened when I see My children rebelling against My Son, since I do not want any of you to be lost.
When you persist in the folly of going against My Son, evil very easily takes hold of you for its service and you act in an unrecognizable way. The devil trains those who surrender to him with great evil art so that they serve him at all instants and in all fields in which man evolves.
BELOVED CHILDREN, MAY YOU BE SPIRITUAL HUNGRY, FEEL THE NEED FOR PEACE, JUSTICE, TRUTH, HOLINESS, DOING AND LIVING GOOD, HUNGER FOR BEING JUST, HUNGER FOR WISDOM, FOR KNOWLEDGE OF THE HOLY SCRIPTURE, OF LOVE TOWARDS MY SON. LIVE THIRSTING TO EXPRESS TO MY SON HOW MUCH YOU LOVE HIM.
Beloved children, these are instants in which you must be firm, strong and determined, staying attentive and awake so that you do not regress on the spiritual path.
The Earth is turning quickly before the instant when what appears to be peace will cease to be peace.
Plague is coming to Humanity and you, My children, know how to prevent it; do not dismiss My Assistance facing what science will not be capable of controlling promptly.
Children, dedicate this month in particular to this Mother; I intercede constantly for what you ask Me, I raise your petitions to the Most Holy Trinity.
DURING THIS MONTH, IN HOMES, PLACES, MEETINGS, CHURCHES WHERE YOU PRAY AND MEDITATE
THE HOLY ROSARY, I WILL BLESS THOSE WHO ARE PRAYING AND WILL GIVE THEM THE GRACE OF MY PERMANENT SPIRITUAL PROTECTION WHENEVER YOU NEED IT.
To children I will grant the blessing of Purity so that it is prolonged, if they allow Me to do so...
To youth I will grant the Gift of Perseverance, if they entrust themselves to Me under My Protection...
I will grant adults the grace of Discernment so that they do not succumb faced by evil ...
To the elderly I will give the light of prompt and opportune Discernment so that they do not fall asleep faced by evil...
KINDLE LOVE FOR MY SON AS HE IS WAITING FOR YOU, YOU KNOW THE PATH OF PAIN AND AT THE TIME THAT OF JOY. DISCERN, CHILDREN, SO THAT YOU DO NOT LIVE BEING HALF-HEARTED.
If you hear them speaking to you of a half-hearted truth, that is not My Son's Truth: He calls sin, sin and good, good. Although at this instant they wish to confuse you, do not succumb to errors.
The human being continues its passage on Earth as if nothing were going to happen, but that is not how it is. Humanity will go through its great calamity, which will increase with the Antichrist's possession of Humanity (cf. II Pet 2,1-3; 3, 17). This will be when those who have accepted half-hearted truths join the ranks of the devil and will be the persecutors of their own brothers and sisters.
Beloved children of My Immaculate Heart:
I call you to pray especially for My People of Nicaragua, they suffer without measure because of their oppressors.
I call you to pray especially for My People of Venezuela, they suffer intensely.
I call you to pray for My People of Hawaii, the earth shakes forcefully.
I call you to pray for My People of Chile, they suffer faced by the shaking of the earth.
Children, do not be among those who say: Lord, Lord! ... (Mt 7:21) and do not commit to the Divine Truth.
The Church of My Son is trampled upon.
I BLESS YOU, CHILDREN, BE MY SON'S OWN PEACE.
Receive My Blessing.
Mother Mary
HAIL MARY MOST PURE, CONCEIVED WITHOUT SIN
HAIL MARY MOST PURE, CONCEIVED WITHOUT SIN
HAIL MARY MOST PURE, CONCEIVED WITHOUT SIN