Saturday, June 23, 2018
Message from Our Lord Jesus Christ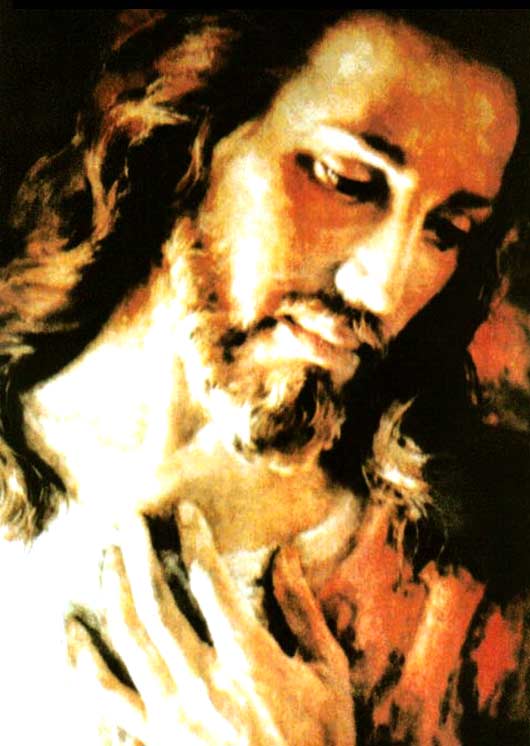 My beloved People:
GIVEN THE GREATNESS OF MY HEART, I INVITE YOU TO PENETRATE WITHIN IT TO GUARD YOU FROM THAT WHICH PREVENTS YOUR SOUL FROM REMAINING IN MY LOVE, BEING PERSEVERANT.
My People:
It is imperative that My People should be committed to fulfilling My Teachings and the Divine Law. You must not falter at this instant. You must not look with bodily sight, but with the sight of your spiritual organism, thus being able to discern the madness in which Humanity has shrouded itself, which, preceded by forms of great modernism, has caused this generation to succumb.
My People, there will come a time when parents will not exercise authority over their children and will fear them because of the violence of their children. In homes there will be no respect for parents and the children will be more cunning than their parents and live as they please while manipulating authority in various ways.
IS NOT THIS WHAT IS BEING LIVED OUT IN A GREAT MAJORITY OF HOMES?
Permissive parents, faced with a society that has restricted authority of all kinds, are providers, but fearful of their children. Youth, absorbed in modernism, has become an instrument that has come to enjoy wrong practices, in order to be a means by which evil brings discord and a constant state of uncertainty to homes.
THIS GENERATION IS SUFFERING FROM FORGETFULNESS:
From forgetting that you are My children...
From forgetting that you have a Mother who loves you...
From forgetting respect and forgetting loyalty...
From forgetting My Love and forgetting faithfulness...
From forgetting commitment and forgetting gratitude ...
From forgetting respect for one's own life and that of one's peers...
Given so much forgetfulness, man has opened up a crack for going away from the Divine Law and enter into what is wrong, into what is sinful, and has created a culture of rebellion against life.
YOU HAVE NOT MANAGED TO ANALYZE THE GREAT STRATEGY OF EVIL: ELIMINATING INNOCENCE IN ORDER TO TAKE CONTROL OF HUMANITY.
For Me the individualism within the family circle is heart-breaking; each member of the family leads a life of their own, and the instants when they come together are in front of the great destroyer of family union and the trainer for evil, violence, the lack of harmony, lack of love in man: TELEVISION.
That is where training centers have emerged for the use of firearms, for competition, infidelity, human rebellion, contempt for the Gift of life.
Man damages the child's brain when he permits the child's absolute dependence on a screen or a video game in order to maintain the child's or adolescent's composure.
My People, you do not understand that this has been carefully planned by those who, in union with evil, have designed a generation lacking in feelings, lacking in communication, a generation that is not receptive but individualistic and totally materialistic. This generation has been controlled in order to divert the attention of the parents regarding their children and in this way to attain the independence of children at younger ages at which they are not prepared to assume responsibilities.
My beloved People, with what pain I call you again and again so that the instants do not lead you to face the responsibilities of each human being within their own square meter when it is already too late.
Man dismisses prayer, dismisses guidelines and accepts individualism, materialism, ease - and what fruit can a man give living within his debauchery?
Creation is in accord with Our Divine Will. You see Creation and find it in accord with Our Will; when it reacts differently it is because of the alteration that man has brought to it.
Man, as he lives, as he reacts, as he loves, has risen up against Our Trinity and does not love My Mother, despising what is Sacred ...
Is this or is this not satan's response to Our Trinity?
Is it or is it not the proximity of the arrival of the bearer of all evil?
Is this or is this not a generation that is drawing the apocalypse towards itself?
ALL THIS HAS ALREADY BEEN ANNOUNCED. And you are deaf and dumb in spirit, allowing bad habits, ideas, behavior and concepts to penetrate, in this way being accomplices of the evil work and action of Humanity.
I NEED TO ACT PROMPTLY SO THAT NO MORE SOULS ARE LOST, THEREFORE THE REVELATIONS OF MY MOTHER CONTINUE BEING FULFILLED, AND IN THIS WAY MY PEOPLE WILL PASS THROUGH THE CRUCIBLE, MY FAITHFUL BEING TESTED TO THE LIMIT.
The way of good is not easy, children, but you are walking on a safe path. I guard My children, I take them under the protection of My Love.
WHAT IS MAN WITHOUT LOVE? He is an inert creature, without compassion, egocentric, capable of anything. That is why I call you to focus on My Love for Humanity, to give everything so that My children know Me and respond to My Call.
The evil oppressor of human history has acquired greater force, so it is difficult for you to identify him; I therefore call you to live in the Gospel, protecting your brothers and sisters and not being stumbling blocks. Some take My Word lightly and I will see these children of Mine suffering to the limit, without being able to help them because they do not ask Me.
At this instant My children have to know how to say "yes, yes!" or "no, no!" (Cf. Mt 5,37) They cannot be lukewarm.
The hordes of satan are fighting with My Heavenly Legions for souls, and each one of you is a bearer of My Word and must make it known at the opportune instant.
IN THE END THE IMMACULATE HEART OF MY MOTHER WILL TRIUMPH.
But first My Church must stay alert, because it is going to be purified for the Wedding of the Lamb.
MAY THE TIRED, THE CONFUSED, THE SICK COME TO ME... (Cf. Mt 11,28-30).
Pray My children, pray for Iceland, it will be shaken.
Pray My children, pray for the United States, it will suffer through Nature. Pray, My children, pray for the Middle East, tension increases.
Pray, My children, from the firmament you will receive a call to reflection.
DISCERN! SOME OF MY OWN WISH TO SILENCE ME, BUT I WILL NOT ALLOW IT. Pray, be fraternal and we will overcome evil. With acts of love, with prayer and with fraternal assistance.
I bless you with My Love.
Your Jesus
HAIL MARY MOST PURE, CONCEIVED WITHOUT SIN
HAIL MARY MOST PURE, CONCEIVED WITHOUT SIN HAIL MARY MOST PURE, CONCEIVED WITHOUT SIN
Brothers and Sisters:
Our Lord shows us very clearly how evil has introduced itself into homes through television and then the practices of other means of entertainment that have been utilized so that the human creature loses its potential to create and binds itself to a machine that thinks for it and will teach it the culture of physical death and that of the soul.
Facing this panorama, Christ calls us to be human creatures who get out of this scheme with which the creators of so much misused technology have enchained man. He calls us to discover and share the gifts and virtues that we possess, to be more expressive and to break the barrier that has been created by the isolation in which these modern technological media are submerging man.
Without forgetting that Christ calls us to change in every aspect, we have to consider the fact that, after the Purification of Humanity, what was announced in Fatima will be fulfilled: the Immaculate Heart of Mary will triumph. And God will be All in all (Cf. I Cor 15,28b).
Amen.