Sunday, January 10, 2016
Message Given by Our Lord Jesus Christ
To His Beloved Daughter Luz De María.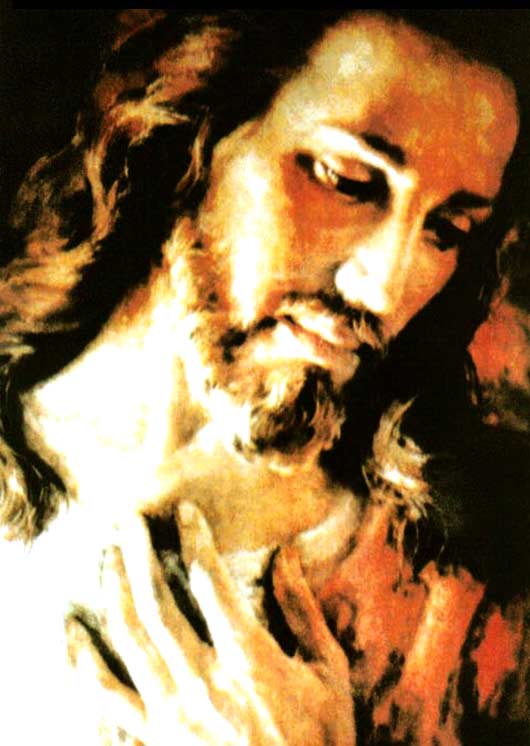 My beloved People,
I accompany you in every effort to approach Me, at each instant when, loving the Faith, you make the firm decision to live in My Law. I love you every instant when, with true conscience, you take My Calls to conversion seriously so that you will be testimony to My Acts and Works which transform you.
My People,
My beloved People, where is the conscience? I Call you and you do not obey; I talk to you and you do not listen… I rebuke you and you do not fear, you continue with the foolish living of those who are mundane. Just to be different, you embrace My Word but you do not practice it or treasure it in your hearts.
I CALL YOU TO UNDERSTAND THAT SACRIFICE IS NOT ONLY LAMENT AND PAIN; IT IS ALSO JOY IN THE SOUL, IN THE SPIRIT, AND IN THE HEART, AND SACRIFICE IS LOVE AND OBEDIENCE.
Being soft does not mean that the creature is less perseverant, it means that he truly gives without expecting anything in return, keeping My Precepts before him and not to please his ego.
Therefore, I call you not to judge the acts and works of your brothers; instead, be Love, "and all these things will be given to you as well." (Matthew 6:33) Be real, be true, and do not judge those who do not yet walk in Truth.
NO CHILD OF MINE CAN TALK ABOUT ME IF HE DOES NOT RESIGN HIS EGO AND DECIDES TO BE IMAGE AND LIKENESS OF MY LOVE.
I call you to pray so that My Will be done on Earth; My Love will not disappoint you. My People will be guided so they will not be lost at any instant, even if the human creature becomes unconscious and forgets that he must act and work in My Will in order for My Protection that I send to My People will reach him as is My Will.
The interests of each one of My children must be My interests and not personal.
When the creature feels that his affairs prevail over Mine, this makes for a foolish human creature because he feels that what is his is above My Will.
My Word and that of My Mother have descended from My House to this generation by means of chosen individuals to explain Our Will, to reveal to humankind what awaits them and what they have caused, as well as the means of salvation so that this humanity will not be lost. But not all My chosen ones have complied fully as spokesmen for the Word from My House. Some have doubted and have not reached the Promised Land; others are dominated by human respect and have not shared what was revealed to them.
My Mother speaks to you with Her Maternal Love. I call you as Beggar for Love who lives in each of you so that you can delve within yourselves and be reunited with Me, but doubt arises and you refuse to continue towards Our encounter and the Faith is forgotten in favor of a certain passing incentive.
At this instant I call you to an urgent positive response so that you will come close to Me and comply freely with all I ask of you for the good of your souls and your brothers, especially those who reject Me.
My People, humanity's attention is focused on the armed conflicts; these will take a little longer to recrudesce. In the meantime, the epidemics advance throughout the Earth and become pandemics, and My children do not take this seriously until they will want to stop the epidemics and will fail. Then they will remember that My Mother blessed them with medicine to stop what will take science by surprise.
My children, the climate will strongly scourge the Earth, it will make entire Peoples suffer mercilessly; this is when you will pray the Holy Trisagion and you will look for it and maybe you will not find it. WHY DO YOU WAIT FOR ADVERSITY TO APPROACH MY HOUSE?
Hold on to My Word, obey My Law, be witnesses and testimony of My Love, receive Me, properly prepared, in the Eucharist, know My Word so that you will not be deceived by those who—like wolves in sheep's clothing—will approach you to steal you as spoils for evil.
I have spoken to you so much about the antichrist! and My People continue waiting for him to present himself before humanity self-proclaiming himself. My children, do not be mistaken, discern: Evil takes advantage of the instant of trial, pain, disease, loneliness, hubris, disobedience, denial, enmity, conceit, sorrow, and doubt in order to take you and fill you with his indifference and his rage, to drag you towards him, and he offers you the comfort you need at that instant so you will walk with him and against those who are your brothers.
The antichrist has his tentacles with which he has imprisoned My children, and My children live in error because they are not alerted in My Temples. They must be alerted NOW!
In various fields, technology has been beneficial to man. In other fields, the dangers are far greater for this generation that wants to outdo itself, and has allowed evil to take possession of technological means to cloud and even annihilate man so that he will not be able to think straight and will get carried away by evil that shackles him until wickedness becomes a vice in the human creature.
MISUSED SCIENCE IS READILY AVAILABLE TO INDIVIDUALS OF ALL AGES. I have called you to stay away from video games. My Mother has warned you about the threat it means to a human creature to receive evil constantly and willingly, during most of his life, in front of a screen, being trained to be part of a battalion or of an army, or just being trained to kill.
My beloved People, the antichrist takes with power the weapons that man has prepared for him and that he uses to deviate My People from the good path, away from the truth, from respect for life, from love of neighbor, and from being more human. You must be more human through the gift of Love in order for you to stop in the midst of this malignant, gigantic wave that the antichrist has manipulated, while out of fear, My People do not call sin, sin. And at this instant, the antichrist has plunged onto those who are Mine to possess them while they see as normal what happens in several countries where My children die from starvation, they die by decision of his parents or are killed by their brothers for pleasure.
Beloved, the power of some rulers encourages the Peoples to rebel against each other, as if man were a toy that can be used at will. As the power of the antichrist advances over humankind, you will see this, and more.
FEAR, YES, FEAR TO OFFEND ME, FEAR TO DENY ME, FEAR TO FOLLOW THE ANTICHRIST BY MEANS OF HIS TENTACLES.
MY PEOPLE, WAKE UP SO THAT YOU NOT BECOME A SLAVE TO EVIL.
Wake up! Wake up because the antichrist has formed a strong retinue of human creatures who are faithful and loyal, and who prepare whatever is necessary to lift up the antichrist and allow him to steal My flock, unprepared due to the lack of information about the power of evil, thus allowing themselves to become slaves of their own evil acts, contrary to My Will.
Pray, My People, pray, as the shaking of the earth increases.
My children, do not call normal what is not normal. The earth has trembled all the time, but the shaking of the earth at this instant is extremely violent, far more than what man can call normal.
Great countries will lose part of their lands and inhabitants.
Pray, My children, for Japan, for Chile, and for the United States.
If Faith in Our Trinity increases in you, your knowledge will be more profound and the eyes of the heart will give you a greater and more vivid understanding of what Our Will has allowed to be revealed and explained to you. I call you to delve in Me, in each and every Word that I bequeath to you in these Revelations so that you can prepare even for the things that have not yet been revealed to you.
Our House's plan for you is that you receive all you need to know to be prepared in the spirit and ascend quickly, with the necessary haste to which I call you, before the enemy of the soul confuses you and drives you away from Me.
Pray and meditate the Holy Rosary; live this prayer in truth and spirit, this prayer from which the devil flees in horror, if the creature is without sin and
aware of each word he elevates to My Mother asking for Her help and intercession, not only for the one who is praying, but also for all of humankind.
Pray, My People, pray for awareness in each human creature, at this precise instant when evil has reared war on several fronts, and influences the minds that are away from Me and that hold power over nations to agitate darkened minds and to move them towards the battle that will generate great extinction in humanity and nature all over the planet.
My People, BE PREPARED! Right before humanity there has remained a tentacle of the antichrist called mafia. This one sustains itself on drugs, on violations against children, on the sale of weapons and human organs, and underhandedly, it has dared to use its money to flaunt its good works before societies and go unnoticed. Children, this evil does not rest and you sleep.
Pray, My People, pray. Volcanoes are activated simultaneously. The threat of the supervolcanoes hangs over Humanity.
The Etna volcano does not rest.
MY PEOPLE, REBELLIOUS AND FOOLISH, LOOK FOR SALVATION, INCREASE YOUR FAITH, FIND KNOWLEDGE IN MY REVELATION, AND APPROACH HUMAN FULFILLMENT.
The explanation of My Revelation is My same Love for My children because they have to know what the same humanity has generated by disobeying Me and distancing themselves from Me.
My People that admire the brother when he promises you fame…
My People that admire your idols and follow those who say you must follow them…
You accept false ideals into your life, those that exalt your ego, and you put your heart into what is wrong and despise my Calls.
My People, COME BACK! I call you and I do not see you close to Me; I search for you, and the darkness in which you walk makes you invisible. Return to Me quickly; this instant is dangerous, more so for the soul than for the body.
CHILDREN, BELOVED PEOPLE, COME QUICKLY. BY MY SIDE YOU WILL NOT BE AFRAID. IF YOU
RECOGNIZE ME AS YOUR GOD, IF YOU ABIDE BY THE LAW, AND IF YOUR HEART LOOKS FOR ME INCESSANTLY, NOBODY WILL SEPARATE YOU FROM ME. I WILL KEEP YOU ON MY LAP.
COME TO ME, CHILDREN, I WILL KEEP YOU IN MY HEART.
I BLESS YOU; I LOVE YOU.
Your Jesus
HAIL MARY MOST PURE, CONCEIVED WITHOUT SIN.
HAIL MARY MOST PURE, CONCEIVED WITHOUT SIN.
HAIL MARY MOST PURE, CONCEIVED WITHOUT SIN.