Monday, December 17, 2018
Message from the Blessed Virgin Mary in Preparation for This December 24, 2018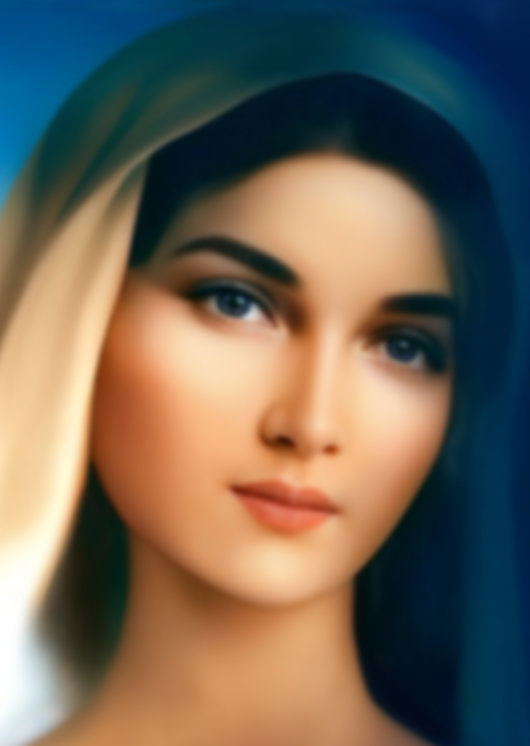 Brothers and Sisters:
In this second period of Advent in which we are introduced to participate in the joy of the birth of our Savior, our Blessed Mother surprises us, and like the air that spreads without being held back, so our Mother speaks to us and touches our hearts directly.
And in our hearts She speaks more closely to each one of us personally and asks us to enter into the Love of the Divine Child Jesus, into that infinite Love that with His gaze is offering salvation to souls in advance.
Our Mother once again comes to meet us and leads us to become sensitive, to be fraternal, to become conscious of the theological virtues of faith (December 22), hope (December 23) and charity (December 24), and She leads us so subtly to reflect on the model to be followed in order to go after the footsteps of Her Divine Son.
Luz de Maria
Beloved children of My Immaculate Heart:
APPROACHING THE COMMEMORATION OF THE BIRTH OF MY SON, I WANT MY CHILDREN TO UNITE IN A SINGLE HEART WITH A UNANIMOUS PURPOSE AND THEREFORE IN GREATER SPIRITUAL STRENGTH.
The unity of the People of God is indispensable at this instant: knowledge is necessary - the knowledge of yourselves with your miseries, and at the same time the knowledge of the Divine Word is necessary so that you are not confused.
You need to set aside the excuses with which you come before My Son so as not to feel guilt because of negligence in the detachment from what is worldly.
Beloved children, the road is long at this almost eternal instant...
AS A MOTHER I KNOW THAT FAITH IN EACH PERSON IS GROWING THROUGH THE YEAST OF LOVE FOR MY SON, IN THE MIDST OF WAITING, CLOSE TO ITS END.
The Father's House sees how His children carry on without paying attention, that is why, WITHIN THIS INFINITY OF
GOD, YOU PARTAKE OF THE EUCHARISTIC FOOD SO THAT EACH ONE OF YOU WOULD ENTER INTO COMMUNION WITH THE INFINITE TRUTH OF DIVINE LOVE AND IN IT, WOULD BE ABLE TO ENTER NOT ONLY INTO THE TIMELESS WAITING, BUT ONLY IN WAITING FOR THE TRUTH.
As human beings, at times you wait patiently and at others impatiently for the fulfillment of what My Son and I have revealed to you. Questions abound, curiosity in some becomes a bad counselor, the search for something more leads you down wrong paths, yet everything you need is inside each one of you.
The heart must know how to love waiting in faith and faith in waiting. Therefore, in order that waiting does not lead you to despair, you must be apostles who work continuously, without stopping, taking good to your neighbor. The human being lacks so much love that it does not recognizes it ... Being grateful is something of the past that man has forgotten; ambition has taken hold of minds, feelings, desires, aspirations, values, and man has fallen asleep within inner emptiness.
BECAUSE OF THIS I COME TO ASK YOU, CHILDREN OF MY HEART, THAT TOGETHER WITH US, IN THAT MANGER, TABERNACLE OF LOVE, YOU ENTER INTO THE GAZE OF MY LITTLE BOY AND ALLOW
YOURSELVES TO BE TOUCHED BY THE ONE WHO IS GOING TO BE BORN AND DOES NOT YET SPEAK, BUT WITHOUT SPEAKING, IS THE ETERNAL WORD.
Therefore, entering into the Manger where My Son is born, is to enter into the humility of the one who knows and acknowledges, but it is not arrogant, nor accepts adulation, knowing that the soul swells up and that it is easy for man to go from being humble to being proud.
In the Manger everything takes on a spiritual meaning: every bit of wood, every bit of straw, each stone, each ray of light that penetrates, each plant growing in the midst of the stones, everything transcended by a present in which My Son is fed by Me so that, in the future, HE WOULD BE THE DIVINE BREAD COME DOWN FROM HEAVEN, DELIGHT OF THE ANGELS AND FOOD FOR THE SOUL.
My Boy looks so fragile that Joseph is afraid to hold Him in his arms, and it will be with the passing of the years that Joseph will teach Him to work the wood that later will become the Holy Wood on which He gives Himself for all Humanity.
The one who is adored at this instant will go to being despised as at this instant.
He is born in anonymity and dies in front of those who condemn Him for the salvation of the human race.
The Manger is a mystery of humility and grandeur: from King to servant and from servant to King for ever and ever.
Beloved children of My Immaculate Heart:
THIS 22, 23 AND 24 OF DECEMBER I WANT YOU TO ENTER INTO THE MYSTERY OF THE DIVINE LOVE
THAT UNITES ALL MEN, AND IN A SINGLE HEART, ON THOSE DAYS AT 3 IN THE AFTERNOON IN EACH
COUNTRY, OFFER UP 15 MINUTES OF SILENCE IN WHICH YOU WILL REFLECT ON YOUR WORK AND ACTION.
Then, on December 22:
YOU WILL GO OUT IN SEARCH OF A HUNGRY PERSON OR SOME HUNGRY PEOPLE AND OFFER PHYSICAL FOOD TOGETHER WITH THE WRITTEN SENTENCE: JESUS IS GOING TO BE BORN AND HE LOVES YOU.
On December 23:
AFTER THE SILENCE AND LOOKING AT YOURSELVES IN THE LIGHT OF THE TRUTH, IN THE NAME OF
MY SON, YOU WILL GO IN SEARCH OF SOMEONE DEPRIVED OF FREEDOM AND WILL BRING THEM SOME SPECIAL FOOD, TOGETHER WITH THE WRITTEN SENTENCE: JESUS IS GOING TO BE BORN AND HE NEEDS YOU.
On December 24:
AFTER THE SILENCE AND LOOKING AT YOURSELVES WITHOUT BLINDFOLDS OR MASKS:
- IF YOU MUST ASK SOME BROTHER OR SISTER FOR FORGIVENESS YOU WILL DO IT FROM THE HEART:
OTHERWISE, DO NOT DO IT.
- IF YOU HAVE FELT ENVY TOWARDS A BROTHER OR SISTER, IF YOU HAVE REJECTED A BROTHER OR
SISTER AND ARE PREPARED FOR IT, GO OUT IN SEARCH OF THAT BROTHER OR SISTER AND TELL YOU THAT YOU LOVE THEM.
THEN, GO IN SEARCH OF THOSE INNOCENTS WHO ARE STRIPPED OF EVERYTHING AND THEM OFFER
A COAT, THAT WHICH MY SON WAS DENIED. GIVE A COAT, BLANKET OR FOOD TO A CHILD OR SOME
CHILDREN AND TELL THEM THAT MY SON JESUS AND THIS MOTHER LOVE THEM AND GIVE THEM A KISS, THAT WHICH THE SHEPHERDS GAVE MY SON, IN ORDER TO MAKE REPARATION FOR THE BETRAYALS WITH WHICH HUMANITY OFFENDS MY SON.
FOR THIS TRIDUUM, I REQUEST THAT YOU PREPARE SPIRITUALLY AND BE RECONCILED WITH THE
FATHER'S HOUSE. ATTENDING THE EUCHARIST, MAY THOSE WHO CAN AND WISH TO DO SO, BEFORE THE MOST HOLY TRINITY, MAKE THE FIRM COMMITMENT TO STRIVE WITH ALL THEIR STRENGTH, POWERS AND SENSES TO CHANGE AND BE REBORN AS A NEW PERSON NOW AND FOREVER.
AT 12 IN THE NIGHT IN EACH COUNTRY, WITH SINCERE HUMILITY, MAY EVERYONE SPEAK TO MY
DIVINE CHILD IN FRONT OF THE MANGER OR WHERE THEY ARE, AND GIVE THEMSELVES TO HIM AS
HIS OBEDIENT CHILDREN AND HIS FAITHFUL SERVANTS.
Beloved children of My Immaculate Heart, may this Christmas not be one more in the midst of your commitments, forgetting My Son.
Adored Child Jesus who keeps silence in the manger, looking with Divine Love at the one who comes to adore you.
I come to beseech You that my memory does not conceal my errors, that my mind does not be a vessel of evil, but be a light that banishes darkness.
I do not want to shine, but that You shine with Your Love in my life and in all Humanity.
Amen.
I keep you within My Womb as Mother of Humanity; by Divine disposition I give you My Hand to sustain you. My Love in you...
Mother Mary
HAIL MARY MOST PURE, CONCEIVED WITHOUT SIN
HAIL MARY MOST PURE, CONCEIVED WITHOUT SIN
HAIL MARY MOST PURE, CONCEIVED WITHOUT SIN