Wednesday, April 17, 2019
Message from the Blessed Virgin Mary
To Her Beloved Daughter Luz De Maria.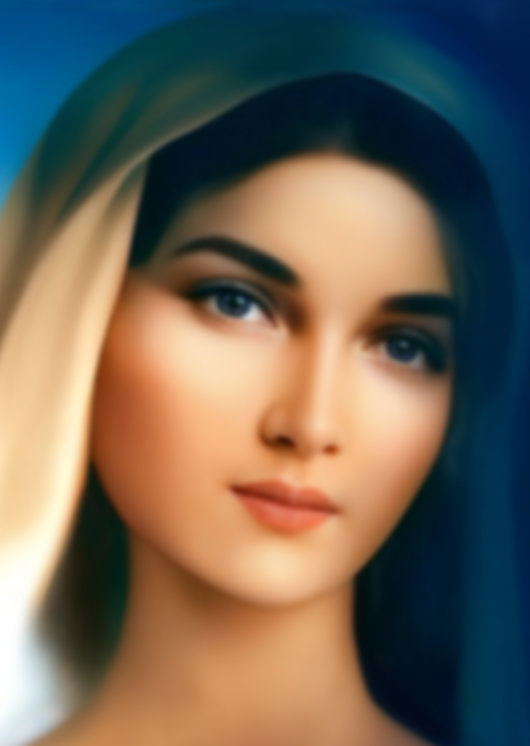 Beloved children of My Immaculate Heart:
MY BLESSING IS WITH YOU SO THAT EVERY BREATH, EVERY HEARTBEAT, EVERY GAZE, EVERY STEP YOU TAKE, IS PROTECTED BY ME.
The spiritual danger in which humanity finds itself is such that, without My Intercession being absent before the Sacred Trinity for each one of you, My children, I HAVE COME TO CALL YOU SO THAT YOU ARE HUMBLE WHEN YOU PENETRATE THE THINGS OF MY SON.
I have asked you to love My Son, and in order to love Him you have to know Him, and it is precisely in knowledge that danger surrounds you, when the human creature loses the notion of the spiritual danger that exists when arrogance enters and man believes he has too much knowledge of the things of Heaven.
AS GOD'S CREATURES YOU ARE CHILDREN OF THE DIVINE WILL, THEREFORE DO NOT CLAIM TO HAVE MORE THAN THE GRACE OF DESIRING WHAT GOD DESIRES OF EACH ONE OF YOU.
The evil one sees the desire for knowledge in you, and the cunning of the infernal serpent attacks man more strongly when he feels the perseverance with which My children are continuing to walk and strive to keep close to My Son; then he attacks them on various fronts, and one of them which is very delicate is the intellect, where the battles begin through speculations and the pride that is puffed up, supported by the demons that roam the Earth in order to choose their spoils.
Do not let down your guard, children, My Son's Church must remain attentive, since you find yourselves at the great crossroads, on the way to Calvary, on the way to the purification of the universal church. At the instant man has combined prior evils with current ones and the perversion is inexplicable; painfully you need to recognize that you are unworthy of the graces of Heaven and, prostrate, you need to recognize that you are unworthy of God's Mercy (cf. Heb 4:16).
Beloved children, faith is weakening in so many creatures with such speed that the few who persevere will have to return to the catacombs as a result of the persecution due to the great spiritual tragedy in which a great part of humanity is living (see Mk 6:34).
DO NOT REMAIN MOTIONLESS FACING SATAN'S ABILITIES. MAKE REPARATION IN THE FACE OF THIS CRISIS OF FAITH FOR HUMANITY, OFFER UP YOUR SUFFERING FOR THE HEARTS INFECTED WITH THE PLAGUE OF IMMORALITY; PRAY AND FAST BECAUSE OF THE LACK OF LOVE TOWARDS MY SON.
Apostasy is proliferating, foolishness has brought you to this state (I Tim 4:1). My Son suffers for His children and you ignore Him.
SOON MY SON WILL DEPART FROM ME TO GO TO THE CENACLE WHERE HE WILL SHARE THE BREAD AND WINE, HIS BODY AND BLOOD WITH HIS DISCIPLES TO PREPARE HIMSELF FOR THE MISERIES OF LOVE FOR THOSE WHOM HE LOVES.
And ... what are His children, His followers doing?...
How are you preparing to accompany My Son in His offering of Love for all humanity?
Are you aware of how delicate and decisive this instant is for faith? ...
How much does humanity needs to expiate?
How much must humanity suffer?...
How much do My Son's People need to strengthen themselves in order to persevere in faith? ...
OFFER MY SON LOVE, CLAIM NOTHING MORE, THE REST WILL BE GIVEN ADDITIONALLY. BE YOUR BROTHERS' KEEPERS; UNITE SO THAT EVIL WOULD NOT CATCH YOU UNAWARES.
Pray for one another, pray for Argentina, it will suffer greatly. Pray for the United States. Pray for Venezuela, it grows dark.
Pray for Italy, suffering is coming.
Keep yourselves united to My Son, go to your travelling Companions for help, do not forget Your Guardian Angels, they will comfort you in the instants of pain.
PREPARE WITH MY SON, LIVE WITH MY SON EACH INSTANT OF HIS SORROWFUL PASSION AND REENCOUNTER LOVE IN SPIRIT AND TRUTH.
Come to Me and repeat that personal "Yes" of My Son and therefore that "Yes" in favor of Love of neighbor.
Receive My Motherly Blessing, and may My Motherly Protection be with you.
Mother Mary
HAIL MARY MOST PURE, CONCEIVED WITHOUT SIN
HAIL MARY MOST PURE, CONCEIVED WITHOUT SIN
HAIL MARY MOST PURE, CONCEIVED WITHOUT SIN