Monday, December 6, 2021
Prepare Yourselves, Do Not Forget, Prepare Yourselves! The Darkness is Coming!
Message of Saint Michael the Archangel to His Beloved Luz De Maria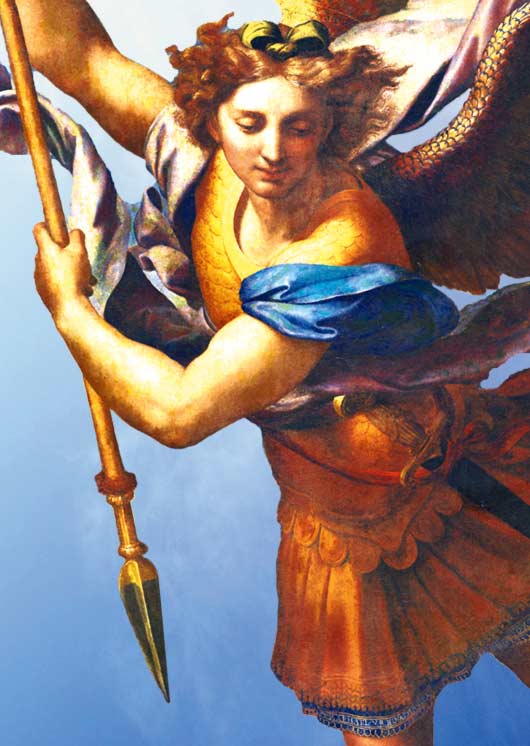 Beloved People of our King and Lord Jesus Christ:
RECEIVE THE BLESSING WHICH IN THE NAME OF THE DIVINE WILL I CAUSE TO DESCEND UPON EACH ONE, BEARING FRUIT IN THOSE WHO ARE DULY PREPARED IN THE SPIRIT.
Children of Our King, to some I look at you so confused, to others I look at you so confident, to others I look at you in derision about what the Paternal House alerts you to.
You have not yet understood the necessity for you to maintain a permanent state of peace. The Devil, like a roaring lion, (I Pet. 5:8) is upon you, People of God.
PREPARE YOURSELVES, DO NOT FORGET, PREPARE YOURSELVES!
Our beloved country of the Guadalupana is strongly shaken. If this people prays with strength, with love and Faith it will be heard and the ravages will be minimized. Prayers must be governed by Faith and the due state of Grace of each one who prays.
I WISH TO ASK YOU THAT A GREATER NUMBER OF CREATURES
PRAY IN HUMANITY.
Central America is scourged, its soil is shaken. These Christian lands have been monopolized by communism (1), they have been served on a platter by their rulers, by those who as stewards of evil prepare to offer their spoils of souls to the Antichrist.
People of Our King and Lord Jesus Christ be firm, no lukewarmness at this time. Examine yourselves conscientiously, this is how you must prepare yourselves, leaving the rags that you carry and do not allow you to ascend spiritually.
Evil keeps you magnetized to the worldly and it is necessary that you do not allow yourselves to be seduced by diabolical trickery.
Embark now! on the path to which each one has been called within what has been entrusted to you, without loss of time; this is running out.
THE DARKNESS IS COMING!
Pay attention, the darkness comes to Earth without your expectation. Spiritual preparation is necessary, look inside yourselves:
You have to learn to forgive yourselves and to forgive your neighbor. Do not judge, leave judgments to God.
Change your life, do not indulge undue desires and that lead you away from Our King and Lord Jesus Christ and Our Queen and Mother of the End Times.
AS PRINCE OF THE HEAVENLY LEGIONS I COME WITH THE TRUTH IN MY MOUTH . I do not come to alarm you nor to give you worries or anxieties, I do not wish to frighten you, but on the contrary, I ask you:
BE THE CHILDREN OF OUR KING AND LORD JESUS CHRIST THOSE WHO LIVE IN THE SHADOW OF THEIR LORD, THEY FEAR NEITHER BY DAY NOR BY NIGHT BECAUSE THEY REMAIN SECURE IN DIVINE PROTECTION.
Fear is normal in man, although it is of the children of God to diminish fear toward the matters of Our King and Lord Jesus Christ detailed in the book of Revelation. The human creature is called to trust more in the Holy Trinity and Our Queen and Mother and less in himself.
"Remember what you received and heard; put it into practice and repent. For if you do not keep awake I will come as a thief, not knowing at what hour I will surprise you."(Rev. 3:3)
Pray children of Our King and Lord Jesus Christ, pray for Indonesia, suffer and suffer mightily.
Pray children of Our King and Lord Jesus Christ, pray for The Balkans, world powers came to this territory.
Pray children of Our King and Lord Jesus Christ, pray for Mexico, it trembles strongly.
Pray children of Our King and Lord Jesus Christ, pray for America.
They lead you from place to place, from setback to setback in health and panic:
YOU ARE NEVER FORSAKEN.
MY LEGIONS ARE COVERING YOU, FEAR NOT.
St. Michael the Archangel
AVE MARIA MOST PURE, CONCEIVED WITHOUT SIN
AVE MARIA MOST PURE, CONCEIVED WITHOUT SIN
AVE MARIA MOST PURE, CONCEIVED WITHOUT SIN
COMMENTARY BY LUZ DE MARIA
Brethren:
"He will deliver you from the snare of the fowler and from the scourge of misfortune; 4. He will cover you with his feathers and you will find under his wings a refuge. 5. Thou shalt not fear the fears of the night, nor the arrow shot by day, 6. nor the pestilence that advances in darkness, nor the plague that scourges in the full sun. 7. Though a thousand men fall at thy side, and ten thousand at thy right hand, thou shalt be out of danger: thy loyalty shall be thy shield and armor. 8. If you only look with your eyes, you will see how the wicked is repaid. 9. But you say, "The Lord is my refuge," you have made the Most High your refuge. 10. Misfortune shall not overtake thee, neither shall plague come nigh thy tent: 11. for he hath commanded the angels to escort thee in all thy ways."
(Ps 91:3-11)
Amen.