Wednesday, July 8, 2015
Message Given by the Most Holy Virgin Mary
To Her Beloved Daughter Luz De María.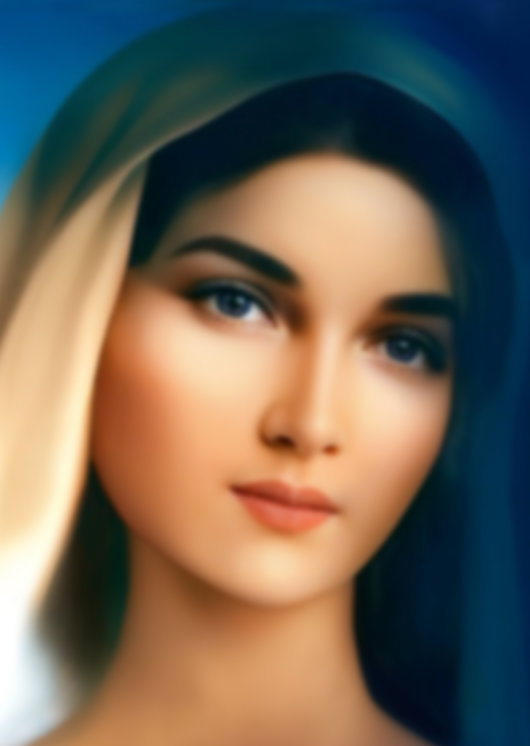 Beloved children of My Immaculate Heart,
MY CHILDREN, I COVER YOU WITH MY MANTLE OF LOVE. I COVER YOU WITH THE MANTLE OF MY MATERNITY.
I intercede before the Holy Spirit to fill you with wisdom so you will be able to recognize this decisive instant and stop wandering under the guise of evil as if everything were continuing normally.
Children of My Immaculate Heart, you who read and love the Divine Word explained in these Messages of Love, be certain that the powerful do not expose the whole truth of the events that are happening. They keep humanity expectant regarding the economy of a country and, behind all those economic happenings, they propose new laws with more force that act negatively on the society and going unnoticed by man.
The military forces move very strategically at this instant when man does not see, does not read, and does not know about the little notes in small print, taking advantage of the economic situation in Greece.
Beloved children of My Immaculate Heart,
Not all that glitters is good. The economic interests of the powerful nations guide them and design their strategies for man to deviate his attention away from spirituality and what is truly important and transcendent for all of humankind, such as religion and morality on which God's children must be founded.
Indifference and lack of awareness regarding the events that I have announced make humankind conform and not see the strategies of evil that covertly take humanity to evade the good deeds, defying God's Law.
Beloved children of My Heart,
One provocation from one country suffices for war to start and for all humankind to suffer the corresponding consequences. Do not avoid My Warnings as if they were meant for other creatures; they are for you; they remain before you and they will take you by surprise.
My beloved,
THE DRAGON WAKES UP TO SHAKE HUMANKINDTHAT IS FOCUSED ON THE MUNDANE. THE DRAGON WILL SURPRISE YOU PROVOKING THE EAGLE, AND THE EAGLE WILL RESPOND WITHOUT THINKING.
Children of My Immaculate Heart,
YOU WILL CARRY THE WEIGHT OF THE CROSS OF HUMANKIND'S SINS; HUMANKIND THAT HAS
REBELLED AGAINST MY SON'S WILL. EACH ONE WILL CARRY HIS CROSS; YOU WILL
PERSONALLY LIVE IT WITHOUT LIGHTENING THAT BURDEN. MY SON'S PEOPLE WILL DRINK THEIR OWN SINS AND WILL SEE THEIR OWN DENIALS OF MY SON'S WORD.
You live in the midst of great confusion suffering the disorder with which you gravely offend My Divine Son. Sin drags you like water in a flood. You know My Son's Will. Do not excuse yourselves to disguise the sins that have brought you to the worst debauchery of all times, guided by satan who prepares man in this way to deliver him to the antichrist…
The Law was written by the Eternal Father; He is the Beginning and the End; He knew well what is happening at this instant and thus He dictated His Law for all times. Man has no power to change the Divine Word.
My beloved,
Within My Son's Church, the freemasons and the illuminati have been gaining power and, at this instant in particular, they influence humanity fighting to deviate from the Path of the Truth those who believe, being consistent with the opposite of what My Son preached and that remains written in the Holy Word.
Beloved children of My Immaculate Heart,
With pain I convey to you that some of My favorite children (the priests) hurt My Divine Son because they have stopped believing in the Miracle of Transubstantiation and they do not believe that My Son is present in the Bread and the Wine during the Consecration. This generates a weakening at the root of the Christian Faith to minimize My Son's Presence and to make the antichrist stand out. These mistaken schools of thought undermine My Son's Truth, maintaining power to make decisions in secret, AGAINST MY SON'S TRUE CHURCH. THEY ARE WOLVES IN SHEEP'S CLOTHING.
Beloved, I must say this to humanity through My daughter so they won't continue following the wolf tracks; instead they must convert so as not to lose the Eternal Life.
The pain in My Heart is constant… I will follow the antichrist closely so he will not continue leaving the Earth without innocence and staining the earth with innocent blood…
DO NOT EXPOSE YOURSELVES TO TEMPTATION. ENOUGH! MY CHILDREN MUST STOP SHOWING
THEMSELVES TO BE SO INSENSITIVE TO THE CALLS FROM THE PATERNAL HOUSE! ENOUGH, CHILDREN! DO NOT CONTINUE MIRED IN TEMPTATION OR YOU WILL FALL FOR LIVING WITH TEMPTATION SO MUCH.
You continue seeing from a distance the world events without linking the events that arise, one after another, across the Earth, not for fear of God but to provoke God. My children, do not ignore the magnitude of the global economic fall; it will affect seemingly strong economies, just like I have announced from the start of these Calls.
My children are not confused; they know and practice God's Law, they do not say 'yes' to sin, they do not crave wrongdoings, they do not share immorality, they do not accept injustice. My children are faithful and firm; they know that the one that does not bear fruit will be cut down like the fig tree.
Sin gains strength because of man's ignorance; evil gains strength because My Son's People are lukewarm; the devil takes more souls because of the indifference of Mine when they are not aware that the great indifference before the works and acts of evil nourishes evil and makes it grow. Do not deny the faith in My Son out of fear; My Son's Hand remains over those who are faithful to Him.
Children, refusing to discover the coming events—which most of humanity ignores—comes from an involuntary denial because they have not been properly warned by those in charge of that information, BUT DENYING WHAT THEY ARE ALRADY LIVING, THAT IS VOLUNTARY IGNORANCE INDEED.
Beloved, decide to live in My Son's Heart, in the Divine Love, being repeaters of that Divine Love which this generation lacks.
Children, society rushes lawlessly towards the crucible without feeling it because they are not aware of it. In view of such behavior, evil takes the human creatures and uses them to cause more and greater evil when they refuse to live in fraternity like My Son requests of them.
Beloved, repent and receive My Son properly prepared. Reunite with your King and recognize Him without delay before humanity reaches the final hecatomb.
Pray, My children, for Ecuador and Chile; both will suffer at the hands of men and will suffer greatly because of Nature.
Pray, My children, for China; it will be strongly shaken by man and Nature.
Pray, My children, for the United States; man will make it cry and it will suffer the great trembling of the earth; San Francisco will suffer its lust.
Beloved, the Earth moves with great astonishment because of man's rejection of The Creator; the Earth looks at man's indifference towards the Divine Will; the earth cracks, communications will be interrupted.
Beloved, I find your hearts open to My Maternal Calls by means of which I announce the events in advance because I love you. You are My children and I protect you. My Mantle is the Veil that does not allow evil to stun you; My Mantle is Love with which I attract you so you will not turn away from the requests that I bring to you in compliance with the Divine Will.
DO NOT DISTANCE YOURSELVES FROM THE EUCHARISTIC SACRAMENT; PRAY THE HOLY ROSARY; LOVE ONE ANOTHER WITH DIVINE LOVE.
I protect you, I love you.
Mother Mary
HAIL MARY MOST PURE, CONCEIVED WITHOUT SIN.
HAIL MARY MOST PURE, CONCEIVED WITHOUT SIN.
HAIL MARY MOST PURE, CONCEIVED WITHOUT SIN.