Sunday, October 4, 2015
Message Given by the Most Holy Virgin Mary
To Her Beloved Daughter Luz De María.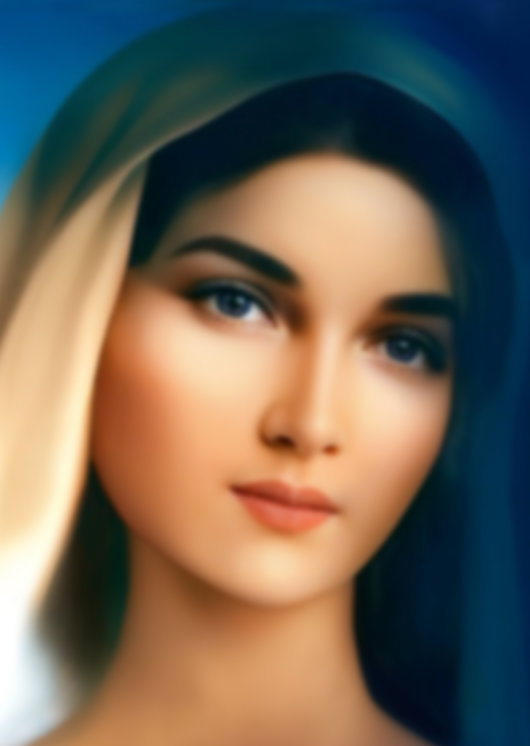 Beloved children of My Immaculate Heart,
I bless you with My Maternal LOVE.
MY HEART IS HURT, VERY HURT.
EVEN THEN, MY LOVE FOR EACH ONE OF YOU DOES NOT DIMINISH.
You are the hope for the love and the faith in My Son to continue with His People, formed by all of you.
Each one of you has the possibility of being more of Heaven and less of the mundane. Do not forget that after the crucible, righteousness will always prevail.
At this instant, I address each one of My children. They ignore the fierce insidiousness with which the enemy of man's salvation insist—on every aspect—to distance man from the true path.
Evil continues to insist because he knows man's instinct—to be more than his brothers—and it leads man to act without mercy. It all comes from man's lack of humility which despises the great lady obedience, because when the human being obeys, he brings down his ego and decides to live in Divine Will.
Beloved children of My Immaculate Heart,
Time and again I have mentioned that, after the public appearance of the antichrist, My Son will send a Creature to help His People; this Creature will revive your Faith through preaching the Word from the Holy Scripture.
The persecution, especially against Christians, will be merciless, more so than at this instant. The antichrist and his allies know that the Christian carries his cross with the joy of a lover waiting to get together with his loved one.
The authority of My Son's Church will be ignored by those who will attack the Christians, and the Christians will have to hide from their persecutors. It will be then when I will send the Angelic Legions to protect you from fear and despair. The victory of the Cross is incomprehensible for those who do not delve in the mystery She encloses. The victory of the Cross signifies despair to those who do not recognize the Glory and Majesty that result from the Death and Resurrection of My Son and, therefore, Eternal Life for My Son's children.
Beloved children,
HOW I MUST CONTINUE FIGHTING BEFORE YOU SO YOU WILL PUT INTO PRACTICE
THE VIRTUE OF HUMILITY AND THE GIFT OF LOVE TO ENCOUNTER SATAN WITHOUT FALLING, BECAUSE SATAN WANTS TO DESTROY THE WORK OF THE FATHER!
Man in society is not aware of the ingratitude towards women. Masculinity is seen from a mistaken concept, which leads man not to yield to what he considers to be a part of his natural being. On the contrary, My children, without consideration towards woman, man becomes a prepotent creature who does not faithfully comply in full with the First Commandment. (Mt 22, 36-39) Likewise, woman must comply with the First Commandment and, at the same time, love and be faithful to the man she has chosen to accompany him in his life, in matrimony. Do not forget, both of you, that recognizing a mistake is a sign of valor because only those who are courageous recognize a mistake.
Children, each one of you has exactly one soul and exactly one heart, and they are totally oriented towards God by Divine Will. Nothing is yours, so much so that humility is not present during difficult instants; during difficult instants man allows himself to be besieged by evil and by the wrong temperament, or to be dominated by hubris, to react against My Son's Will, forgetting that what man may see as a sign of weakness, to My Son is strength.
MY CHILDREN, EACH ONE STRUGGLES FOR SANCTITY; HIS PERSONAL OBSTACLES MOVE WITHIN THAT STRIFE, BUT THE MAIN ONE IS HUBRIS AND PERSONAL VAINGLORY.
My beloved children, this world's instant is delicate in view of the union of the strongest powers. These are difficult instants for all mankind due to the constant wait in ambush of provocations for the war to explode. This is why I call you to pray for the United States and Russia, two of the main characters in this terrifying stage.
Children, you ignore the principle of the truth that moves strong powers to promote war. Every act of man has an implicit objective that benefits him. Not only economic, political, and geographic interests—inconceivable to those who do not know politics—are behind revolutions, vandalism, and protests that seem harmless, creating chaos through uncontrolled violence which was programmed to take humankind to this instant in which it finds itself, only one step away from self-destruction of the human race.
My beloved, nuclear energy is the scourge of humankind; it is the final epidemic, the Cain, the modern Herod, the new Samson, the present Judah, the rebellion against God when it (nuclear energy) is used as it is now, at this instant, like demonic weaponry. This is why the Angelic Legions will have to interfere to help those faithful to God.
The Alliance of powers is nothing more than the fulfillment of My Son's Word. The powers will attack the weakest nations, then they will create disputes among them, and they will betray and attack one another. The alliances are strategies, not truths.
Beloved, the lukewarm will have no possibilities if they do not repent; the lukewarm will be spit out of God's mouth. There exist only two ways, good or evil. My Son will arrive with an iron rod, to separate the wheat from the weeds.
This Mother has been traversing history with you, and this way you have been alerted to change the destiny prepared by the same man at the service of the one who will take the power of the nations on Earth and fight to control all humankind.
AT THIS INSTANT, THOSE WHO ARE AWAY FROM THE POINTS OF TENSION DO NOT IMAGINE
AND ARE NOT AWARE OF THE SERIOUSNESS OF THE PROVOCATIONS OF SOME ALLIES AGAINST THE OTHERS…
TURN TO LOOK AT THE STAGE OF THE PROVOCATION;
ONLY THIS WAY WILL YOU REALIZE HOW CLOSE YOU ARE TO THE ANNOUNCED THIRD WORLD WAR…
I CALLED THE CHILDREN OF MY PREDILECTION TO PREACH PEACE, AND I CALLED THE BISHOPS OF ROME TO CONSECRATE RUSSIA TO MY IMMACULATE HEART… AND THEY DID NOT OBEY ME.
THE INSTANT HAS PASSED AND THEY HAVE NOT TAKEN IT SERIOUSLY. THIS IS THE RESULT OF
IGNORANCE, BECAUSE MY PLEAS HAVE NOT BEEN MADE PUBLIC AND MY SON'S PEOPLE HAVE NOT BEEN ALERTED to avoid causing fear, but the truth is what I, as Mother, have expressed in My Apparitions through My true instruments.
Each human creature has free will. I, as Mother, call you to take the correct path; I do not force you to make decisions you do not want, but I urge you to stop and examine yourselves.
The Commandments are not changed on man's whim; sin is not Divine Will even when at this instant the fashion is for youngsters to use drugs, to expose themselves at an early age to uncontrolled immorality, to listen to satanic music, not to approach My Son or to do it as a duty.
HE WHO WANTS TO SAVE HIS SOUL MUST GET AWAY FROM EVERYTHING THAT SEPARATES HIM FROM MY SON; OTHERWISE, HE WILL PERISH IN SIN.
If My Son's Church wishes to remain strong as it is God's Will, She must lift the hearts of the faithful so they won't seek what is worldly. My Son's Church must not be a house for some to benefit from Her, in positions of honor; My Son's Church must be a community of Love where the rich and the poor are welcome. My Son's Church must be one single soul and one single heart.
ONCE AGAIN I COME AS MOTHER OF ALL MEN; SALVATION IS FOR ALL.
Do not neglect My calls at these instants so crucial for everyone.
I protect you, I love you, I bless you.
Mother Mary.
HAIL MARY MOST PURE, CONCEIVED WITHOUT SIN.
HAIL MARY MOST PURE, CONCEIVED WITHOUT SIN.
HAIL MARY MOST PURE, CONCEIVED WITHOUT SIN.