Devotion to the Most Chaste Heart of Saint Joseph
Devotion to the Three United Sacred Hearts through the Most Chaste Heart of St. Joseph given to Edson Glauber in Itapiranga AM, Brazil
About the Devotion to the Most Chaste Heart of St. Joseph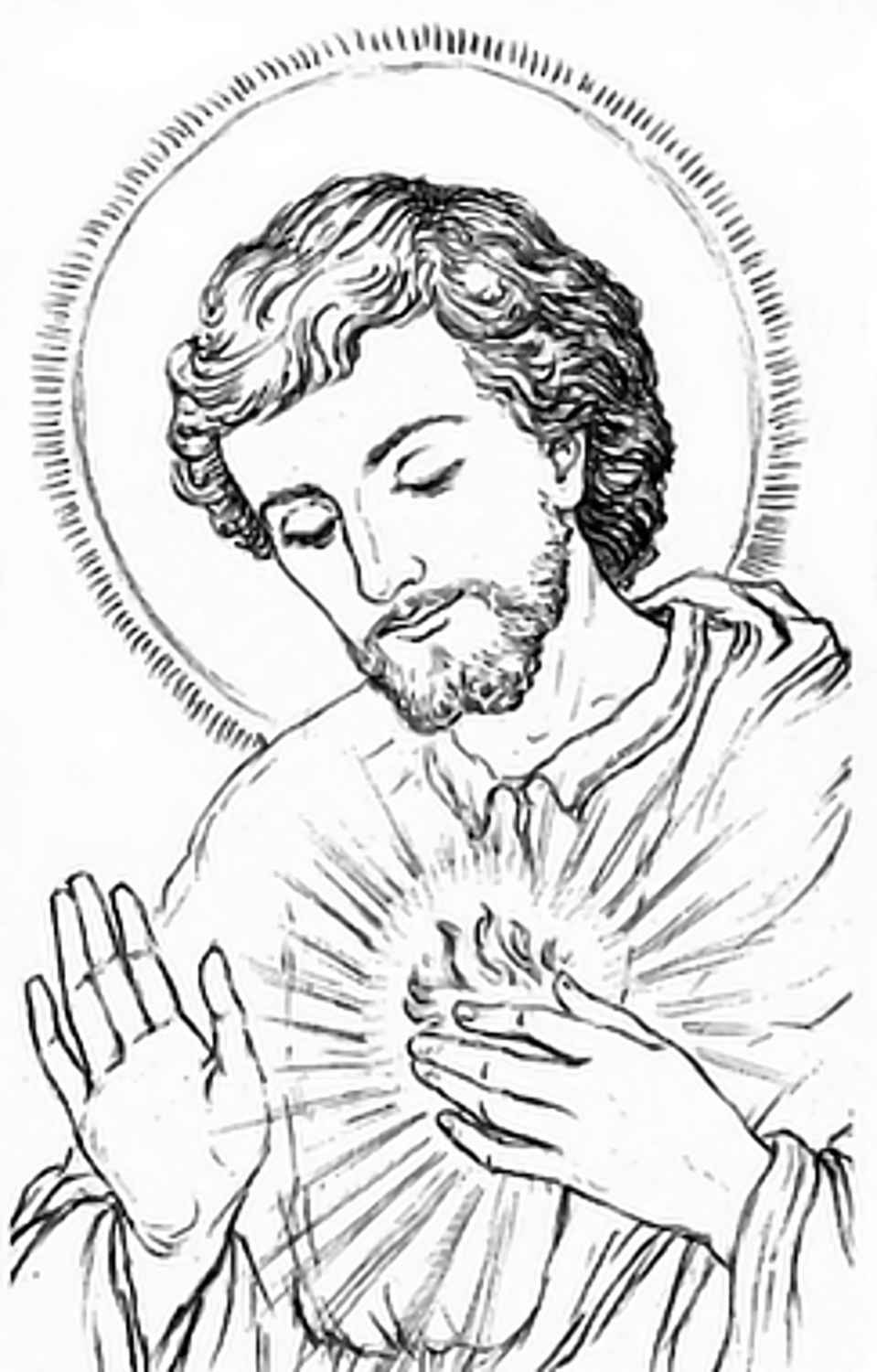 From Edson's writings on March 29, 2002:
In the morning, while I was praying to St. Joseph, he appeared very beautiful, showing me his Most Chaste Heart. He appeared just as I was praying the Hail Joseph prayer, which I have been saying in his honor for some time. Looking at me, with a beautiful smile, he communicated to me the following message:
"Spread this prayer to all people. Through this prayer the Lord wishes to make my name better known and loved, and wishes to grant, through it, many graces to all those who honor me by reciting it."
"Those who say this prayer will receive many graces from Heaven. Through it, I will be invoked more and more throughout the world, and I will be able, through my Heart that will be loved and honored, to grant many graces to sinners who need divine help."
"It is important that this prayer be known by everyone. Let it reach everywhere, so that all may be benefited by God, through it. This is His most holy will, and I reveal it to you at this moment..."
As he said these words, St. Joseph blessed me and made many rays of golden-colored light gush out from his Most Chaste Heart, which came towards me and invaded my entire being, leaving an indescribable joy and peace in my innermost being. I felt all submerged in the presence of God and I understood so many things that were revealed in my heart about this devotion and about my future life, about my mission. I am not worthy of such great graces and I thanked God deeply for having chosen me to make the Most Chaste Heart of Saint Joseph known to the world. Who am I for such a mission? Nothing, but I want to remain a nothing so that God can do everything!
Hail Joseph Prayer
Hail Joseph, Son of David, just and virginal man, Wisdom is with thee , blessed art thou amongst all men and blessed is Jesus, the fruit of Mary thy faithful spouse.
Saint Joseph, worthy Father and Protector of Jesus Christ and the Holy Church, pray for us sinners and obtain for us from God the Divine Wisdom, now and at the hour of our death. Amen.
(The prayer was composed by St. Louis Marie Grignon de Monfort and reformulated by Jesus at the apparition on January 7, 2008)
Thus, I understood that there are six ways to honor the Heart of St. Joseph:
First

The image of His Most Chaste Heart, a request made in the apparition of December 25, 1996, where Jesus and Our Lady revealed the Heart of St. Joseph to the world. The original picture of the three united Hearts is in the residence of the Confidants, in Manaus, and several copies of this picture are being spread in many places where devotion to the Most Chaste Heart of St. Joseph is growing more and more;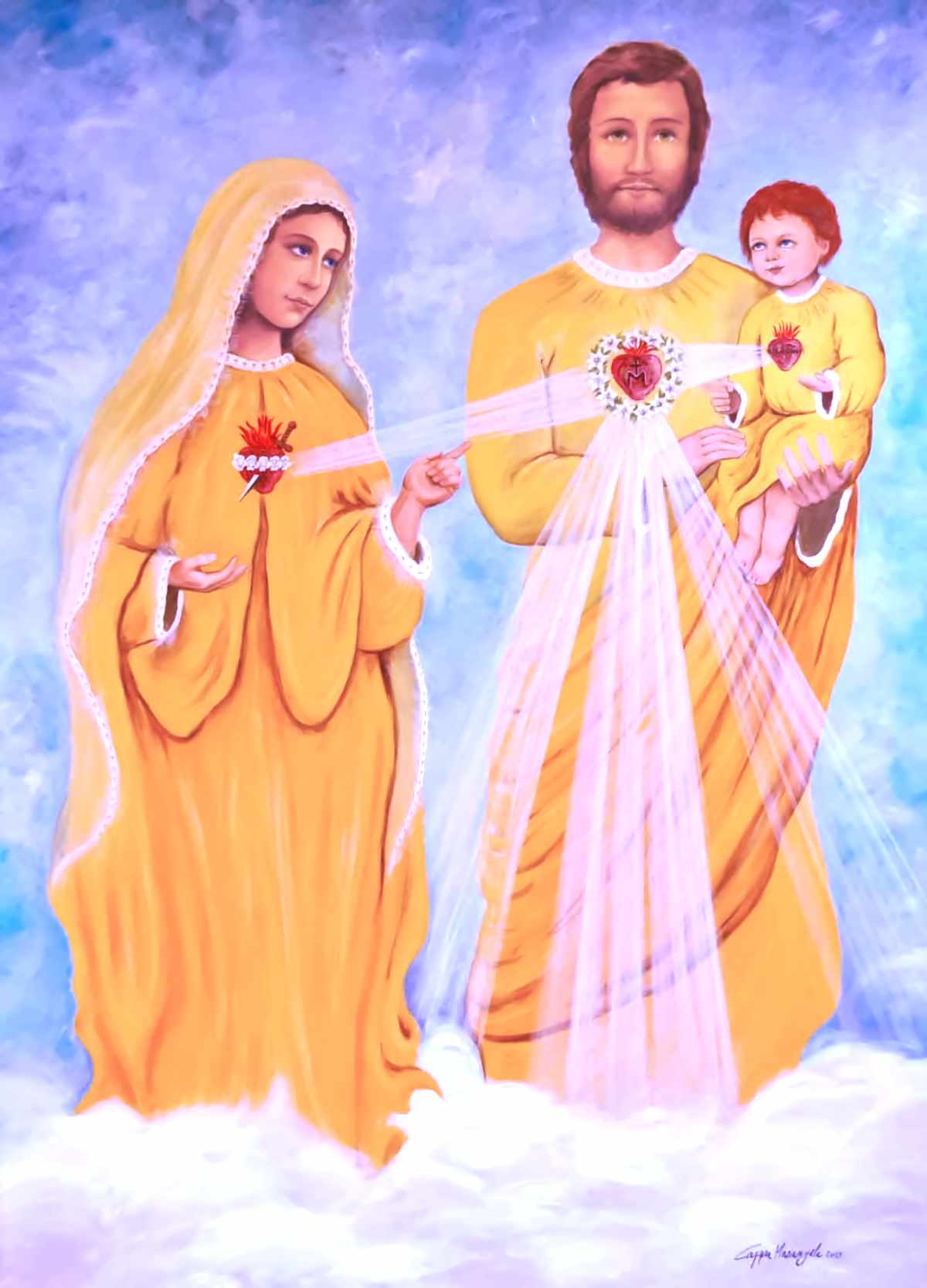 Picture representing the apparition of the three united Sacred Hearts of Jesus, Mary and Joseph, which occurred in Manaus, in the Dom Pedro neighborhood, on December 25, 1996.
Second

Feast of the Most Chaste Heart of Saint Joseph, request made by Jesus on June 6, 1997, on the Feast of his Sacred Heart, according to a message transmitted, where He communicated His will to us: "I desire that the first Wednesday after the Feast of My Sacred Heart and the Immaculate Heart of Mary be considered the Feast of the Most Chaste Heart of Saint Joseph."
Third

Chaplet of the seven sorrows and joys of St. Joseph, which should now be recited with the prayer that Jesus himself and St. Joseph asked us to recite, so that we may be benefited by His intercession, invoking His most holy and powerful name, which makes all hell tremble and puts all demons to flight, as was revealed by Jesus in an apparition.

Seven Sorrows and Joys Chaplet of St. Joseph
Fourth

The Scapular of St. Joseph was revealed to Edson during two apparitions: the first one on July 14, 2000, at the Shrine of Our Lady of Mount Carmel, Aylesford (England), the same place where the Blessed Virgin appeared to St. Simon Stock, revealing to him the Scapular of the Order of Mount Carmel; the second one in Sciacca (Italy) on July 16, 2001, feast of Our Lady of Mount Carmel, the same year of the 750th anniversary of the delivery of the Scapular to St. Simon by Our Lady, according to tradition. It represents the sign of protection and fidelity to the Heart of St. Joseph, who wishes to lead us to God and to holiness, mainly by reminding us to imitate His virtues and perfections regarding purity, obedience, silence and humility, strengthening us in faith and love for Jesus and the Holy Virgin. St. Joseph will defend those as His property who wear this scapular and will give countless graces from His Most Chaste Heart to those who are tempted against purity, and will protect them against the assaults of the devil and every evil. It is good that young people wear it, because they are the most attacked by the devil. Fathers and mothers should recommend it to their children to wear it, because Saint Joseph wishes to help them, granting them His help and protection, just as He guided and protected Jesus in this world.
Fifth

Spreading devotion to the Heart of Saint Joseph accompanied by good works of charity and assistance to people in need, in a special way to the sick and dying, according to Saint Joseph's requests in His promises revealed in March 1998.
Sixth

The first Wednesday of the month should be remembered as day of special grace, where St. Joseph pours out torrents of extraordinary graces on all those who have recourse to His intercession, honoring His Most Chaste Heart. Jesus personally promised that these same devotees will receive great glory in Heaven, a grace that will not be granted to those who do not honor Him as he asked.

"May the Lord always be glorified, adored and loved!"