Monday, October 3, 2022
Final Preparations
Message from God The Father to Lorena for All Mankind on September 24, 2022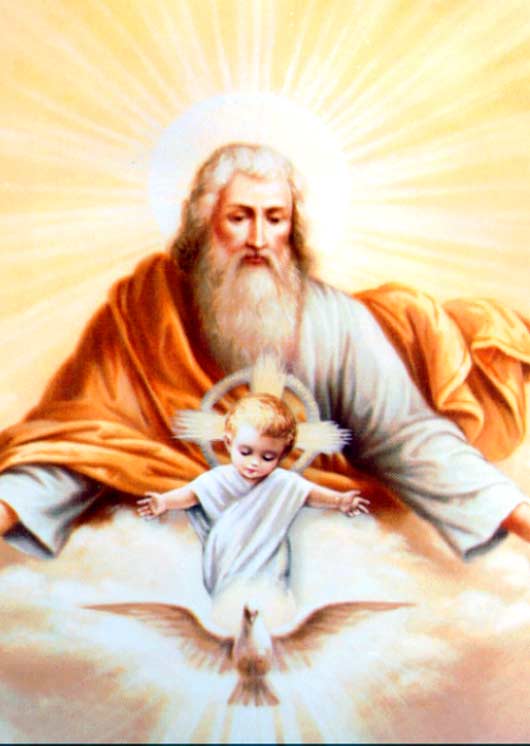 MESSAGE FROM GOD THE FATHER TO LORENA FOR ALL MANKIND
SEPTEMBER 24, 2022 – FINAL PREPARATIONS
Before I unleash My Arm with ALL Its Force, AGAINST Planet Earth, I want to INVITE EVERY PERSON to follow My Indications and My Instructions that I will give in this Message because I want EVERY PERSON, to be SAVED and to come to Return to My House from where he/she came, from where he/she left and from where he/she is.
I hope that My children return to Me after living on Earth for a short time, but many are lost in the World for the Lack of Love for Me, because the World absorbs them and blinds them and fills them with false ideologies and concerns, which are only Worldly and do NOT lead man to the Truth.
I am the Truth, the Alpha and the Omega and I manifest Myself to My Children through many Signs, be they of any kind.
To begin with, My Love is embodied in Nature and therein is the Reflection of My Love towards Man, I created the Universe by just thinking about it and I made it for man to enjoy it, all that is involved in being man.
I created man with the ultimate purpose of living in My Divine Will, illuminating like a Sun everything created, but the creatures insist on doing their will and this breaks the schemes and guidelines that I had made valid for man and creates chaos in the Universe, because to every Action corresponds a Reaction and thus merges into a human act and weak Sin that brings consequences at the Universal Level.
Humanity is Blind, walks in the Darkness and does NOT see the consequences of its Acts of its Sins, but I do, and they are Fatal, but the World walks to perdition in these days and goes running every day in Sin without being Aware that, falling in this, ALL Friendship and Communion with Me is lost and the UNION that existed between the Holy Spirit and the Person is BROKEN.
Therefore, I invite you to RECAPITIZE ALL the Acts and Actions, so that you may lead a Dignified and Fruitful Life and be Light in the darkness, but for this to happen, you must have Consciousness that you are wrong, but in these Last Times, Pride blinds man, creates a blindfold on his Senses and leads him to believe that there is NOT anything wrong in his Acts and consequently that he is not in Sin, but to be able to recognize that one lives in Sin and to denounce and correct it, one must resort to the Illumination of the Holy Spirit, there are Lax Consciences that do not realize that one lives in Sin, that is why it is IMPORTANT TO BREAK DOWN THE WALLS OF PRIDE AND SELFISHNESS, which blind man and make him incapable of looking at the Beam in his eyes.
Therefore, My First Recommendation is that in an Act of Humility you ask the Holy Spirit to Enlighten you and make you see your Conscience as it is, to be able to look at your true self and to know for certain ALL your Sins and Shortcomings.
To be able to ask for the Infusion of the Holy Spirit one must be in an attitude of Availability and Humility, and how can an arrogant Heart achieve this? It is IMPOSSIBLE!!
That is why you must have recourse to the Prayer of Intercession for your brothers who live blinded in Pride and Sin, so that this Prayer touches the most intimate fibers of your Hearts and the blindfold falls from your eyes, that is why the Prayer of Intercession for the Poor Sinners is IMPORTANT, you must smooth the Way for My Son, so that the Kingdom of the Divine Will is carried out here on Earth, the Era of the Third Fiat, follow My Instructions.
FIRST OF ALL, Do the prayer of intercession for your brothers who live in Sin so that they may awaken and recognize their sins, otherwise their Salvation would be very difficult, the World lives immersed in the daily grind and they do not realize that it is falling apart, the Signs are overwhelming, the Force of Nature has increased considerably and this is provoking diverse Natural Disasters in ALL the World, nevertheless Humanity continues submerged in a false reality, mirages that are the reflection of their Spiritual Sufferings, since they continue clinging to this World without realizing the Spiritual World.
My children you who are awake, wake up your other brothers with the Prayer of Intercession before it is too late, the Earthquake for Mexico is VERY NEAR, I need to Purify My Beloved Mexico as well as Colombia, Pray so that the greatest number of Souls may be Saved, now I ask you MUCH PRAYER OF INTERCESSION for your brothers, it is the First indication.
Second, are your Individual, Spiritual and Material Preparations, since there is VERY LITTLE TIME left, unite in Prayers and Cenacles in your Homes with Friends or Family and PRAY AT ALL TIMES, ASKING FOR A LESSENING OF EVENTS, since these due to the Sin of ALL Humanity will come VERY STRONG.
However, if you ASK ME FOR MERCY AND CLEMENCY, I WILL ANSWER YOU BECAUSE I AM ALWAYS OPEN TO RECEIVE THE PRAYERS OF MY PEOPLE THEREFORE THE SECOND INDICATION IS THE SPIRITUAL AND MATERIAL PREPARATION.
The Third Indication is to make Cenacles of Prayer ASKING FOR MERCY AND CLEMENCY IN ORDER TO AMINORATE THE PUNISHMENTS.
The Fourth and Last Indication, before My Righteous Wrath is unleashed with all Rigor, is that those who have not done so, should go up to the Ark of Salvation of these Last Times, Consecrating themselves to the Immaculate Heart of Mary.
This Fourth Indication, I need you to put it into practice IMMEDIATELY, as Time is pressing, these are MY LAST INDICATIONS, before ALL is unleashed, put them into practice IMMEDIATELY, I THE ALPHA AND THE OMEGA WILL UNLEASH MY WRATH VERY SOON SO DO NOT PLACE THIS MESSAGE ASIDE, LISTEN TO THIS MESSAGE, IT IS OF VITAL IMPORTANCE, I CALL YOU TO CONVERSION AND REPENTANCE WITH A CONTRITE AND HUMBLED HEART, DO NOT WASTE ANY MORE TIME IN THE WORLD AND PREPARE YOURSELVES TO FACE THE TRIBULATION HOLDING ON TO MY POWERFUL HAND, UNITE AS BROTHERS IN CONTINUOUS PRAYER DAY AND NIGHT, DO NOT LET YOUR SPIRITS REST, PRAY WITHOUT CEASING!!!
I, THE ALPHA AND THE OMEGA, INVITE YOU TO FOLLOW THESE INSTRUCTIONS TO THE LETTER.
PEOPLE OF GOD, I BID YOU FAREWELL WITH THE FULL CONFIDENCE THAT YOU WILL CARRY OUT WHAT I HAVE SAID BEFORE, I BID YOU FAREWELL INVITING YOU TO READ PSALM 136, WHICH SPEAKS OF MY LOVE, THE LOVE I HAVE FOR ALL HUMANITY.
I BID YOU FAREWELL YOUR BELOVED FATHER YAHWEH.
Message from Saint Michael the Archangel on Nov. 7-8, 2022
Source: ➥ maryrefugeofsouls.com
Selection of Prayers
Prayer For Intercession
Heavenly Father, we come to You today to intercede for our nation and the nations of the world that are in such commotion and disarray, and are so antagonistic towards You, and hateful towards the Lord Jesus Christ, Who died for the sins of the world. Lord, there are so many that have been blinded by the lies of the enemy and who have been prevented from seeing the glorious gospel of the grace of God, but are entrapped by Satan and a slave to sin.
Lord, it is not Your will that any should perish but that all should come to faith in Jesus Christ, and so we pray that You would look down with pity on the nations of the world and the many that are dead in their sins, and who face an eternity - separated from their Creator. Open the eyes of those that are spiritually blind and unblock the ears of those that are spiritually deaf.
Soften the hearts of those that have pridefully rejected the free gift of salvation by grace through faith in the Lord Jesus Christ, and draw many we pray, who are spiritually lost into a saving faith in Christ. We pray against the many different strongholds that are imprisoning the hearts and minds of so many, and ask that the satanic deceptions that have entrapped so many, will be exposed for what they are.
Shine down the sunshine of Your hope into this lost and dying world, and help us not to grow weary in interceding, but rather may we find the grace to plead more intensely, knowing that the time is so short. We ask this in Jesus' name,
Amen.
Prayer For Intercession
Heavenly Father, we thank You for every life that has been born from above and is now in union with Christ Jesus our Head and Saviour. Guard and guide each one, and protect their hearts and minds from the deceit and lies that only come for the devil, who is the father of all lies, the great deceiver of men's souls and a murderer from the beginning. Guide each one we pray, into the way of truth and give them wisdom and sound judgement, to recognize the workings of the mystery of iniquity.
Into Your hands we place each blood-bought child of God, and pray Your protection on their lives. Give them discernment to choose the good and reject the evil, and may each one come to a deeper knowledge of Christ and develop a thirst to know You more and more, individually as believers and collectively as the Church of Christ. We pray that all You purpose for each of Your children, may be accomplished in each life, to Your praise and glory. We ask this in the precious name of Jesus,
Amen.
Source: ➥ prayerist.com/prayer/intercession
† Crusade Prayer 1 †
My Gift to Jesus to Save Souls
My gift to Jesus to save souls
My dearest Jesus, You Who loves us so much, allow me in my humble way to help save Your precious souls.
Have Mercy on all sinner, no matter how grievously they offend You.
Allow me through prayer and suffering to help those souls who may not survive The Warning to seek a place beside You in Your Kingdom.
Hear my prayer, O sweet Jesus, to help You win over those souls You yearn for.
O Sacred Heart of Jesus, I pledge my allegiance to Your Most Holy Will at all times.
Amen.
† Crusade Prayer 7 †
Prayer for Those Who Refuse Mercy
"This is the Prayer they must say to beg for Mercy for souls in darkness."
Jesus, I urge You to forgive those sinners, so dark of soul, who will refuse the Light of Your Mercy.
Forgive them, Jesus, I plead with You, in order to redeem them from the sins which they find it so difficult to extract themselves from.
Flood their hearts with Your Rays of Mercy and allow them the chance to return to Your fold.
Amen.
† Crusade Prayer 27 †
Prayer for Peace in the World
O my Jesus, I beg for Mercy for those afflicted by terrible wars. I plead for peace to be instilled in those tortured nations who are blind to the Truth of Your Existence.
Please cover these nations with the Power of the Holy Spirit, so that they will stop their pursuit of power over innocent souls.
Have Mercy on all Your countries that are powerless against the evil atrocities which cover the whole world.
Amen.
† Crusade Prayer 35 †
Prayer for Souls to Enter Paradise
O my Jesus, help me to help You salvage the remnants of Your children on Earth.
I pray that You will, through Your Mercy, salvage souls from the spirit of darkness.
Accept my trials, sufferings and sorrows in this life to save souls from the fires of Hell.
Fill me with the Graces to offer You these sufferings with love and joy in my heart, so that we will all unite as one in love for the Blessed Trinity and live with You as one holy family in Paradise.
Amen.
† Crusade Prayer 41 †
For the Souls of Non-believers
O my Jesus, help Your poor children who are blind to Your Promise of Salvation.
I beseech You, with the help of my prayers and suffering, to open the eyes of non-believers so that they can see Your tender Love and run into Your Sacred Arms for protection.
Help them to see the Truth and seek forgiveness for all their sins, so that they can be saved and be the first to enter the Gates of the New Paradise.
I pray for these poor souls including men, women and children and urge You to absolve them from their sins.
Amen.
† Crusade Prayer 43 †
Save Souls during The Warning
O God the Almighty Father, on behalf of Your beloved Son, Jesus Christ, and in commemoration of His death on the Cross to save us from our sins, I beg You to save souls who cannot save themselves and who may die in mortal sin during The Warning.
In atonement for the sufferings of Your beloved Son, I urge You to forgive those who are unable to seek Redemption because they will not live long enough to ask Jesus, Your Son, for Mercy to free them from sin.
Amen.
† Crusade Prayer 52 †
Prayer to the Father
My dearest Father, in the Name of Your Precious Son and in remembrance of His Passion on the Cross, I call out to You.
You, God the Most High, Creator of the World and all that is - hold our Salvation in Your Holy Hands.
Embrace all of Your children, including those who don't know You and those who do, but look the other way.
Forgive us our sin and save us from the persecution of Satan and his army.
Take us into Your Arms and fill us with the hope we need to see the way of the Truth.
Amen.
Source: The Crusade of Prayer
Prayer No. 19: Prayer for the Salvation of Lost Souls
My Lord, My Father, He who is Almighty.
Enlighten the lost souls with Your Holy Spirit.
Do not allow the devil to block their way to You.
Send out Your Holy Angels to them, so that they may defeat the demons that control these souls, and they, the souls, may thus go the way home to You with Jesus, Your Holy Son. Amen.
Prayer No. 19A: Follow-Up Prayer for the Enlightenment of Lost Souls
Say YES, My dear child.
Say YES to Jesus. HE, who is greater than you, will lead you into eternity. With Him you can rest and be carefree and heal your soul.
Say YES, My child, and come to Me, I, your Jesus, take you with Me into My eternity. Amen.
Prayer No. 25: Prayer for Conversion of Lost Souls
Oh, My God, My Almighty Father, who is pure love.
Convert all Your children and send Your Holy Spirit even to the darkest of all souls, so that HE may kindle YOUR light in them and give clarity to that soul.
Do this for all lost souls and give my prayer the power, the strength and the love to convert the darkest of all souls.
I love You, dear Father, and I thank You, dear Holy Spirit.
Amen.
Prayer No. 28: Prayer for Access to the New Kingdom
Lord, kindle Your light in these souls, that they too may find their way out of darkness and to You.
Lord, love these children especially, for it is Your love that awakens them, Your care that makes them trust, and Your omnipotence that makes them marvel and find their way to You.
Help Your lost ones, Your seeking ones and all Your children of this earth to give their YES to Your Son, so that they too may find access to His New Kingdom.
Thank You, dear Father. I love You and I want to serve You and give my loyalty to You forever. Amen.
Prayer No. 33: Prayer for Enlightenment and Detachment of Godless Souls from Evil
O my God, my kind Father. Bring light into the hearts of all Your children. Enlighten them so that they may recognize the way to You. Love them so much that this love floods them and they begin to long for You more and more. Then send out Your Holy Spirit to them, so that He may lead them out of all darkness.
Give them the strength to entrust themselves to Jesus, to love Him and to follow Him. Detach them from all evil and YOU, Holy Archangel Michael, cut all connecting ropes to evil. Pour out Your clarity in them, Holy Spirit, and fill them with divine hope and joy.
Lord, receive them among Your disciples and show them the way that God the Father chose for them.
Amen.
Prayer No. 34: Prayer for Peace
Lord, who are in Heaven, send down Your peace to Our Earth, touch the hearts of Your children and especially of those who do not know Your light.
I love You, dear Father, and I trust in You, O My Divine Lord. Please send peace to the hearts of all Your children and enlighten the world with Your omnipotence.
I love You, and I trust in You, in Your grace, for YOU ARE my Lord, my Creator, my Father, and in You I place all my trust.
So send forth Your Holy Spirit, that peace may reign on earth and the beast with his dark plans may depart.
Amen.
Prayer No. 41: Our Lady's Prayer
Have mercy, O Lord, and send down Your graces upon all children so that they may recognize and walk the path to Your Son.
Free them from the snares of the evil one and let mercy prevail.
Grant them Your most generous mercy, so that they will not be lost to the adversary and will attain eternal life on the side of Jesus and Yours.
Have mercy on Your children.
We ask this through Christ Our Lord, Savior of the world. Amen.
Source: Prayers for the Divine Preparation of Hearts
Consecration to the Immaculate Heart of the blessed Virgin Mary
I ………… give myself, Mother, to Your protection and to Your guidance; I do not want to walk alone in the midst of the storm of this world.
I present myself before You, Mother of Divine love, with empty hands, but with my heart filled with love and hope in Your intercession.
I ask You to teach me to love the Most Holy Trinity with Your same Love, so as not to be indifferent to Its calls or indifferent to mankind.
Take my mind, my thoughts, my consciousness and unconsciousness, my heart, my desires, my expectations, and unify my being in the Trinitarian Will, as You did, so that Your Son's Word does not fall on arid land.
Mother, united with the Church, Mystical Body of Christ: bleeding and despised in this instant of darkness, I raise my pleading voice to You so that the discord between men and the nations be annihilated by Your Maternal Love.
SOLEMNLY I CONSECRATE TO YOU TODAY, BLESSED MOTHER, MY ENTIRE LIFE, FROM MY BIRTH. WITH FULL USE OF MY FREEDOM, I REJECT THE DEVIL AND ALL HIS MACHINATIONS AND I GIVE MYSELF TO YOUR IMMACULATE HEART. TAKE ME BY YOUR HAND FROM THIS INSTANT, AND AT THE HOUR OF MY DEATH, PRESENT ME BEFORE YOUR DIVINE SON.
Allow, Mother of Goodness, that this: my consecration be taken in the hands of the Angels to every heart so that it might be is infinitely repeated in each human being.
Amen.
Source: ➥ revelacionesmarianas.com
Prayer of Consecration of Families and Households to the Immaculate Heart of Mary
Consecrate also your children, your family and your households to My Immaculate Heart, and I, your mother, will place on a protector shield of light rays around you which will blind my adversary and his evil forces. I give you this prayer of consecration to My Immaculate Heart so that you consecrate to Me your family and household.
"O Immaculate Heart of Mary, I consecrate myself to You, and I consecrate my family, my home and everything in it, to Your Immaculate Heart. We consecrate to You our physical, psychic, biological and spiritual being, and all that we are, have and do. Protect us, dear Mother with thy light's rays that pour out from Your Immaculate Heart and hide us in Your womb. Do not allow, sweetest mother, any inhabitant of this home be lost; give us Your peace and strength in difficult times of our test. May our faith in God and trust in You, o sweetest mother, be the passport that brings us safely to the gates of new creation. Amen."
"Hail Mary most pure, conceived without sin, most blessed Mary" (3 times)