Friday, June 26, 2015
Message Given by Our Lord Jesus Christ
To His Beloved Daughter Luz De María.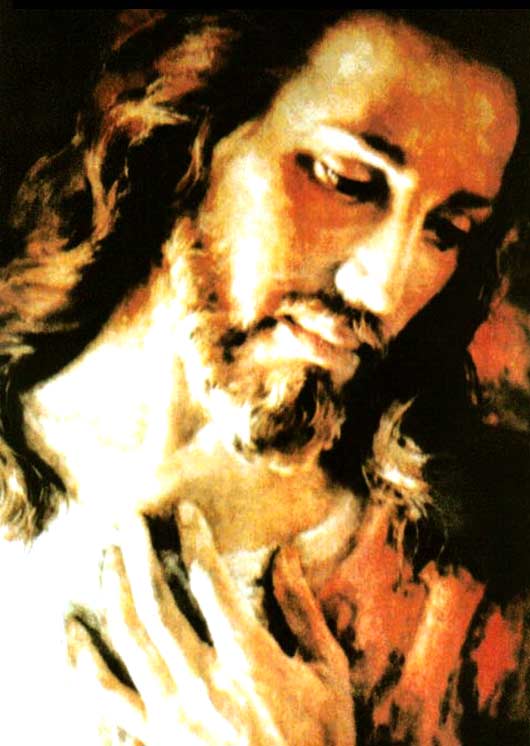 My beloved People, I bless you,
MY MERCY KNOWS NO LIMITS; I PROMPTLY ALERT YOU SO YOU WILL CONVERT… My Love overcomes man's offenses; this is why I alert you so you can ask forgiveness and recognize that you are not on the straight path; instead, you have deviated, some to the right and others to the left, but they don't follow Me, they follow the one that is already on Earth to flagellate My People. He has prepared the crucible for them and humanity welcomes with frenzy what is new, even when they go against Morality, Faith, and the very essence of man. Each one has senses and, in one way or another, these senses let man feel how he acts, but not all allow themselves to hear the voice of the conscience.
Children,
Lots of creatures have completely thrown Me out of their lives in order to enjoy without remorse— together with the devil that celebrates these acts—the death of their brothers. Violence is on the increase, encompassing so much, that the same man can't find a way to ward it off. This is one of the great signs of the spiritual state in which the members of My Church find themselves. "You will know them by their fruits."[1]
EACH WORD PRONOUNCED BY ONE OF MY CHOSEN AND BELOVED PRIESTS MUST HAVE THE PURPOSE OF UNITING MY CHILDREN, OF ALERTING THEM AND AWAKENING THEM, because hate is surrounding each human being until it becomes a necessary complement in the lives of My children to make them remain in a frame of mind outside My Will.
AT THIS INSTANT I HAVE ANNOUNCED, AND SO HAS MY MOTHER, THE CALAMITIES THAT ARE COMING YOUR WAY; AND YET MAN REMAINS IN TOTAL INERTIA.
My beloved,
You have come to depend on what the scientists announce or do not announce. Most of science is controlled and at the service of evil. Do not expect them to alert you on time because they do not want to cause panic when the comet approaches. Remember that evil's purpose is to eliminate those who are Mine.
Diseases are on the rise and humankind is not aware of it; be cautious.
MY IGNORANT PEOPLE! FEW LISTEN TO MY CALLS KNOWING THAT I
DO NOT SPEAK IN VAIN, I DO NOT ANNOUNCE IN VAIN, I DO NOT CALL IN VAIN…
Those who are powerful have prepared a place of refuge to try and save themselves, but it will be impossible.
Every instant My People are diminished because there is nobody to awaken them and preach to them My Truth.
Man loses his manhood and woman loses her femininity.
Abortions are performed without any human feelings. They will be punished for this most grave sin.
Man, each time less of a man, is guided by animal instincts, not human.
Each human being is a magnet that, with his feelings, wishes, and objectives, expands over the sea of human destiny as at this instant when evil is greater than good. Man, with his capacity superior to everything around him, is capable of spreading his wrongdoings to attract more evil onto himself. This is why evil abounds.
THE GREAT TRIBULATION HAS BEGUN; VERY GRAVE INSTANTS ARE APPROACHING HUMANKIND AND THOSE WHO DO NOT WANT TO CHANGE ARE HEADING TO THE PRECIPICE.
Ideologies that are not Christian prevail within the heart of My Church's Hierarchy; the freemasonry holds control of much of what is dictated, and My People ignore it.
SOME DO NOT LOVE MY MOTHER ON ACCOUNT OF HER ANNOUNCEMENTS REGARDING HOW MUCH MAN MUST CHANGE AND SANCTIFY HIMSELF. Disobedience prevails in My Church; new things will not bring children closer to repentance; on the contrary, they will profane Me constantly.
SOME OF MY PRELATES SEND MY MOTHER TO THE DESERT SO SHE WILL NOT PREPARE MY PEOPLE. They have forgotten that I am their God and My Word is explained to awaken those who are Mine and it will not be silenced, instead it will increase for the righteous to be saved.
Children of My Sacred Heart,
Remain alert. Behind some who are not priests and announce My Word, there are economic interests that keep them obsessed with being role models for those who are Mine and, behind them, god money controls their lives. "Not everyone who says to me, 'Lord, Lord,' will enter the kingdom of heaven, but only the one who does the will of my Father in heaven."[2]
My People,
MY HOUSE HAS BEEN INVADED BY SOME WHO DO NOT BELIEVEIN MY TRUE PRESENCE IN THE EUCHARIST, THEY DO NOT BELIEVE IN MY JUSTICE, AND THEY DON'T WANT PRAYER… I AM SO LACERATED IN MY OWN HOUSE!
THEY DO NOT WANT MY MOTHER TO WARN MY PEOPLE EVEN THOUGH SHE IS THE MOTHER OF THE WORD!
My Church is getting close to the Schism which will cause the greatest division never before seen by man.
I WANT UNITY IN MY PEOPLE, but they are on several slopes very far from My Doctrine. They have deformed My Doctrine to suit man. My Law is one and does not change. When within My Church they opened the door to freemasonry, the plan designed by evil had already stealthily infiltrated the heart of My Church thus smoothing the way for the usurper of the Mystical Body.
I see man so distant without Me!
They remain so far away from the Divine Love when they do not come close to Me and do not accept My Mother as My Mother!
I HAD ALREADY ANNOUNCED TO YOU MY SECOND COMING WHICH I RUSH BEFORE ALL MY CHILDREN ARE LOST…
My People must remain very alert in light of the liberalisms to which I am subjected and which are not My will!
THE EARTH WILL BE SHAKEN BY AN ASTEROID THAT WILL ALARM HUMANKIND.
Pray, My children, pray for the servers of evil so they will repent and save their souls.
BE WITNESSES OF MY LOVE, DO NOT DENY MY WORD WRITTEN IN THE HOLY SCRIPTURE, AND COMPLY WITH MY WILL.
Pray, children, for the United States; the great eagle will lose its plumage.
Pray, My children, for France; it will burn in misery.
Terrorism advances without stopping, slowly and without fanfare, until it is present in the pain of My children.
Beloved children of My Sacred Heart, My Temples are plundered and desecrated with mundane acts; I withdraw instantly.
SOON I WILL EXAMINE YOU THROUGH THE WARNING, AN ACT OF MERCY FROM MY HOUSE TO THE LOST HUMANKIND.
Beloved, the volcanoes will awaken worldwide; pray to placate them.
DO NOT DESPAIR WHEN THEY ANNOUNCE THAT I AM COMING; REJOICE BECAUSE YOU WILL SEE ME COMING DOWN FROM HEAVEN.
Be constant in prayer and action so you won't give evil the opportunity to fight you from within.
Most of Mine do not believe My Mother's warnings, and She lives in Our Will…
AT THIS INSTANT MY CHURCH MUST REMAIN VERY ATTENTIVE AND MUST FIGHT FOR
CONVERSION; YOU MUST NOT TALK ABOUT MY WORD WITHOUT KNOWING IT AND WITHOUT PRACTICING IT BECAUSE YOU WILL FIND YOURSELVES FAR FROM SALVATION.
Creation is the work of the Hands of My Father, but it is not God.
My beloved,
Controversy confuses; and confusion does not come from My House; it is satan's property to divide My People. A divided People is a vulnerable People; a united People is a strong People because they feed on one another's wisdom. Those who are humble recognize unity; those who are proud, are self-sufficient.
My beloved,
REMAIN ATTENTIVE TO MY LAW, DO NOT DEVIATE FROM MY TRUE PATH BECAUSE THE WOLVES
ABOUND HANGING AROUND MY CHILDREN TO PREY ON THEM AND DEVOUR THEM.
My People will not go on alone; My Help is coming, My Help is coming from My House…
I AM YOUR GOD AND MY WORD DOES NOT CHANGE AND WILL NOT CHANGE.
"I AM WHO I AM."[3]
I DO NOT FORSAKE YOU IF YOU EMBRACE MY LAW WHICH IS ONE FOREVER AND EVER.
I bless you, you that are blessed by my Father[4], because you do not go astray and are not afraid to follow the Eternal Truth.
PRAY, MY CHILDREN, PREACH TO YOUR BROTHERS WHO REMAIN ASLEEP.
I bless you.
Your Jesus
HAIL MARY MOST PURE, CONCEIVED WITHOUT SIN.
HAIL MARY MOST PURE, CONCEIVED WITHOUT SIN.
HAIL MARY MOST PURE, CONCEIVED WITHOUT SIN.