Monday, March 21, 2016
Dialogue Between Our Lord Jesus Christ
And His Beloved Daughter Luz De María.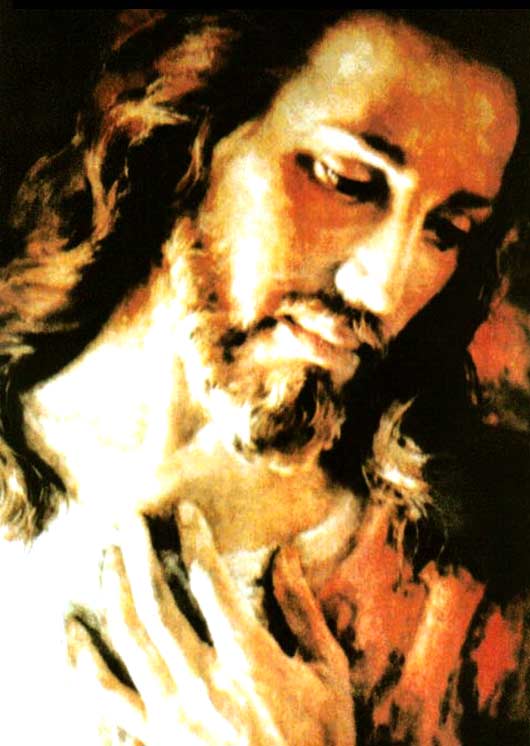 My beloved People,
I REMAIN WATCHING THE ACTS AND WORKS OF EACH ONE OF MY CHILDREN, NOT TO JUDGE THEM SEVERELY, BUT WAITING FOR THEM TO COME BACK TO ME…
I am Love; I miss you, I wait for you until, in the acceptance of the free will of each of you, you decide to call Me so that I will help you.
I live alone in the Tabernacles without any of My children to keep Me company...
I have found Myself disdained and I have heard them call Me the God of history, of the past.
GIVEN THE VERY DEEP DISTANCE AWAY FROM EVERYTHING THAT REPRESENTS ME IN WHICH MAN LIVES, THEY HAVE TAKEN INDIFFERENCE IN THEIR HANDS IN ORDER TO MOVE FURTHER AWAY FROM MY TEACHINGS.
Luz de María:
My Christ, what has man lost that has led him to distance himself from You?
Jesus:
My beloved, man has lost the wish to grow; he is satisfied with standing out because of his human qualities in order to capture the attention of others and he is content with being admired by the rest. THE DESIRE TO TRANSCEND IS STAGNANT; THEY DO NOT WISH TO GROW SPIRITUALLY. This is why the same men cannot distinguish between a believer and a non-believer. Non-believers are found in My Church and on occasion participate without being recognized as such, without their brothers having the slightest suspicion.
There are very many who say they believe in Me, and there are so few who truly practice their belief and who have absolute Faith in Me, who see Me as what I am, who transcend and Love Me as what I am, who feel Me and perceive Me so well that they have complete trust in Me, so much trust that they believe everything I explain to them because it is for the good of those I Love. I give to man and man gives Me his trust so that he can transcend and unite with My Presence in each one of My children. I WANT THEM NOT ONLY TO BELIEVE IN ME BUT ALSO TO ENJOY MY PRESENCE…
Luz de María:
Lord, what has led man to stagnate in his spiritual life?
Jesus:
Beloved daughter,
For some it is enough to blame all My favorite children, the priests, of this instant, but since before, the denials of the existence of hell, of sin as such, and of the responsibility of he who commits it, the tolerance of immorality, the lack of exalting the Faith and the union with Me, the little acceptance of My Mother within My Church, the abuses of the hierarchy at all times deviating and detracting from the true sense of the Faith, of tradition, of the Truth, of shepherding, of the teaching of the Truth, of My Ministers no longer being the last ones and the servants of all; all of these, together with the insertion of My Ministers in the dome of society, have flooded My Church with interests that are not now nor have they ever been My Will.
And you, My People, have not wanted to delve into My Will, or to get to know Me better, or to know about Me. What you hear is enough for you. This is why you are like a balloon: You rise and you say you love Me, but if any material in the air touches you or rubs against you, you deflate and fall to the ground, just as quickly as you rose, and you forget Me, and then you become persecutors of My People and of Me.
Children, do you know who I am?
Every day or on Sundays you hear talk about Me in the Gospel, but do you walk in Me? Do you know Me deeply? Or do you have only a slight coat of varnish of Me?...
Some that visit Me and receive Me daily, constantly throw snares at their brothers to make them fall, then toss them in the river to drown, with nobody who can save them; they act and work secretly like snakes against their brothers, and the hypocrites murmur against their brothers asking them for an explanation of their behavior because they want to point fingers at their brothers in order to shame them in front of the community. Hypocrites, they receive Me every day and they make Me nauseous! He who acts this way is wicked and cruel.
WHO ARE THEY TO BRING THEIR BROTHERS TO ACCOUNT? NOBODY KNOWS WHAT I KNOW, THEY WERE NOT THERE, THEY DO NOT KNOW THE MYSTERY OF MY LOVE FOR MAN.
MORE DASTARDLY IS THE ONE WHO RECEIVES ME WITH FALSE RELIGIOSITY THAN THE ONE WHO FALLS AND REPENTS, AND THEN STANDS UP TO BE A LIGHTHOUSE FOR HIS BROTHERS.
THIS IS WHY I AM THE ONLY ONE WHO KNOWS THE MYSTERY OF MY LOVE; THIS IS WHY "I AM
WHO I AM." (Exodus 3:14)
Woe to him who wants to order the course of humanity believing to be pure and saintly; THE TIME WILL COME WHEN HE WILL BE JUDGED BEFORE ME.
Luz de María:
Beloved Christ, we are sinners, we strive every day, we want to continue by Your side. Teach us to live by You and to love Your Mother.
Jesus:
Beloved daughter,
A saint does not judge; he prays for his fellow men. The sinner points at the sinner when he recognizes in his fellow men his same sin; the sinner betrays his fellow men and persecutes his brothers.
At this instant, humanity lacks Me. Some call themselves Christians, and they live like those who are not My People; they deny Me with their acts, with their words, with their behavior. They are Mine who are part of this evil that plagues mankind; they make My Cross heavier. The offense is more painful and the flogging is stronger coming from those who claim to love Me.
Humanity is in Purification waiting for it to recrudesce; they do not recognize the signs of this instant because they do not know the Warnings from My Mother and they call past My Eternal Word which is in the Holy Scripture. They chain Me to a past. All was said in the Holy Scripture, they chain My
Holy Spirit to prevent Him from revealing My explanation to this generation so it won't be lost. THEY
DO NOT RESPECT MY COMMANDMENTS, THEY TRANSGRESS THE SACRAMENTS, THEY DISMISS THE ACTS OF MERCY, THE BEATITUDES ARE PAST. WILL THE INSTITUTION OF THE SACRED EUCHARIST BE PAST?
No, My children, the Holy Scripture contains the development of My People. This is why I EXPLAIN My Word to this generation, and My Mother is designated by my Father, Me and My Spirit, to guard this generation and to save souls with Her Maternal Love.
I have revealed to My Prophet this My Word, because I have called My People to be My witnesses, but they cannot figure out how to give testimony of Me; they look for special gifts or virtues, but with them they will not give absolute testimony of Me, not until they know Me in truth and spirit will they be able to have My Strength, My Spirit, freely, without it being tied up or limited.
Pray, My People, pray and put into practice the prayer so that you will be fruitful.
MY CHILDREN, COME TO ME. EACH ONE OF YOU, COME TO LIVE YOUR OWN PERSONAL
ENCOUNTER WITH ME. EACH ONE MUST COME TO WIPE MY FACE IN ORDER TO HAVE ME IMPRINTED IN HIS HEART FOREVER.
Luz de María:
Beloved Christ, how can we tell You that we love You?
Jesus:
My beloved, by being obedient and by getting to know Me so that each one lives Me and will surrender to Me without reservations and in obedience.
Humankind is living this dangerous instant, dangerous for the body and also for the soul, and I do not want My children to be lost. You are starting the Memorial Week of My Surrender of Love for the salvation of souls, and what is man's response? You will see, you will see…
MY BELOVED PEOPLE WHO FLOG ME, WHY DO YOU FLOG YOURSELVES VOLUNTARILY?
You have given yourselves to fornication, you have given free rein to the senses, so that they will be lost, and you will continue along the path of evil.
My beloved People, Earth's axis will shift; those who know the truth remain silent, and I call you to get prepared because you will see what will be purification for man fall from the sky.
Pray, My children, for Chile; it will suffer.
Pray, My children, for the United States; it will be flogged.
Pray, My children, for Israel; it will suffer.
The land will continue to shake with force. Night will take mankind by surprise.
EVIL COMBATS STRONGLY AGAINST THOSE WHO ARE MINE. WAKE UP, CHILDREN! THE INSTANT HAS ARRIVED!
MY LOVE DOES NOT STOP. MY ANGEL OF PEACE WILL ARRIVE TO BE PATH FOR MY PEOPLE.
My beloved People, Earth will be flogged with its inhabitants; all will suffer the rejection in which I have been plunged, not because I punish you, but because rebellion is against My Love for all of humanity, and this rebellion will turn against the same humanity. I wait with My Mercy; just do not forget that I approach with My Justice. Evil will never have more power than good does, but humanity has given power to evil and evil ties them up. For this, they will be passed through the sieve of the crucible, until My People become My true People and I be all for My People.
UNITE IN THIS CELEBRATION OF MY PASSION, UNITE IN MY MOTHER'S SILENCE,
FULFILLING AND LOVING THE WILL OF MY FATHER WHO IS IN HEAVEN.
I Love all, but not all look for Me.
IN A SPECIAL WAY I BLESS EACH ONE OF THOSE WHO READ AND MAKE THIS MY WORD LIVE.
Your Jesus
HAIL MARY MOST PURE, CONCEIVED WITHOUT SIN.
HAIL MARY MOST PURE, CONCEIVED WITHOUT SIN.
HAIL MARY MOST PURE, CONCEIVED WITHOUT SIN.