Sunday, February 19, 2017
Message from Our Lord Jesus Christ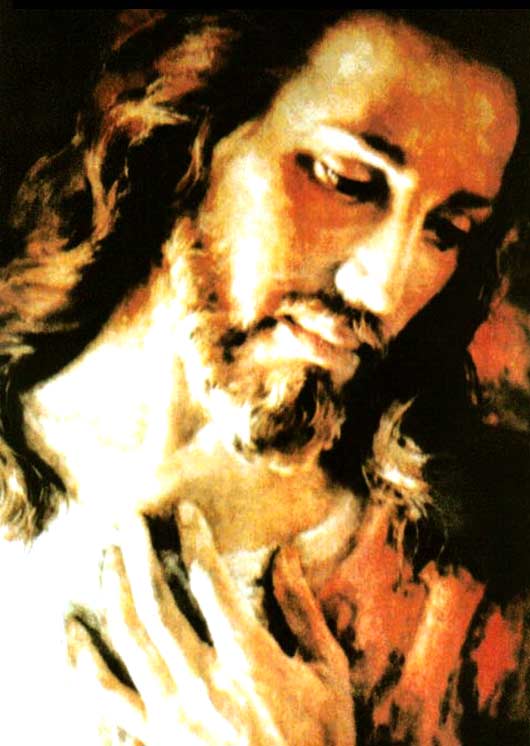 My Beloved People:
MY BLESSING IS FOR EACH ONE OF MY CHILDREN:
PROTECTION, PEACE, WISDOM, SECURITY AND MY LOVE.
My People are constantly waiting, and I call you to the practice of My Word in every respect.
You must hold to the assurance that within obedience to My Word you find the wisdom that you do not possess at this instant if you are outside of Me.
I OFFER YOU MY PROTECTION, NOT THE RELEASE FROM THE TRIALS IN WHICH EVERYONE GROWS AND IS STRENGTHENED IN ORDER TO SAVE THE SOUL.
You are My People and My People live, work and act within our Divine Law, which continues to hold for every generation.
Since instants ago, I have announced to you the crisis of My Church, the modernization of the Liturgy, the lack of union with Me in the Consecration. Some of My priests believe in the Transubstantiation of My Body and Blood, others not, despite so much physical evidence, such as in Eucharistic Miracles. For some, the Priesthood is sacred and for others, just another profession.
I have alerted My People about the freemasonry that dominates a great number of My Church's adherents. This I have already mentioned in order to prepare you for the great changes that will arise, and at which My People will be confused. The confusion comes because you do not know Me, and not knowing Me, you do not have the ability to know what is My Will and what is being carried out by men in order to cause My children to falter; this is very delicate.
MY BELOVED PEOPLE, NO FACT BEING ANNOUNCED WITHIN THE HIERARCHY OF MY CHURCH IS A COINCIDENCE; IT IS THE FULFILLMENT OF WHAT MY MOTHER TOLD YOU SINCE THE BEGINNING OF HER FIRST APPARITIONS, where She spoke about the facts that you know, and knowing how much My Mother has revealed for this generation, they do not believe, and they ignore every Word of My Mother. And this they do it in order to justify the unjustifiable: working and acting outside My Will.
So many antichrists have passed through history! and in this instant when you are being warned about the last and great antichrist possessing all terror and evil coming from hell itself, you do not listen to My warnings. Once again My People will face horror, only that this will be the last opportunity for evil upon My children. You will live through what no previous generation has lived, from man's great advances to the purification of the same: the great act of My Mercy towards man in the Warning and the Miracle of My House that you have not had previously. Both wonders will cause the power of My House to overflow so that the Holy Remnant will be increasingly purified until My Second Coming.
My beloved children, beloved People of Mine, just as you as Humanity are facing so many critical events, so My Love is set before each person so that whoever wishes may take and drink the milk and honey that flow from My Love, and not merely live through calamities.
I WANT YOU TO UNDERSTAND THAT GOODNESS EMANATES GOODNESS AND ATTRACT
GOODNESS, EVIL EMANATES EVIL AND ATTRACTS EVIL. EACH ONE OF YOU IS FED BY WHAT YOU RECEIVE BY YOUR OWN WILL AND THROUGH HUMAN BEINGS.
I send My Instrument to make known My Will and to convey the correct and least painful way by which you need to pass.
The time of My Mercy has been greatly prolonged through the mediation of My Mother, who has interceded for you, Humanity. My Mother, the great defender of My children, has been the one who has allowed the instant of Purification to be delayed. Children, that time has already passed and the instant has come when, if Our Trinity did not allow the Purification, My faithful children would be lost.
MY PEOPLE, DISEASE ADVANCES TO THE POINT OF BECOMING PLAGUE. STAY ALERT, THE EXTERMINATION OF HUMANITY IS NOT SENT BY ME BUT BORN FROM THE HAND OF MAN.
My Beloved People, Europe will have its fill of suffering, Europe's strength will weaken, its magnificence will disappear. One advance after another of the invaders will be calamitous for My children of that great continent.
The great Nation of grand shows will suffer. The United States, weakened in its economy, will be scourged and lacerated by its enemies who will approach it. The madness reigning in that great Nation, the permissively and the compromises of its rulers with evil lead this Nation to suffer.
My Beloved People, communism will rise up with great force as the great power that will dominate Humanity and will impose itself upon the world. Lack of obedience to the petition of My Mother in 1917 is the trigger for this domination: I mention this in this 2017 on the 100th anniversary of this Word of My Mother.
Man is advancing rapidly in the creation of weapons capable of overcoming the innovations of those he considers his enemies. How Humanity has given itself over to being a messenger of horror for its brothers! But Humanity, imbued with its own madness and licentiousness, does not notice what is happening until it lives out the unfolding of My warnings in its own flesh.
I love all My children and call you to become human beings responsible for your salvation. For this, may you My People testify to My work and action, knowing My Word, receiving Me in the Holy Eucharist, remaining in a state of Grace so that the devil does not confuse you.
YOUTH IS IN THE CLUTCHES OF SATAN BECAUSE OF THE LACK OF KNOWLEDGE OF MY LOVE, OF MY CALL, OF MY SELF-SURRENDER THAT HAS BEEN WRONGLY INTERPRETED. Humanity lives without
goals, it feels anguish but does not know what is in its soul, due to the pitiful response that it gives to itself and to Our Trinity.
Humanity seeks its happiness without knowing that happiness is more than that which is fleeting; of its own free will it is ignorant of the fact that the assurance of happiness is to be found in Our Will, which man does not know, and even so, he wants to live forever.
MY BELOVED PEOPLE, YOU ZEALOUSLY SEEK HAPPINESS, THAT WHICH PASSES, ECONOMIC
SECURITY, FAME, WELL-BEING ... All of this fails, children, all of this fails. Man is unaware of the necessity of living in Our Will so as not to constitute an obstacle to himself, and of his own free will he denies himself Eternal Life.
Pray children, pray for the United States, it suffers through Nature that is awakening, and it suffers by the will of others.
Pray children, pray for France, it is constantly purified. This Land shows Europe what will spread throughout the continent.
Pray My children, pray for Venezuela, it will be doubly oppressed.
PRAY, CHILDREN, START A CHAIN OF THE DEVINE MERCY ROSARY ALL UNITED TOGETHER, COVERING THE 24 HOURS OF THE DAY.
Pray children for Ecuador, this Land suffers.
Children, you continue in sin, and you continue because you do not want to ask for My Assistance.
I WANT EVERYONE TO ASK ME TO RAISE THEM UP AND WELCOME THEM WITHIN MY LOVE.
My Love is permanent. Do not be tormented by the belief that I am a distant God; I am nearer than you believe.
I bless you with My love.
Your Jesus.
HAIL, MARY MOST PURE, CONCEIVED WITHOUT SIN
HAIL, MARY MOST PURE, CONCEIVED WITHOUT SIN
HAIL, MARY MOST PURE, CONCEIVED WITHOUT SIN